Australian Condensate Exports- More Than Just Hot Air
Australian Condensate Exports- More Than Just Hot Air
21 February, 2019
Australia's exports of condensate have been rising in line with the recent start-up of several new gas liquefaction and LNG export facilities, just as the nation's heavy crude exports from maturing fields have gone into decline, as reflected in Vortexa cargo tracking data.
Australian LNG, condensate growth
In November 2018, Australia hit the headlines as it overtook Qatar as the world's leading LNG exporter. Although short-lived (in part due to Qatari field maintenance) the focus highlighted Australia's increasing prominence in LNG field exploration and extraction-and by extension, that of condensate.
_x000c_Increased field condensate production in Australia has been driven by the number of LNG projects that reached their production phases over the last year. Australian total crude and condensate exports rose by an estimated 10% in 2018, from 2016-2017 levels of around 190,000 b/d, with a noticeable increase especially from the third quarter of last year.
The rate in the past three months has held at some 240,000 b/d, with preliminary exports in February so far slightly below that level.
The additional availability of condensate and ultra-light sweet crudes from Australia impacts its main export destination region of Asia-Pacific, given limited domestic demand and capacity reductions at its own refining system in recent years.
New developments
Out of Australia's condensate flows, the Northwest Shelf (NWS) grade is the most dominant, but this stream has been joined by a number of smaller ones brought online in recent years. These, like the NWS exports, mostly remain predominantly in the Asia-Pacific region.
The recent additions include the Ichthys gas field off Australia's northwestern coast, one of the largest fields in the world with over 12 trillion cubic feet of proven gas reserves. The first Ichthys condensate cargo was loaded onto an Aframax tanker by Japanese upstream fim Inpex in October last year, and delivered to Singapore. Since then, cargoes have continued to move to Singapore, as well as finding homes in Thailand and Papua New Guinea.
Oil major Chevron also brought online its flagship Gorgon and Wheatstone projects in recent years. The former came on stream in 2016, while the Wheatstone development followed last year. Condensate exports from Gorgon, typically loaded on Aframax-sized tankers, service the Asian markets.
The first Wheatstone condensate cargo was exported from Ashburton port in early 2018. The rate has been observed at around 25,000 b/d since regular production commenced in May 2018. While over half the export volumes have gone to countries across Asia-Pacific, several other cargoes delivered to the UAE since August last year, amid the Mideast Gulf nation's search for alternative condensate supply.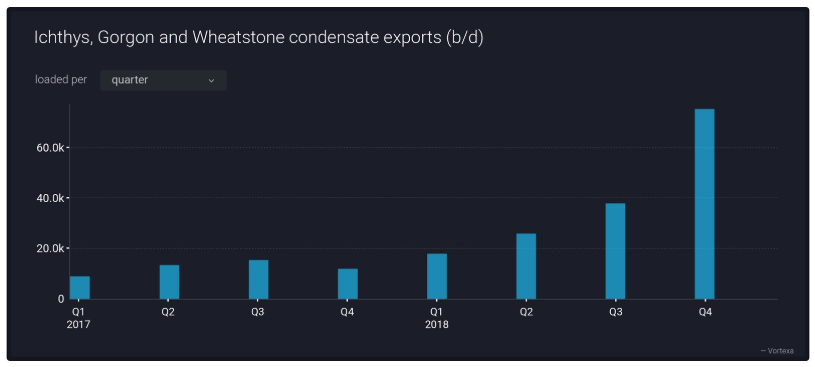 In addition to these fields, Shell's 600,000 DWT Prelude floating liquified natural gas (FLNG) facility, the largest ever made, powered up in northwestern Australia in June 2018. The facility is undergoing testing ahead of commencement of LNG extraction and processing from the sub-sea wells in the coming months. The first condensate cargo from the facility is also expected soon.
The scale of the Prelude project is an apt statement of intent of Australia's position in the market and will add to Australia's growing condensate surplus.
Heavier crude output declines
The rise in Australia's condensate exports is picking up the slack amid a drop in heavier domestic crude production.
Of Australia's active heavy crudes, the largest by share is the Pyrenees field, which shows a steady decline in production.
Elsewhere, the heavy-sweet crude producing Enfield field, operated by Australian independent Woodside, ceased production last November after 12 years of activity. The Vincent crude field (Woodside/Mitsui), also producing heavy sweet crude, has not loaded any cargoes since the Ngujima-Yin FPSO went into maintenance for modifications in the first half of last year. Reportedly the field will be offline accordingly until around mid-2019.
As Australian LNG exports increase and volumes compete with those of Qatar, the country's condensate volumes will also expand by extension. Already these ultra-light crudes are more than offsetting the declining volumes from the heavier fields, leading to higher overall exports.