Brunei Hengyi Refinery Takes In Varied Crude Slate
Vortexa Snapshot: Brunei Hengyi Refinery Takes In Varied Crude Slate
22 August, 2019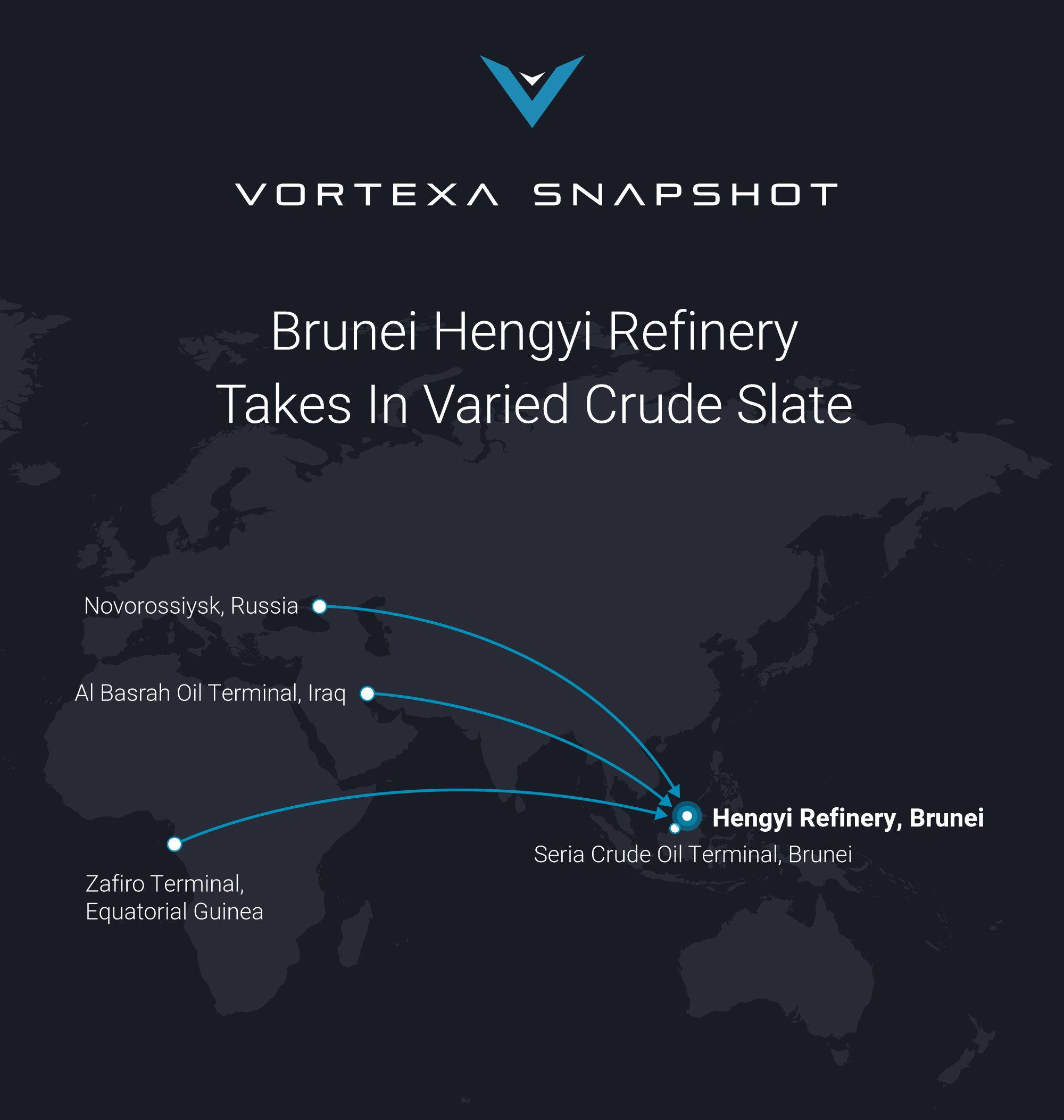 In Brief:
Brunei's new Hengyi refinery is ramping up trial operations, and recently received a variety of crude cargoes, Vortexa data show, ahead of its expected commercial start-up in coming months.

The 175,000 b/d refinery at Pulau Muara Besar, Brunei is equipped with secondary upgrading units and an aromatics complex. It has been designed to process light to medium crude grades.
Crude Imports:
Around 4.5mn bl of crude was observed imported into Muara port so far this year, comprising: an Aframax-sized delivery of its first domestic light sweet Seria Light crude in May, followed by four crude cargo arrivals in June and July. Intake included supply from the Mideast Gulf, West Africa and Black Sea regions.
Suezmax Maran Homer discharged a cargo of Zafiro crude, and VLCC Nave Neutrino delivered a Basrah Light cargo end-June. Suezmax Minerva Georgia brought a cargo of Caspian CPC blend in early July.
Brunei Fuel Background:
Brunei consumed an average 480,000 bl of fuel per month between January and July this year, of which 80% gasoline and diesel, supplied primarily through imports from Singapore and neighbouring countries.

Hengyi refinery's start-up of commercial operations at end-3Q/4Q 2019 will be a significant milestone for the country as it seeks self-sufficiency in meeting domestic fuel demand, with the surplus likely exported. The paraxylene will be exported as feedstock to Hengyi's purified terephthalic acid (PTA) plants in China.
Brunei's Seria refinery, jointly owned by Shell and the Brunei government, currently supplements a part of the country's gasoline demand.