Fuel oil hubs see uptick in Brazilian crude imports
Vortexa Snapshot: Fuel oil hubs see uptick in Brazilian crude imports
25 October, 2019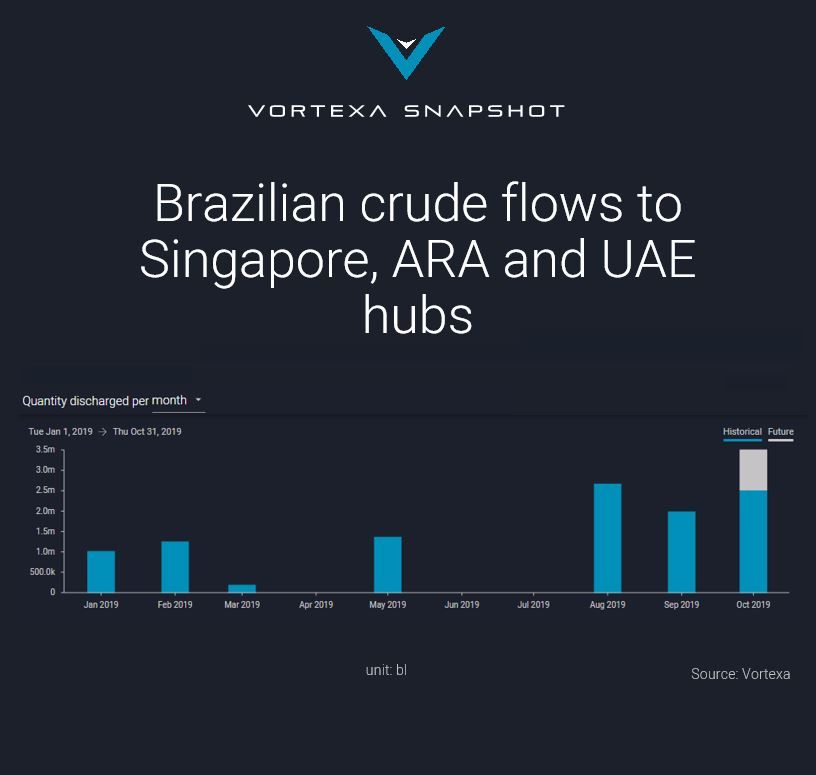 In Brief:
Fuel oil bunkering and blending hubs in Asia, the Middle East and Europe sharply increased their imports of Brazilian crude in the past two months, Vortexa data show, amid higher interest in the country's heavy sweet grades for use in blending towards IMO 2020 compliant fuels.

Some 1.5mn bl of Brazilian heavy sweet crude grades, namely Atlanta and Ostra, discharged onto VLCCs Lu San, Pu Tuo San and Sea Latitude in October, which are acting as fuel oil floating storage in Singapore/Malaysia. This was the highest volume of Brazilian crude seen moving onto the hub's floating storage fleet so far (which now totals over 30 vessels). Another Suezmax of Ostra is heading towards Singapore, for mid-November arrival.
In the ARA hub, two Suezmax-sized cargoes of Brazilian crude that loaded from Angra dos Reis already arrived in Rotterdam, on 23 September and 3 October, thereby lifting Brazilian crude imports into Rotterdam to the their highest since January 2017. Another 1mn bl Brazilian crude shipment is still waiting off Rotterdam.
Brazil's crude exports to Europe typically head to Spain and Portugal, in addition to marginal volumes heading elsewhere.
Last month Fujairah's Vopak terminal also took in a Suezmax shipment of Ostra, the first observed Brazilian crude import into the country since at least the beginning of 2016. Vitol operates a 82,000 b/d refinery at Fujairah, which produces IMO compliant fuels.
Some 67% of Brazilian crude headed to its main market in China in the first five months of the year, but the share fell to 58% in June-September, amid the diversification of exports elsewhere.