Vortexa Snapshot: Russian Arctic condensate exports hit new high
Vortexa Snapshot: Russian Arctic condensate exports hit new high
13 December, 2019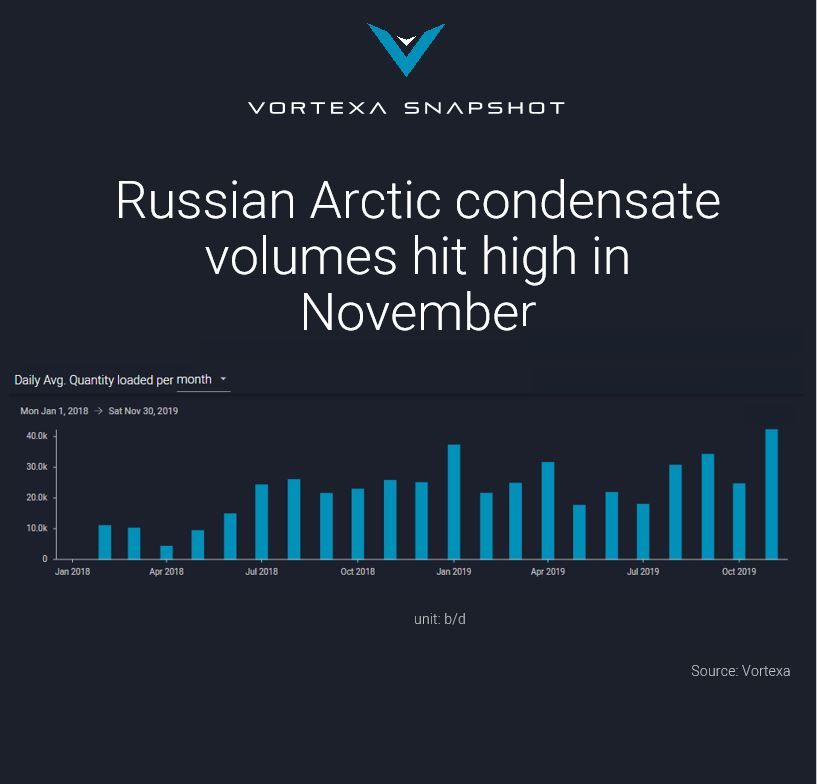 In Brief:
Exports of gas condensate from Russia's Yamal LNG project in the Arctic region rose to their highest since start-up, to around 40,000 b/d in November, Vortexa data show.

In December, Russia reached an agreement to exclude condensates from its joint production cut agreement with Opec partners. The majority of Russia's condensate production is consumed domestically, but the Yamal condensate stream is exported from Sabetta terminal.
Year-to-date, some 75% of exports of Sabetta condensate headed to the European region, of which 60pc to Rotterdam, with smaller volumes going to Norway, Denmark and Germany.
Sabetta condensate exports to Asia-Pacific, which commenced this August, averaged 17,000 b/d between August-November. Six Handymax tankers loaded in August-November and transferred via STS onto two Aframax and one Suezmax tanker in the UK's Southwold area, for the long haul journey to Singapore.
Singapore imports a only small volume of condensate from Europe and the Mediterranean – some 3mn bl of condensate arrived from this region so far this year, of which 2.5mn bl was from Libya, amid small volumes also from Norway and Tunisia.
No Sabetta condensate exports to the Middle East were observed this year, contrary to 2018 when 3 tankers made their way to the UAE during July-November, delivering to Jebel Ali and Fujairah.