Clean tankers divert away from Saudi ports
Vortexa Snapshot: Clean tankers divert away from Saudi ports
16 September, 2019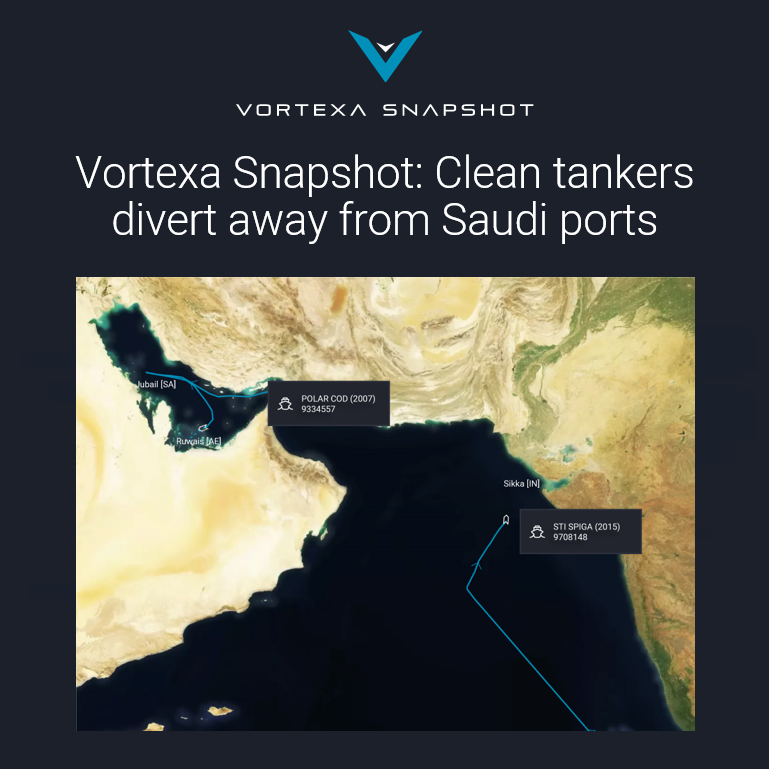 In Brief:
Vortexa data show at least two empty oil product tankers, initially booked to load diesel from Saudi ports in mid-to-late September, diverting away and now likely to load from UAE and India.
The tanker movements suggest that the impact of attacks on Saudi Arabia's crude processing facilities on 14 September has filtered through to state-owned Saudi Aramco's refined products activities.
The LR1 tanker Polar Cod was chartered by Saudi Aramco and provisionally scheduled to load around 60,000 mt of diesel, according to shipping fixtures. It changed its declaration from Jubail to UAE's Ruwais on 15 September.
The LR2 tanker Sti Spiga also changed course, diverting away from the Mideast Gulf, to the west coast of India. The tanker had a Saudi Aramco-charter shipping fixture to load around 90,000 mt of diesel from Jubail during late September.
The UAE port of Ruwais and the Indian port of Sikka are both home major diesel exporting refineries.