Diesel-laden VLCC activity rises
Diesel-laden VLCC activity rises
14 March, 2019
New build very large crude carriers (VLCC)s are loading clean gasoil for maiden voyages at record levels in 2019. So far this year, Vortexa has observed seven new VLCCs load gasoil – which includes ultra-low sulphur diesel (ULSD) – for maiden voyages, matching the number seen across the whole of 2018, a record year itself. And more such departures could be on the way.
According to shipbroking firm Braemar, 15 VLCCs have already been delivered this year and a further eight are expected by the end of March, a multi-year record for a first quarter.
Increased shipbuilding activity has coincided with ample middle distillates supplies in the Asia Pacific region. Elevated refinery runs and capacity additions, particularly in China, are helping to boost regional supply. Over the first ten weeks of 2019, Singapore middle distillates stocks have been on average 28% higher than they were a year earlier. In contrast, European middle distillate stocks have been on average 6% lower on the year during January-February.
The combination of increased freight and product availability has improved arbitrage economics, making charterers keener to deploy new tankers for clean product maiden voyages. New build VLCCs are able to load around 2mn bl, or 300,000t gasoil.
Aside from the new VLCCs carrying clean products, there are additionally several gasoil-carrying new build Suezmax tankers that undertook their maiden voyages out of the Asia-Pacific region in the past several months and also headed west.
West Africa Arrivals
Of the seven VLCCs Vortexa sees currently carrying gasoil on the water, three tankers – Olympic Laurel, Ascona and Dijilah – are currently stationed offshore Lome, Togo.
The Olympic Laurel discharged around 60,000t via ship-to-ship (STS) transfer in early March and was last seen laden with around 200,000t of diesel offshore. She loaded South Korean-origin gasoil, likely high-sulphur, via STS in early January. She then berthed at Mai Liao, Taiwan later that month to complete loading.
The Ascona has discharged gasoil onto several tankers via STS, offshore west Africa so far this month. Most have stayed within the region but one of these is currently on course for discharging around 37,000t of diesel into Campana, Argentina in late March. Ascona began loading via STS offshore Nipah, Indonesia in mid-January and continued loading from terminals in Singapore and Pengerang, Malaysia.
The Dijilah was last seen near Lome but is yet to discharge any of her cargo, at least some of which is ULSD. She first loaded via STS offshore Johor and then from Universal Terminal in Singapore in early February.
Potential ULSD Carriers
The first VLCC in 2019 that could potentially discharge in Europe or the Americas, without a visit to west Africa, is Pacific M, although her final destination is as yet unconfirmed. Europe and the Caribbean region both received VLCCs last year but are yet to take one in 2019.
The likelihood of Pacific M discharging in Europe is boosted by that fact that the majority of the 270,000t on board can be traced – via STS transfers offshore Mumbai during February – back to loadings from Reliance's Jamnagar refinery – a major exporter of ULSD to the European market.
That said, the most recent movements by Pacific M could indicate the start of a diversion. Were the tanker to perform a u-turn, it would be highly unusual. Most new gasoil-laden VLCCs that loaded from Asia-Pacific have gone on to discharge in Europe, the Caribbean or west Africa.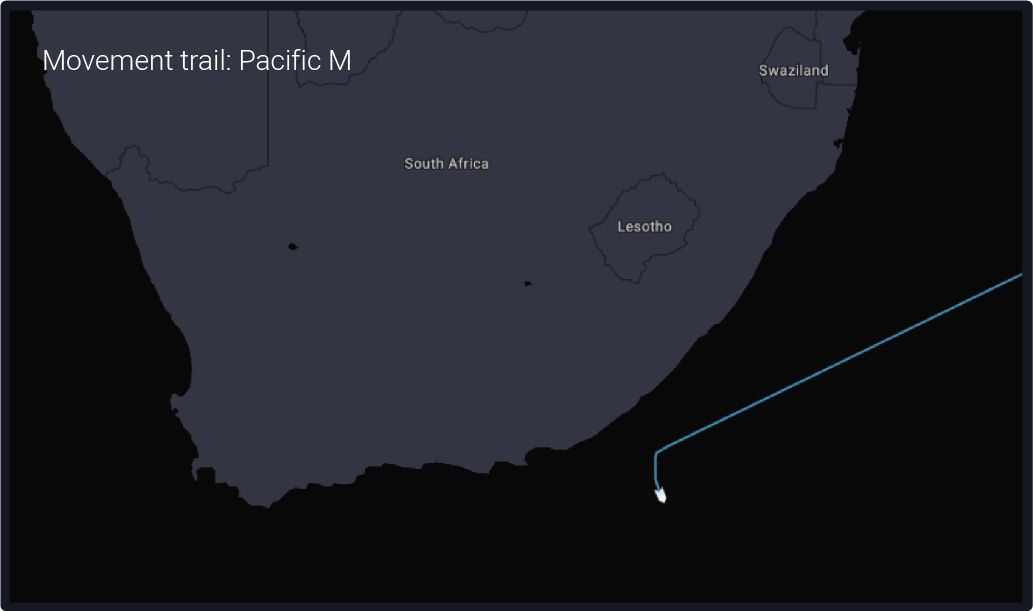 Coincidently, one of the first VLCCs to load gasoil this year, the Front Defender, just completed its discharge in Asia Pacific, the same region from which it loaded. This marks an unexpected end destination for the tanker and the first such occurrence observed with a new diesel-laden VLCC. During late January to February, it loaded a combined 220,000t of gasoil from Yosu, South Korea and Mai Liao, Taiwan. Rather than proceeding towards northwest Europe or the Mediterranean – as expected from associated shipping fixtures – she discharged around 150,000t into Pengerang, Malaysia on 7 March and the remainder in the region, via STS.
Another VLCC that could eventually discharge in Europe is Amyntas. She was last seen offshore Malacca carrying 250,000t of diesel, likely ULSD. She loaded in February from Malaysia's Pengerang, then Singapore and finally via STS with a tanker carrying Jubail-origin diesel.
Future Loadings?
Meanwhile, VLCC Olympic Lyra is anchored offshore Dubai carrying around 180,000t of diesel and could load more product before setting sail for delivery. She loaded diesel cargoes this month, likely ULSD, from tankers which loaded their respective cargoes from the Saudi port of Jubail.
The recent discharge in Asia of Front Defender and the potential diversion of Pacific M highlighted above, casts some doubt over whether another new build VLCC, Olympic Life, will go onto to load and then export clean product.
Shipping fixtures indicated the tanker could be used for a clean load from Asia, which would make it the eighth VLCC to do so this year. The tanker was conducting sea trials in February but was last seen berthed in Ulsan, South Korea earlier this month.