PADD 3 tanker availability climbs post-Hurricane
PADD 3 tanker availability higher post-Hurricane
03 September, 2020
Hurricane Laura, which made landfall on the US Gulf coast on 27 August, was one of the most powerful to do so in recent history. In the aftermath of regional disruptions to crude production and refinery operations, we saw a sharp drop in the number of crude and clean product cargoes available for export, amid rising firm prompt vessel availability.
This inevitably led to deflated freight rates but as cargo availability rises, with an uptick in exports post-Hurricane, rates too should follow upwards.
High vessel availability weighs on Gulf Coast freight markets
A relatively high level of prompt PADD 3 vessel availability weighed heavily on freight markets in the immediate aftermath of the Hurricane, with plenty of choice available to charterers ahead of exports recovering.
A total of 146 tankers across all segments were available for hire in the next 0 to 5 days as of 2 September, according to Vortexa. This represented 24% of the available vessels over a 0-30 day period. Of those available in the next 0-5 days, half were classed as underway and empty, prompting the question of whether they were booked on subjects or would all compete for available cargoes.
According to market participants the higher-than-average tonnage levels were also caused by the lack of cargo availability in the Middle East Gulf, causing tankers to seek employment elsewhere, as evidenced by the high number of tankers available to arrive to the US Gulf coast in the 15 to 20 days window (see below).
Higher vessel availability and the disruption caused by Hurricane Laura applied significant pressure on freight rates, with the Aframax US Gulf Coast to Europe freight rate down 25% month-on-month according to pricing data from Argus Media. The Aframax segment is dominant along the US to Europe crude export route.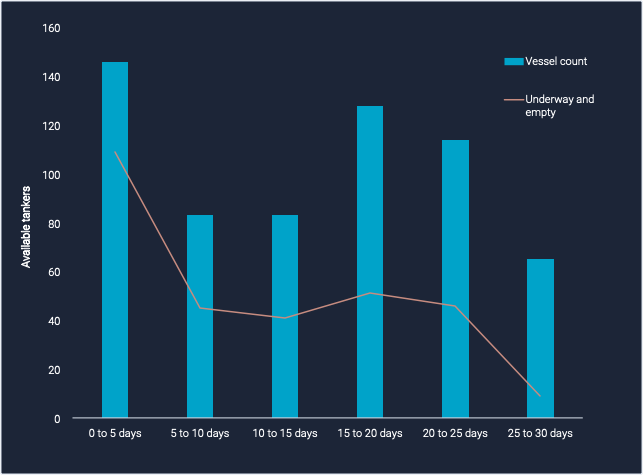 PADD 3 vessel availability snapshot 30 days ahead as of 2 September
See latest data in the Vortexa platform
Looking ahead, a recovery is expected
As the US Gulf market recovers from supply disruptions, we expect flows to recover incrementally. Our data show that combined crude and clean products exports from PADD 3 were up 4% over the past 7 days (28 August – 3 September), compared to the prior 7 days.

For the crude market, a few VLCC cargoes remained open for loading from the US Gulf Coast which should spur some action this week (week 36), providing support to rates, currently at yearly lows.
Want to know more about these flows and our freight data?
{{cta('bed45aa2-0068-4057-933e-3fac48417da3′,'justifycenter')}}