Asia draws more naphtha from Europe, Russia in November
Vortexa Snapshot: Asia draws more naphtha from Europe, Russia in November
27 November, 2019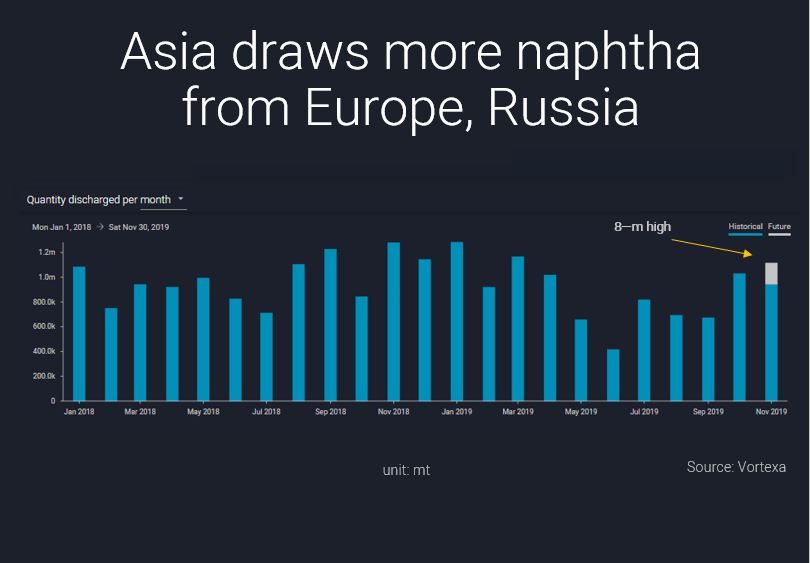 In Brief:
Naphtha imports into Asia from Europe and Russia (Baltic and Black Sea ports) are forecast to rise to an eight-month high in November, Vortexa data show, amid a recent drop in supply from the Middle East.
Asian imports from this west of Suez region would be up just under 5% month-on-month at 1.07mn mt, according to observed flows, compared with a monthly drop of around 20% from the Middle East region, a year-to-date low on the route.
Top sources of imports from within the Europe-Russia region were Tuapse, Novorossiysk and Ust-Luga in November, in keeping with 2019 so far. Norway's Mongstad rose to fourth place with the arrival of two LR2 cargoes, a particularly strong flow along the route.
Separately, Asia's imports from the Mediterranean region, including Algeria, were lower in November, amid reported refinery maintenance work and ample supplies from other regions.
It is worth noting that imports of Indian naphtha into Asia (excluding intra-country movements) were also firm in November at around 820,000 mt, the second highest month so far this year. Imports from Reliance's Jamnagar refinery complex accounted for more than one-third of total imports from India this month.
Overall naphtha imports into Asia (excluding intra-region) are expected to reach around 4.8mn mt in November, down 15% from October. Weak ethylene and propylene prices weighed on steam cracker margins this month, amid rising naphtha feedstock prices, reportedly prompting operators to reduce run rates.