Australia to Receive Baltic Gasoline
Australia to Receive Baltic Gasoline
26 March, 2019
Australia is set to receive two Baltic gasoline shipments in the next few weeks, in what are the first observed deliveries from the region in almost a year. These and the other northwest European gasoline cargoes currently in transit to Australia mark a repeat of the active arbitrage flow that emerged around the same time last year. The route was much more unusual in prior years.
Baltic deliveries
Australia's Botany Bay is expected to receive its first Baltic gasoline cargo in around a year on 28 March, aboard the LR1 tanker Cielo Rosso. The tanker took on around 60,000t of gasoline, likely finished grade, on 31 January from Alexela Terminal, in the Estonian port of Paldiski.
Another LR1 tanker, Marinor, is also heading to Australia with Baltic gasoline, having co-loaded product from Paldiski and Lithuania's Klaipeda earlier this month. She was last declaring Melbourne with an arrival date in early May.
Baltic gasoline and blending components have in previous years typically discharged in the ARA region, headed transatlantic or to west Africa. Higher freight costs relative to gasoline exporters in Asia-Pacific had curbed movements from Baltic ports to Australia in the past.
But such restrictions seem to have eased as the number of tankers moving Baltic gasoline to Australia in 2019 has already matched the total seen by Vortexa in 2018.
European flow continues
Aside from the Baltic exports, two Amsterdam-loaded gasoline cargoes are also on their way to Australia-the LR2 tanker STI Orchard is due at Botany Bay on 30 March, while STI Gratitude is expected in Australia at the end of April.
Most of the Europe-Australia flow in seen in recent months originated from the gasoline hub of Amsterdam but smaller volumes can also be traced back to Immingham, UK. Most recently, earlier this month, the SCF Prudencia delivered a gasoline cargo to Botany Bay from Immingham, home to the Phillips 66-owned Humber refinery.
Australian imports rise
The re-emergence of long-haul gasoline shipments from Baltic and northwest European ports coincides with an overall jump in Australian gasoline and blending component imports in Q1 from previous quarters.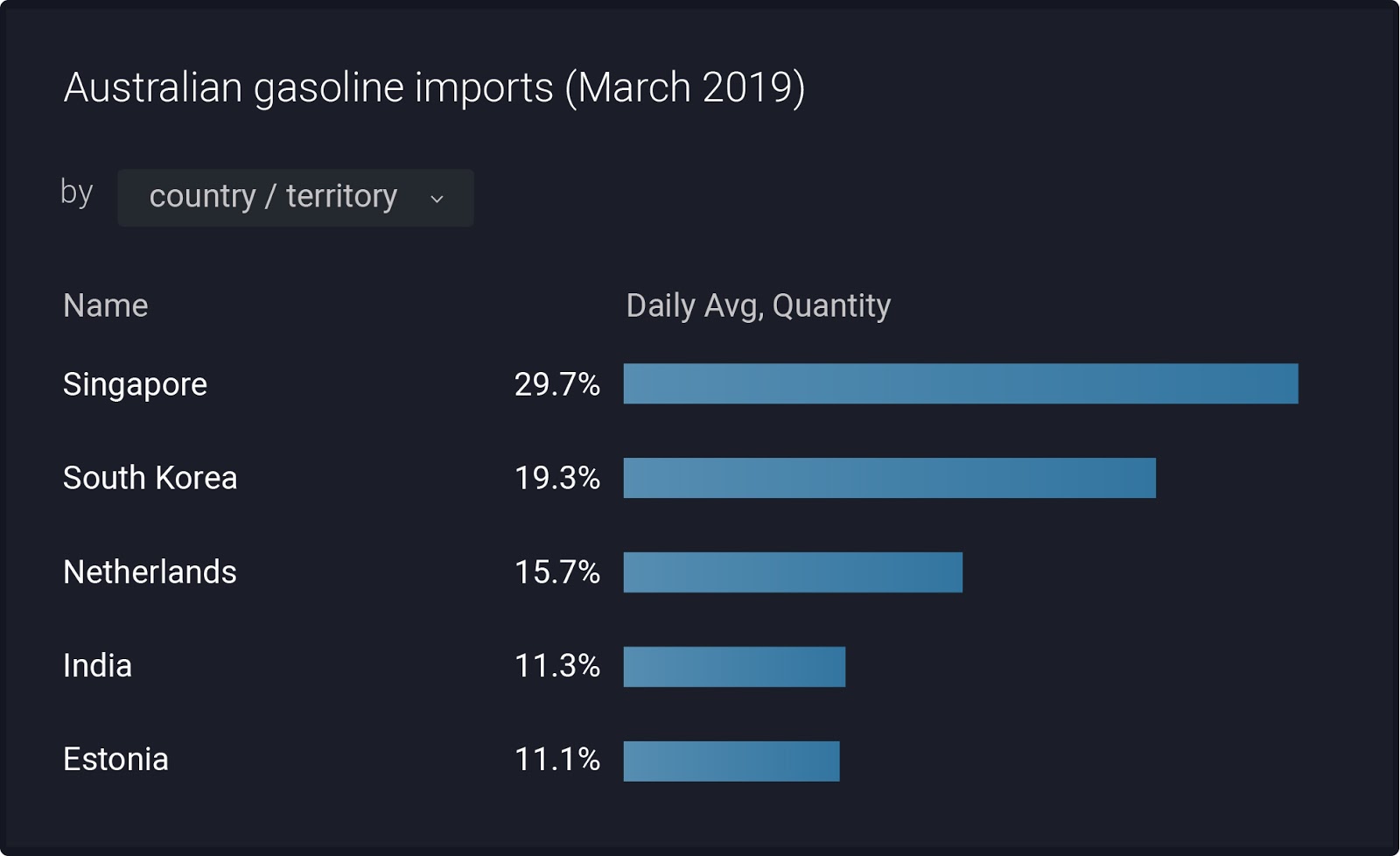 The bulk of Australia's gasoline imports have historically come from Singapore, South Korea, India and other Asian producers.
But increased intake of Baltic and European gasoline this year continues to diversify Australia's gasoline supply away from the Asia Pacific region. Gasoline loaded from Estonia and the Netherlands made it in the top five sources in March, Vortexa data show.