Clean oil product exports through Strait of Hormuz
Vortexa Snapshot: Clean oil product exports through Strait of Hormuz
08 January, 2020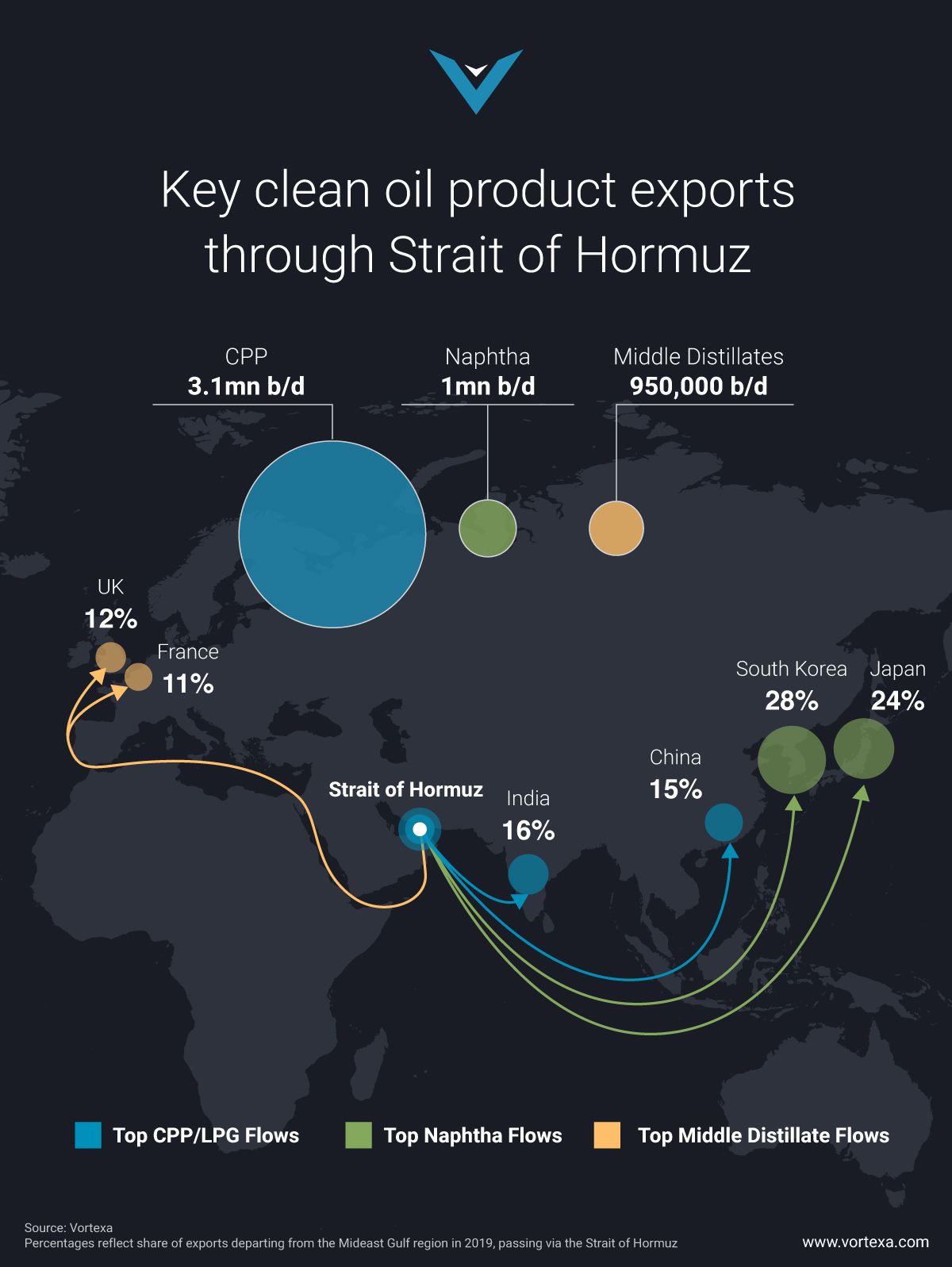 The spectre of potentially disrupted oil flows transiting the Strait of Hormuz has resurfaced amid deepening tensions between the US and Iran. A potential disruption could impact not only Mideast Gulf crude oil exports to global customers, but also the established flow of refined products to world markets – particularly clean petroleum products, such as naphtha, LPG and middle distillates.

Vortexa Oil News – In Brief:
Around 3mn b/d of clean petroleum products loaded from Mideast Gulf ports and transited the Strait of Hormuz in 2019, according to Vortexa data.

Naphtha formed the largest component of this clean grouping, with 1mn b/d transiting the Strait last year. Next followed LPG, diesel/gasoil, and jet fuel, amid smaller volumes of other clean products.
Refinery capacity has grown significantly in the region in recent years, making it a key supplier of clean products globally.
Any disruption to Mideast Gulf-loaded naphtha and LPG – which are key feedstocks to ethylene crackers – would have a disproportionate impact on the Asia-Pacific region, to which over 90% of these products headed in 2019.
By contrast, the impact of any disrupted middle distillate exports would be more regionally spread out. Last year, close to 40% of middle distillate exports that passed the Hormuz Strait – having loaded from the Mideast Gulf – headed to Europe; almost 30% to Africa, and just under 15% to Asia.
But the global impact of any potential disruption to middle distillates flows on this route would be sharpened by the recent step rise in marine gasoil demand, following the global shift to lower sulphur bunker fuels this year.
Aside from clean product exports, the Mideast Gulf region is also an exporter of dirty petroleum products, primarily fuel oil. Any curtailment on this front would most impact exports of Iraqi and Saudi fuel oil, given the drop in Iranian fuel oil exports post-sanctions.
---
Interested in a more detailed view of these flows?
{{cta('bed45aa2-0068-4057-933e-3fac48417da3′,'justifycenter')}}