Insight Report: Feast And Famine for US Jet Fuel Imports
Clean Products Insight: Feast And Famine for US Jet Fuel Imports
31 January, 2019
US jet fuel imports increased in January after falling to a multi-month low in December. The rise in arrivals resulted from the opening of arbitrage opportunities-especially from more irregular suppliers in east of Suez markets.
Arbitrage flows via Suez
Favourable arbitrage economics prompted shipments of jet fuel to head to the US from more unusual exporters in recent weeks, particularly in the Mideast Gulf and India, Vortexa data show.
Cargoes from east of Suez markets loaded onto long-range (LR1) tankers and travelled via the Suez Canal, for delivery to the US Atlantic coast (PADD 1) and the Caribbean-the latter houses tertiary storage which can be used for breaking bulk and/or for further distribution to Latin America. Several of these tankers were initially chartered for delivery to the European region.
East of Suez arrivals
The US received jet fuel from India in January-the first time since early October, according to observed flows. The LR1 Gulf Coral loaded from India's Sikka port in December and discharged its cargo at Port Everglades, Florida on 19 January. This was followed by another Sikka-loaded LR1, Flagship Sage, which arrived to the same port at the end of the month. Both tankers partially discharged at St Croix, US Virgin Islands.
A flurry of Mideast Gulf jet volumes also arrived into the US in January. The first Kuwaiti jet fuel cargo since May 2018 arrived aboard BW Thames, completing her discharge at Port Everglades after a partial unload in the Caribbean. Saudi supplies arrived with the Fulham Road which completed discharge at Port Everglades, after also partly delivering to St Croix. The STI Expedite meanwhile carried an unusual Qatari jet cargo to New York at the end of January.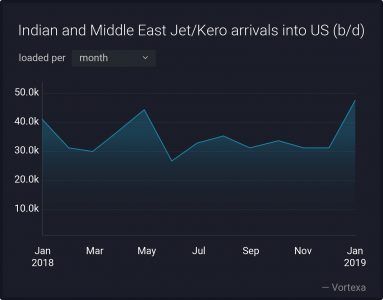 Supportive economics
The forward curve for jet fuel prices in the US Atlantic Coast (PADD 1) is in backwardation, suggesting tighter supply-incentivising prompter delivery.
New York jet fuel swaps prices show a slight but sustained decline from the balance January to the May contract. And earlier this month, cash differentials for PADD 1 jet fuel reached multi-month highs.
Meanwhile outright prices in Singapore reached their lowest this month since August 2015. Prices in Singapore serve as a benchmark for cargoes loading from Asia, including India, and the Middle East.
The forward curve for Asia jet-kerosene swaps is in strong contango at the front, which gives a clear indication of the prompt weakness across the wider east of Suez market.
The balance January contract was last seen at a $2.91/bl discount to the February contract, according to CME Group data. In comparison, the Feb/March and March/April spreads are much stronger at -$0.60/bl and -$0.36/bbl, respectively, but still in contango. If these price trends continue, arbitrage flows could climb further.
But if temperatures in the region remain mild, Asian prices could weaken more, potentially pushing more South Korean jet to PADD 5, or more flows from India/Middle East to PADD 1, via Suez.
Room for more?
The bulk of US jet imports has historically come from South Korea via the Pacific coast. The country is a major global exporter of the product and relatively close to Los Angeles, the single largest recipient of jet fuel in the US.
But despite the recently improved arbitrage opportunities for India and Middle East exporters, the response from the US' largest jet fuel supplier has been more muted than in prior months.
US imports of South Korean jet fuel in January stand at around 70,000 b/d on a preliminary basis, well below the 140,000 b/d imported in September.
South Korea's exports to the US receive competition from seasonal kerosene demand in Asia at this time of the year. Elevated demand for the product-which is essentially unprocessed jet fuel-during cold weather in China and Japan can impact jet fuel export economics.
US jet fuel import trends
Preliminary data show total January seaborne arrivals of jet fuel into the US are expected at 150,000 b/d, up by around 70,000 b/d month-on-month.
The US imported on average 140,000 b/d across 2018, Vortexa data indicate, with a dip in the fourth quarter.