East to west jet arb holds up
Vortexa Snapshot: East to west jet arb holds up
18 March, 2020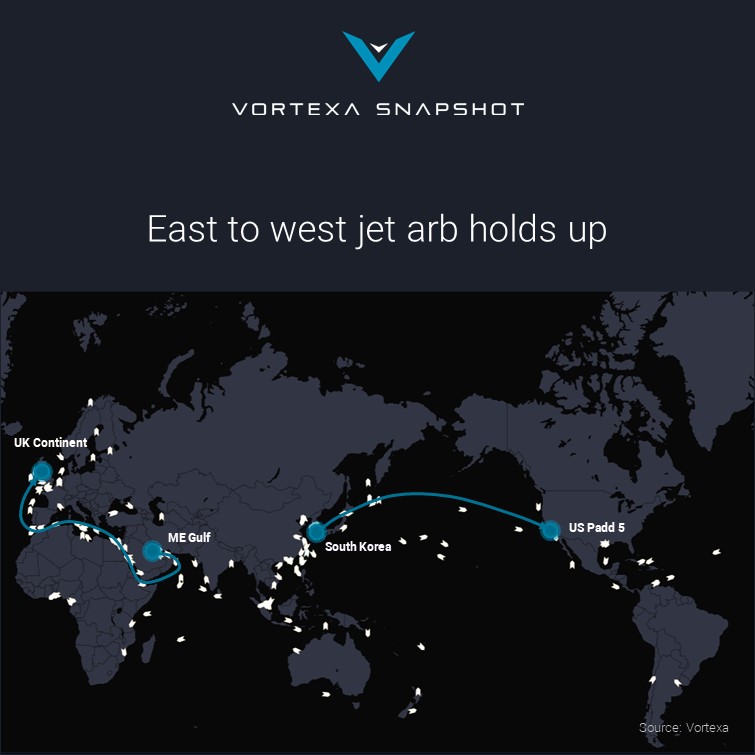 Jet fuel arbitrage flows along key east-west trade routes remained firm this week, despite sharply weaker global jet fuel demand, as surplus barrels in Asia-Pacific and Mideast Gulf region cleared towards the US and Europe. Additional support is also now expected to come from storage demand amid a widening contango.
South Korea to US jet volumes rise
An uptick of jet arbitrage flows from South Korea – the world's largest seaborne jet fuel exporter – to the US, provides much-needed relief to the Asia surplus, and continues a trend we highlighted in a previous note in January. Latest indications are that March arrivals of South Korean jet fuel into the PADD 5 will be at their highest since July last year.
This week, Handymax DL Cosmos loaded from Ulsan enroute for Los Angeles, while the Valero-chartered Handymax New Breeze is expected to load another cargo later in the week.
Provisional fixtures indicate three additional tankers – LR1 STI Providence, Handymax STI Tribeca and Handymax Excelsior Bay – lined up to load a combined 1mn bl from South Korea next week for delivery to US PADD 5.
That said, with US jet demand now under pressure from travel restrictions, the arbitrage window could narrow in the weeks ahead, limiting the spot cargoes flow from South Korea.
Jet demand in Asia-Pacific was severely hit in the past few weeks, and has yet to show signs of recovery – we recently reported on jet fuel imports into Hong Kong in February falling to a multi year low.
More MEG jet cargoes head to UKC
Jet fuel loadings from the Mideast Gulf to UK continent could see a rebound this week, after two consecutive weeks of no loadings. One Aframax and three Panamax tankers have been provisionally fixed by Saudi Aramco, BP, Shell and Total to load a combined 2.1mn bbl of jet from the region delivery to northwest Europe this week. This is in line with our expectation that the widening contango structure could encourage flows into storage hubs in the European region.

See our companion note on jet arrivals into France, Le Havre.

The drawing to a close of heavy planned refinery maintenance across the Mideast Gulf (in Saudi Arabia, Kuwait and the UAE) could see jet fuel exports from this hub rise, also seeking a European home.
Jet regrade widens, deeper contango prompts floating storage interests
The prompt Singapore jet regrade swap, the price differential between jet and 10ppm diesel, has further widened on the negative in recent weeks.
We expect to see onshore middle distillate inventories build across the US, Singapore and Fujairah in the weeks ahead.
Considerations for offshore jet storage on LR2 tankers have been heard, but current time charter rates are limiting storage arbitrage.
Interested in a more detailed view of these flows?
{{cta('bed45aa2-0068-4057-933e-3fac48417da3′,'justifycenter')}}