Fuel Oil Insight Series: European RMG-380
Fuel Oil Insight Series: European RMG-380
18 February, 2019
Fuel Oil Insight into European RMG-380
The bulk of European RMG-380 fuel oil trading-the predominant high sulphur bunker grade- takes place in the Amsterdam-Rotterdam-Antwerp (ARA) region. It is the main fuel oil pricing center, along with Singapore. With its local refineries and large number of independent storage facilities, it is also where most European RMG-380 is blended for the market.
Historically, the RMG-380 grade has typically traded at flat to a $2/mt to $3/mt premium over the benchmark 3.5% FOB Rotterdam Barge quote. It is usually a blend of Russian M100 combined with slurry and light cycle oil (LCO) streams to cut down density and viscosity, respectively.
Brofjorden Case Study
In Sweden, refiner Preem's 210,000 b/d Lysekil refinery at Brofjorden has on-site production of RMG, which is highly sought after, for a number of reasons.
By some traders, RMG-380 is considered a 'clean' blend as it is only made up of local refinery production, so there is little risk of contamination. On a more complex blend from multiple sources, and perhaps unknown origins, the risk of the presence of styrene, asphaltenes or lube oils may increase.
The Lysekil refinery produces one to two cargoes per month of around 55,000mt which are sold on a FOB basis – the cargo size making them ideally suited to Panamax freight.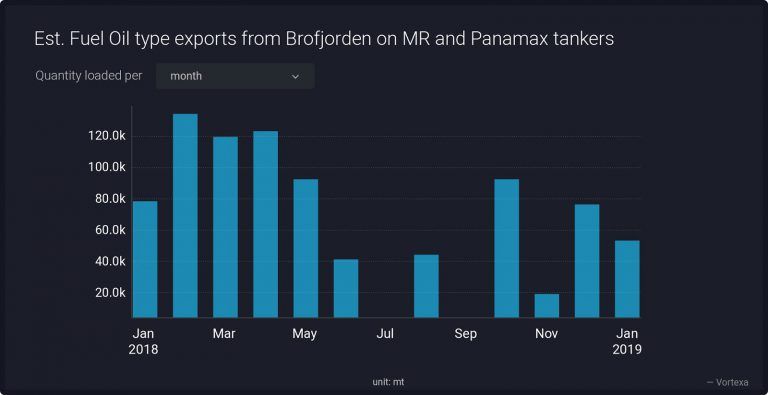 The Brofjorden RMG, unlike that of Rotterdam, typically trades at a $2/mt to $3/mt discount to the 3.5% Rotterdam barge quote as there is limited local demand and the area is neither a major bunker hub nor a transshipment area for larger freight classes arbitraging fuel oil to Asia. This pricing discount, on Panamax economics, means that the cargoes either move to the Mediterranean or US east coast markets.
In the Mediterranean, there has been good demand for RMG into Spain's Algeciras, which is the prime regional bunkering and storage hub.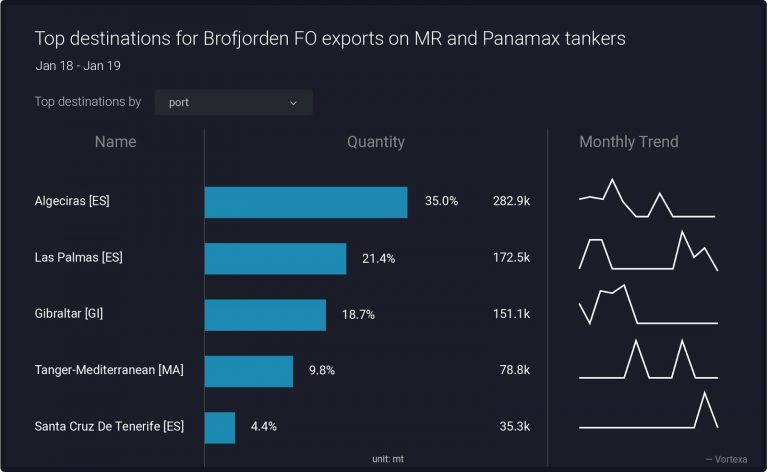 Vortexa cargo-by-cargo tracking data shows Chevron, Galaxy and Litasco all taking the grade into the west Mediterranean area in 2018.
The data also shows Trafigura and Cepsa chartering the Panamaxes Nave Equinox and Emerald, respectively, into Las Palmas around the end of last year.
The cargoes also occasionally make their way, when arbitrage economics allow, to the New York and Philadelphia area for the local bunker market, which is dominated by Aegean. Vortexa data show Preem themselves chartering the Panamax tanker Polyaigos in 2018 for this move, which delivered into the International Matex (Norfolk, VA) and Buckeye (Philadelphia, PA) terminals.
Industry sources expect the next Brofjorden RMG cargo to come to market off end January dates.
In the longer term however, the regional outlook for high sulphur fuel oil grades such as RMG-380 is expected to tighten, as refiners–including Preem at Lysekil–make investments in upgrading units in the run up to the International Maritime Organisation's (IMO) January 2020 deadline to impose a new global sulphur cap on bunker fuels.