Vortexa Snapshot: Italian middle distillates imports fall in March
Vortexa Snapshot: Italian middle distillates imports fall in March
12 March, 2020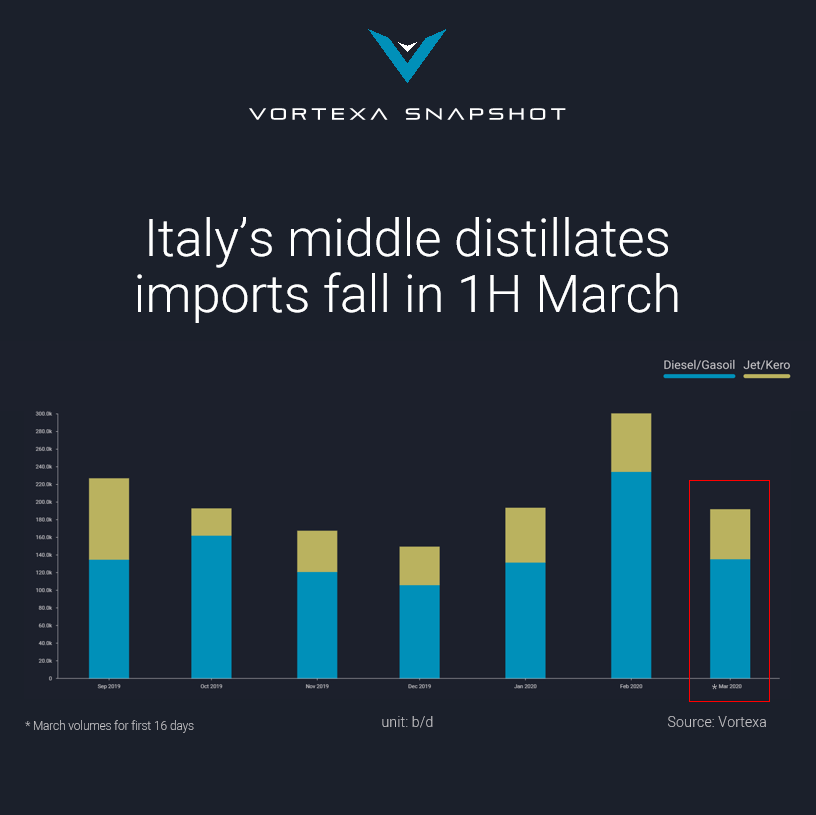 Italy's diesel and jet imports are markedly lower in March so far compared with prior months, Vortexa data show, coinciding with the roll-out of widespread travel restrictions in the country imposed earlier this month. Arrivals in the first half of the month are well below the highs of February, which was supported by a backdrop of domestic planned maintenance.
1H imports down: Diesel and jet arrivals into Italy in 1H March (1-16) are expected at 190,000 b/d, down sharply from 300,000 b/d across February, which was the highest monthly total seen by Vortexa since June 2016. The 1H March figures underline that softening of demand post-coronavirus outbreak more than offsets reduced supply from refinery turnarounds.

Last month supported by maintenance: Higher February imports were likely supported by purchases agreed in light of refinery maintenance schedules, but before widespread transport restrictions took force.

Fiumicino downside: Most of Italy's imports this month have discharged into Venice and Fiumicino – the country's main inlets for middle distillates. Going forward, the latter port is likely to feel the sharpest impact from falling jet fuel demand, being connected by pipeline to Italy's busiest airport, Rome Fiumicino.

Export upside: Looking ahead to the coming weeks, the combination of falling crude prices along with weaker middle distillates demand in Italy, could spur Italian refiners to redirect more diesel to export markets, though this will be tempered by scheduled refinery maintenance.
Interested in a more detailed view of these flows?
{{cta('bed45aa2-0068-4057-933e-3fac48417da3′,'justifycenter')}}