Jet fuel diverts to Caribbean storage
Vortexa Snapshot: Jet fuel diverts to Caribbean storage sites
24 March, 2020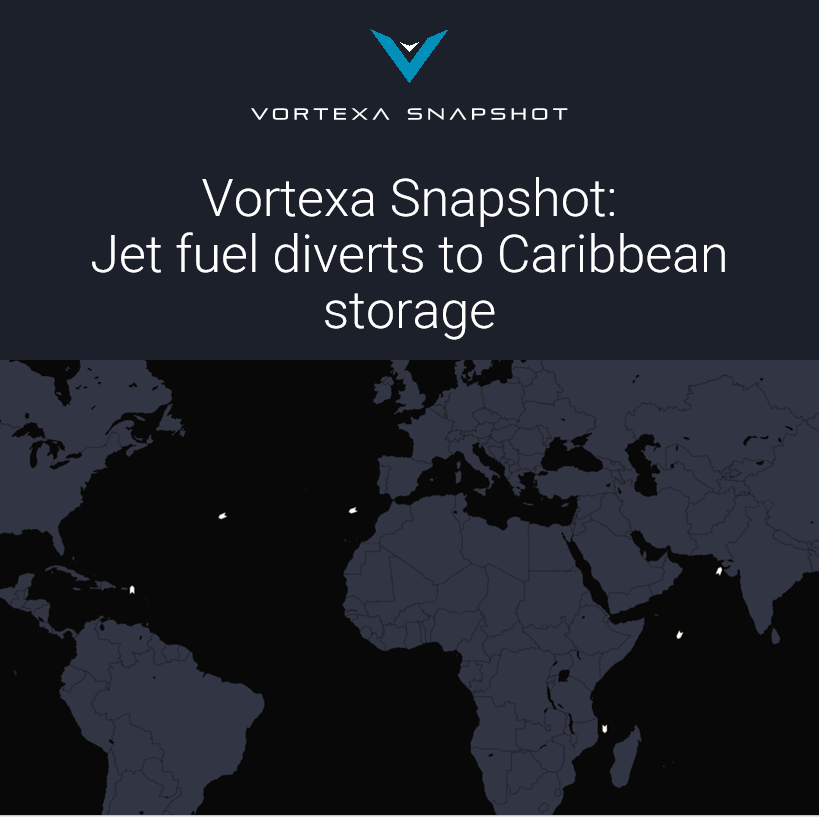 The coronavirus outbreak has had a major impact on jet fuel demand globally, with storage demand for the product rising as short-term supplies pile up. Most recently we observe that Europe's jet fuel demand slump and fall in prompt prices to multi-year lows has encouraged east of Suez-origin cargoes to divert towards Caribbean storage areas, from previous trajectories that put them heading to consumption hubs in the Mediterranean.
Mideast Gulf + India supplies pivot to transatlantic
Around 160,000 mt of jet fuel that was previously set to discharge in Europe has diverted this month to the Caribbean, Vortexa data shows. Putting that in context, the Caribbean region's total monthly import from all origins averaged around 200,000 mt during 2017-2019.
But despite recent diversions, Caribbean jet fuel imports this month are unlikely to surpass the year-to-date high of 200,000 mt in January, as exports from the US Gulf coast (PADD 3), the region's main supplier, have slowed.
Looking ahead, j

et fuel diverted to storage tanks in the Caribbean would be well placed for redistribution into Latin America or potentially to supply into PADD 1. In the meantime, traders will be capturing the benefit of keeping product in tanks with the wide contango now present in jet fuel prices.
Diversions to Caribbean
Medium-range (MR) tanker Jo Kari was previously expected to discharge her 40,000 mt Saudi-origin jet fuel cargo in Spain this month. As of 22 March, the tanker changed course and is headed across the Atlantic to St Croix, US Virgin Islands for early April arrival.

The long-range (LR1) Red Eagle was also declaring for Spain's Algeciras discharge this month, having previously declared for Avonmouth, UK. But as of 17 March, the tanker headed transatlantic and will likely discharge her 60,000 mt Saudi-origin jet fuel cargo into Freeport, Bahamas at the end of this month.

Meanwhile, LR1 STI Expedite has begun discharging her 60,000 mt cargo into St Croix. She loaded from Sikka, India in late February and was previously declaring for the Med region, with shipping fixtures indicating discharge into UK-Continent.
Transatlantic opportunities
The LR1 UACC Eagle laden with 60,000 mt of jet fuel was previously booked for discharge in northwest Europe but is now likely heading to Florida – the largest importer of the product on the US east coast. The tanker is currently anchored off India's west coast after loading from Sikka on 23 March.
Other LR1 tankers that could potentially divert away from a European discharge (as per shipping fixtures) are BW Thames and Sauger. Both tankers' trajectories suggest they are sailing around the Cape of Good Hope to delay arrival into Europe, or diverting to transatlantic destinations or even west Africa.
Interested in a more detailed view of these flows?
{{cta('bed45aa2-0068-4057-933e-3fac48417da3′,'justifycenter')}}