Nigerian Gasoline Imports Rise to Multi-Month High
Nigerian Gasoline Imports Rise to Multi-Month High
10 April, 2019
Gasoline arrivals into Nigeria could reach at least a five month high in April, Vortexa data show, in line with the seasonal increase in demand.
Import expectations
Waterborne gasoline cargo arrivals into Nigeria for April are set to hit around 330,000 b/d, according to preliminary indications. This would be almost a 50% jump from March-over 100,000 b/d-and the biggest import month since November last year. Higher April figures follow weaker annual first quarter 2019 imports after fuel shortages early last year significantly lifted February-March 2018 intake.
The data going back to 2016 show some demand seasonality in Nigerian gasoline imports, with upswings around March/April, ahead of the summer. There is also an overall rising import trend, as the increased gasoline demand tracks steadily improving economic growth. The country's crude and condensate exports have also increased over the past few years, despite periodic disruptions.
Nigeria, however, remains particularly reliant on imports to meet its gasoline demand on account of limited domestic refinery capacity. Most gasoline is imported via Nigerian state-oil firm NNPC's annual direct-sales-direct-purchase (DSDP) programme, which sees its crude exchanged for refined products.
Forecast arrivals this month
For the April cargo arrivals, almost half of the volume will come from ARA; Antwerp's Sea Tank Terminal (STTA) and Amsterdam's Inter Terminals and Vopak being the top three load terminals.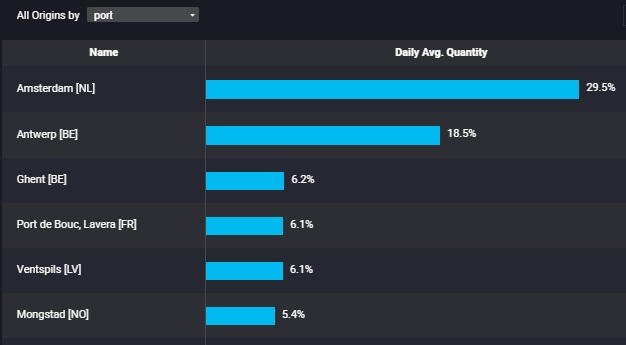 Top Gasoline Import Origins into Nigeria in April-Vortexa
As well as increased gasoline imports to landed storage, market sources also say floating storage volumes offshore west Africa have been drawing; perhaps both indicators of healthy domestic demand. This also comes in the wake of national elections held in the first quarter of the year.
IMO 2020 benefits for Nigeria
According to EIA data, Nigeria has the biggest proportion of gasoline to diesel cars in the world – 92% of their fuel on the road is gasoline; just 8% is diesel. If the gasoline to diesel price widens as a result of IMO-2020, Nigeria could be an accidental beneficiary of this-more so if their overall gasoline imports continue to rise. This would be a further boost to the nation's growth.