US Jet Fuel Arrivals from South Korea Up in March
US Jet Fuel Arrivals from South Korea Up in March
18 April, 2019
US imports of jet fuel from South Korea rose to a multi-year high in March, Vortexa data show. The steep month-on-month jump seen in March arrivals coincides with a string of refinery outages in the US West Coast (PADD 5) region, the main inlet for US jet fuel imports from Asia.
Around 530,000 mt of jet fuel was observed by Vortexa arriving into the US from South Korea in March. This marked a 230,000 mt rise from February's arrivals and the highest monthly total for this trade flow since 2016.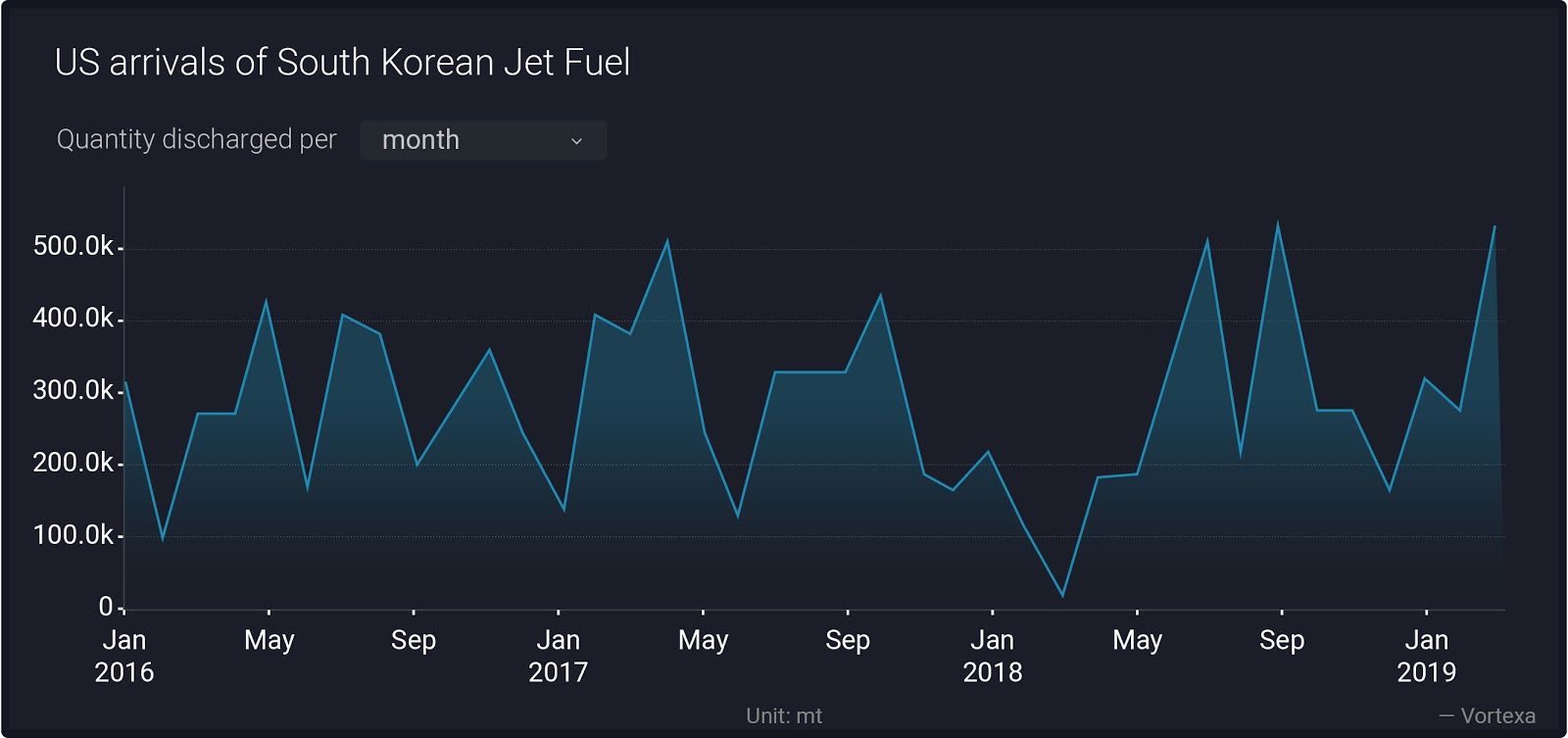 During March, PADD 5 incurred multiple refinery outages which likely improved short term arbitrage opportunities and increased import activity.
According to market reports, Phillips 66 reported a leak and combustion incident at its Carson plant – part of the firm's Los Angeles refinery complex – in mid-March. Meanwhile, processing at Valero's Benicia refinery has reportedly been shuttered since March following local authorities' investigations into air quality issues. Chevron's Richmond refinery was also said to have had a power outage in early March.
South Korea fills supply gap
As the largest seaborne exporter of jet fuel to PADD 5 – and therefore to the whole of the US – South Korea has picked up the slack stemming from the recent supply disruptions.
Prior to March, South Korea had accounted for around two thirds of all PADD 5 jet fuel imports. This share rose to around 90% in March. Vortexa observed more PADD 5 imports from South Korea in March than it has seen since 2016.
South Korea's jet fuel exports to the US can be traced back to the ports of Yeosu, Daesan and Ulsan – home to large, complex refineries owned by GS Caltex, Hyundai Oilbank, Hanwa, and SK Energy.
April arrivals
Looking at arrivals in April, the US has so far received around 370,000 mt of jet fuel from South Korea. Preliminary estimates indicate April arrivals are unlikely to rise above 400,000 mt.
If imports do hold at current levels, April's volumes will more closely resemble volumes seen during January and February. That said, preliminary full-month South Korean jet imports into the US are would still amount to a 190,000 mt rise from the same month last year.