US naphtha exports to Asia surge
Vortexa Snapshot: US naphtha exports to Asia surge
13 December, 2019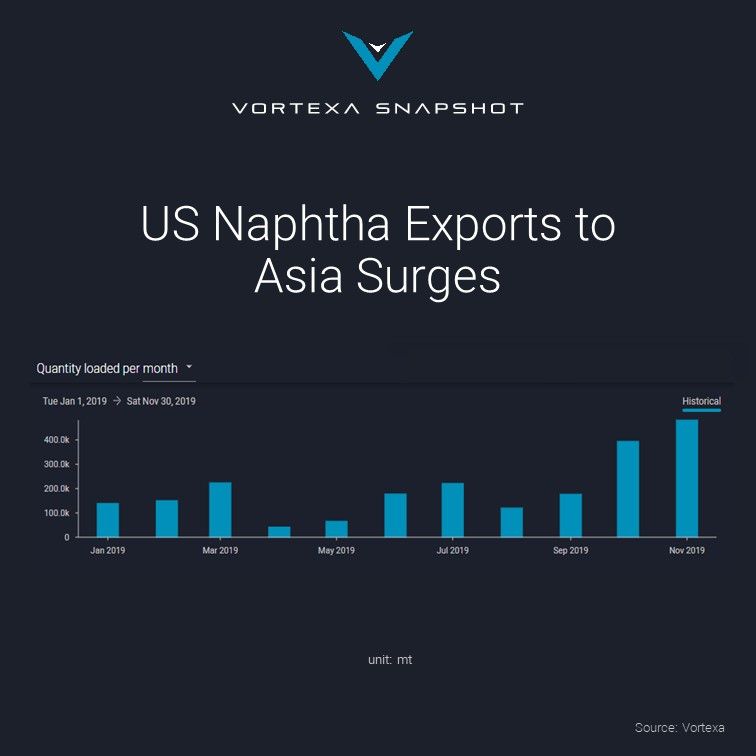 In Brief:
US naphtha exports rose to more than 900,000 mt in November, the highest seen in at least three years, according to Vortexa data. Exports have been supported by a wider east-west naphtha arbitrage, underpinned by the seasonal rise in petrochemical demand in Asia and weaker demand for naphtha reforming in the US.

Over a third of US naphtha exports -predominantly full range or heavy- headed to South Korea in November, a multi-year high on the route. South Korea took the top spot in naphtha export destinations of the US for the second consecutive month, after Colombia dominated the top spot across the first nine months of the year.

Elsewhere to the Far East, US naphtha exports to Japan have also seen an uptick in recent months, totalling 430,000 mt between September and November, surpassing total volumes in the first eight months of the year.

Rising naphtha imports from the US into Asia, coupled with recently higher flows from Europe, have helped counteract lower naphtha exports from the Middle East in recent months.
US naphtha cargoes typically load from the US Gulf Coast and transit via the Panama Canal, taking 40-45 days to be delivered to North Asia, compared with 20-25 days for deliveries from the Middle East.
Asia Naphtha-LPG spreads have narrowed from the highs observed in August, with winter demand in the region propping up LPG prices. That said, spreads are still not enough to incentivise cracker operators to switch feedstocks from LPG to naphtha, as reflected by Asia import volumes in November virtually flat versus the monthly average in Q3.