US picks up rare fuel oil cargoes from Jordan
Vortexa Snapshot: US picks up rare fuel oil cargoes from Jordan
05 November, 2019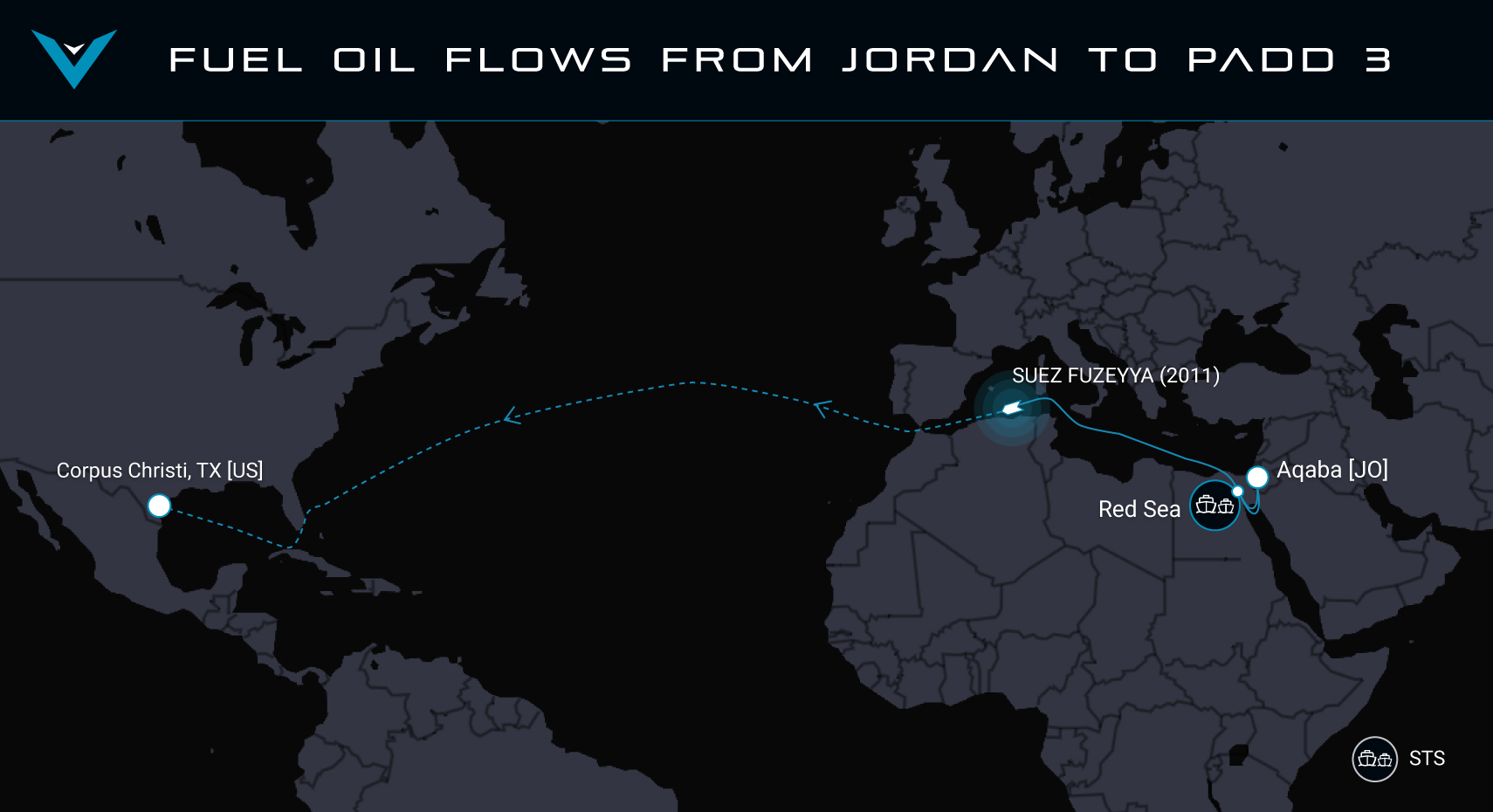 In Brief:
The US is set to receive two shipments of Jordanian fuel oil over October-November loaded from Jordan's Aqaba port – an unusual origin for fuel oil imports into the US, and the first observed shipments along this route since at least the beginning of 2016, according to Vortexa data.
The drop in HSFO prices in the run up to the imposition of the IMO 2020 sulphur cap deadline has created arbitrage opportunities for US Gulf coast refiners to pull in fuel oil from more unusual locations such as Jordan.

The Aqaba-loaded high sulphur fuel oil (HSFO) cargo currently in transit aboard tanker Suezmax Suez Fuzeyya is expected to deliver to Corpus Christi around end-November, based on its latest declaration. A provisional shipping fixture showed BP chartering the vessel to load a 130,000t cargo from Ain Sukhna for PADD 3 delivery. Prior to its Aqaba load, the tanker also took on fuel oil via STS from handysize tanker British Stratus, in an operation offshore Ain Sukhna.

The latest departure of fuel oil from Jordan to the US directly follows that of Suezmax Ottoman Integrity. After arriving at Aqaba in late August, it discharged fuel oil into Valero's Corpus Christi refinery in late October.

The drop in HSFO prices has also recently seen the US significantly up the volumes of fuel oil that loaded from Russia, as also observed by Vortexa.

Jordan has exported several fuel oil cargoes since last year – those exports have gone to Saudi Arabia, Fujairah and Singapore.