Tanker tracking: the foundation for oil market intelligence
Real-time access of global oil tanker tracking data is key for more transparent and accurate oil market intelligence. Discover the key benefits tanker tracking offers to oil & gas industry players.
17 December, 2020
For analysts, traders and charterers within the oil and gas industry, gone are the days of relying purely on anecdotal or word of mouth oil market intelligence to base strategies.
By solving the energy industry's most complex information problems, Vortexa has empowered players within the oil and gas industry to drill deep into global energy trade flows to see detailed market insights and predict global demand with accuracy.
Vortexa was born from a deep understanding of the market landscape with one simple goal: to provide groundbreaking access to oil and gas intelligence like never before.
Through enriched global oil tanker tracking data, you can gain real-time insight into the global market, helping to make the very best trading decisions.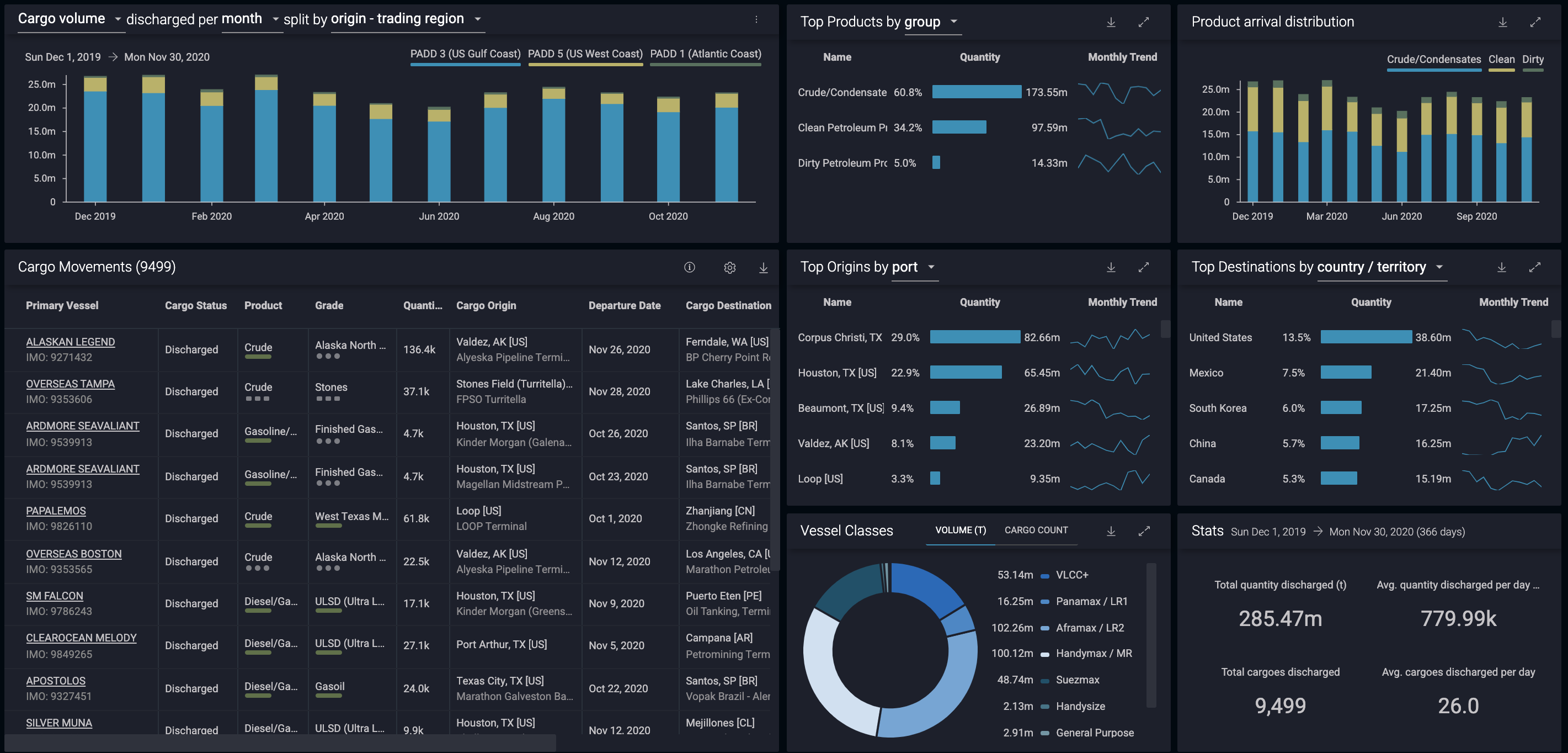 Straight-forward access to oil market intelligence
With Vortexa, you have instant access to truly accurate oil vessel tracking data that paints a clear picture of all waterborne oil flows around the globe. Our specialist analytics platform covers the full spectrum of liquid oil and gas products so you never miss an opportunity across any grade of product.
Complex movements like ship to ship transfers, split cargoes and multi-port discharges are presented in an easily understood format for every type of cargo down to the grade level. With this knowledge at your fingertips you can dramatically clarify your insight into supply fundamentals to better predict shifts in global markets.
What are the benefits of oil tanker tracking data?
For anyone working in the oil and gas markets, oil tanker tracking data gives you the cutting edge when it comes to identifying new opportunities.
Easily identify vessel origin, destination and cargo
The proprietary data supplied by Vortexa's oil and gas intelligence lets you pinpoint every waterborne vessel. Vortexa's oil and gas platform and data ensures you can easily identify:
Flows – the real quantities of grades moved and moving between any two places
Origins – the exact terminal or STS from which each vessel loads
Destination – the specific ports each vessel is heading towards
Cargo – the volume and products onboard the vessel (from Crude & Condensates to LPG, Naphtha, Gasoline, Jet Fuel, Biodiesel and more)
Route changes – when a cargo gets rerouted you'll be the first to know
Ship to ship cargo transfers – follow complex supply chains involving multiple vessels transferring cargoes around the world
Vortexa's oil tanker tracking software makes it easy to identify any changes in vessel locations, cargo and directions by the minute. By requesting a demo today, see how you can be the first to respond to any market changes.
Pinpoint geographical connections
Vortexa's oil vessel tracking data paints a precise picture of the flows between the locations, whether from production to consumption or between storage and end-use. This gives you a clear picture of the overall market movements across the globe, both live and historically.
You have instant access to oil vessel tracking data across all of the regions of the globe. For users of our software, this has raised their access to accurate oil market intelligence to new levels.
View the largest volumes of oil and gas trade
When compared to other outdated data sources, oil tanker tracking data paints a better overall picture of the oil supply landscape for traders, analysts and other stakeholders within the global energy industry.
As up to 70% of the world's oil cargo is transported via waterways, Vortexa software covers the largest volume of trade, giving a clear picture of the market realities for users of our industry-leading platform.
By providing critical trading and shipping market intelligence, we help you and your organisation stay ahead of the curve across the full range of oil and gas markets.
Access market visibility through satellite data
The increased availability of satellite data ensures all oil vessel tracking data, provided in real-time by our software, is both fast and pin-point accurate.
As more satellites are launched, the availability and accuracy of data also increases, hugely benefiting users of our platform. As of April 2020, there were a total of 2,666 satellites in space, of which 1,918 were in low earth orbit (LEO).
Other data sources include shipbrokers fixture reports, customs data, port agents and more.
At Vortexa we've leveraged our passion for emerging technologies and artificial intelligence to manifest the future of oil market intelligence today. By aggregating a vast array of complex information that until recently was once unobtainable, we provide users of our platform with a literal birds-eye view of all waterborne oil and gas movements.
Track oil supply in real-time
Gain real-time insight into the global oil supply with tracking and intelligence that is delivered by the second. When compared to other oil and gas market intelligence sources, our platform paints a clearer, fuller picture of the supply situation around the globe in real-time.
Using Vortexa as a sole platform for oil market insight, or to complement your current strategy, can open up help you discover new market opportunities first. Through innovation, we now have real visibility into what was once a murky oil and gas supply picture.
Accurate monitoring of supply and demand
With Vortexa, all market participants now have the chance to pre-empt changes in the supply dynamics across all markets around the globe. This simplifies the process of exploiting arbitrage opportunities as they emerge and before others pile in.
Our platform helps oil and gas players achieve a genuine understanding of how prices are likely to shift in the coming days or weeks. Through a detailed understanding of where, when and what oil or gas product is due to land in specific ports across the world, you can upscale your market intelligence to ensure you are maximising profits.
Complete global view of oil flows
With Vortexa, you get a complete global overview of flows across the world. Every single movement that occurs in all trading regions will be easily accessible at your fingertips. This is oil and gas intelligence like you've never seen before.
As you view every waterborne oil vessel's location and likely destination by the minute, our analytics platform ensures you can be the first to respond to market changes. That applies to both historical and current oil flows that can be used to predict supply changes.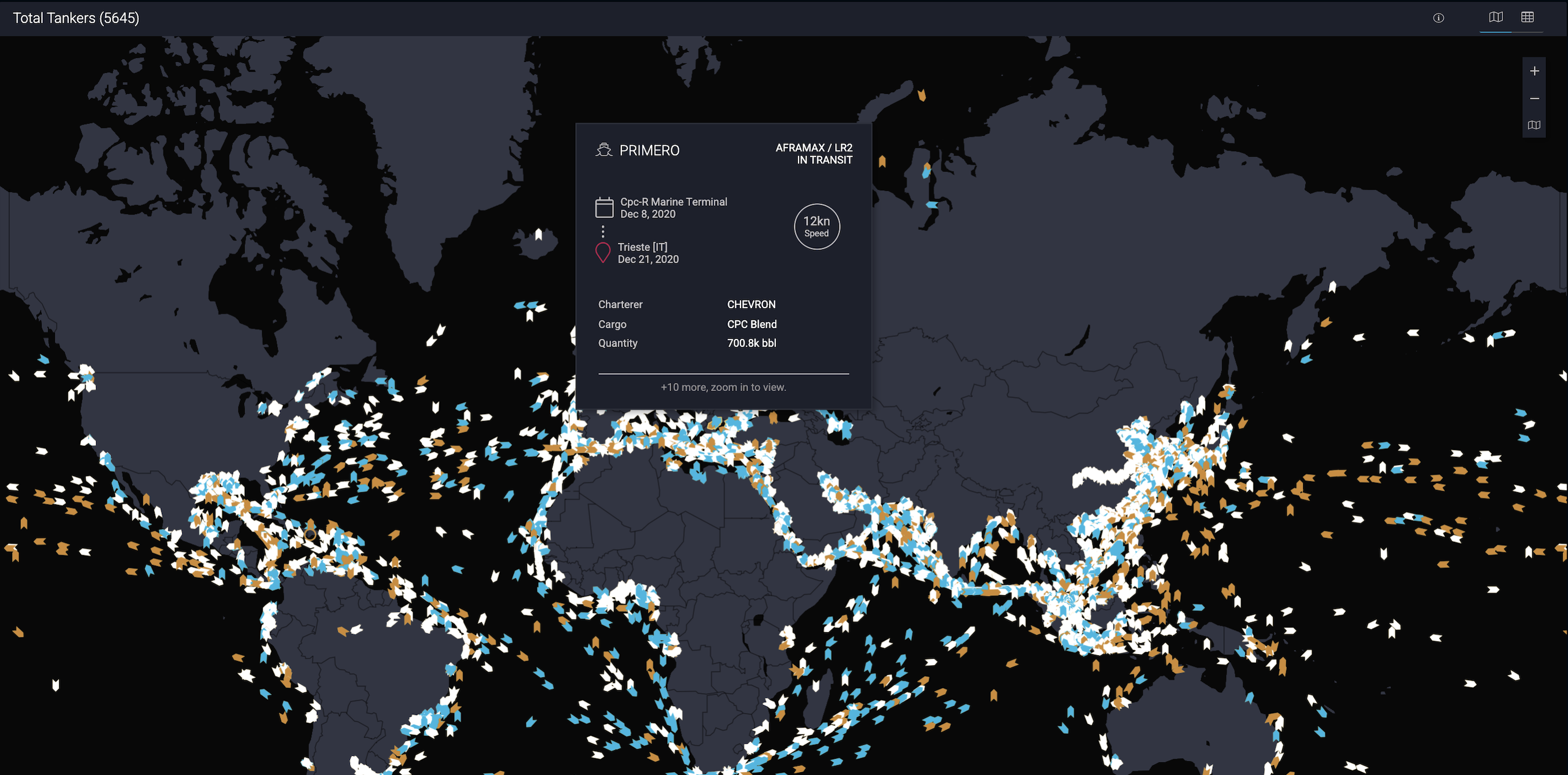 Broadening the spectrum of oil market intelligence
Market participants no longer have to rely on multiple disparate sets of their own oil and gas market intelligence – limited to the markets they are exposed to. Through Vortexa, you can see real flows between geographical locations in significant detail in order to predict supply.
Through a detailed understanding of global gas and oil flows, you can also gain insight into the strategies of competitor firms across every continent. This includes all companies: from the market-dominant down to the small-time players. You can monitor the moves of specific firms if you wish, including your key competitors.
Revolutionising data quality for oil trade understanding
Secrecy, misinformation and poor data quality in the global energy market is a thing of the past.
It's common knowledge that participants within the gas and oil market are often trying to hide their activities and operate under-cover. Vortexa's oil tanker tracking data directly combats this by providing a rigorous and independently verified source of truth.
When it comes to understanding the global oil and gas trade, our platform is paving the way towards a future of clear visibility that provides deeper levels of oil and gas intelligence.
Request a demo today
Vortexa has revolutionised oil tanker tracking data, making it simple to access accurate, real-time data that paints a clear picture of the global waterborne energy market.
By solving complex problems in the industry, we have empowered individuals within the oil and gas eco-system to gain a deeper understanding into every aspect of global oil flows.
Through our software, that aggregates hundreds of data sources, you can better predict supply and demand to spot new opportunities and stay ahead of the curve.
Don't just take our word for it, request a demo for yourself.
---
Join the future of oil market intelligence today
{{cta('bed45aa2-0068-4057-933e-3fac48417da3')}}