Vortexa Products: Limitless opportunities to capitalise on raw data
A detailed analysis of the different products available with the Vortexa API, and what benefits you most to make better trading decisions.
19 August, 2020
Immediate, comprehensive and transformative data insights at your fingertips.
Exploring extensive data products to suit every workflow
Chartering the choppy waters of the world of oil and gas can be a complex business. Vortexa's mission is to empower energy trading and shipping stakeholders with transformative and highly impactful quality data, to enable them to identify and seize strategic opportunities before others.
However, Vortexa goes further than just providing a comprehensive picture of the industry. We have expertly cultivated a suite of additional solutions to significantly elevate the potential benefits of our state-of-the-art AI platform for our diverse range of clients.
The following data solutions have been meticulously crafted to suit a dynamic range of needs; dependent on client resources, proprietary trading strategies and overarching business goals. Solutions can be integrated as stand-alone offerings, or in tandem with one another. These include:
Vortexa Analytics
Excel Plugin
AWS Data Exchange
Python SDK
Vortexa API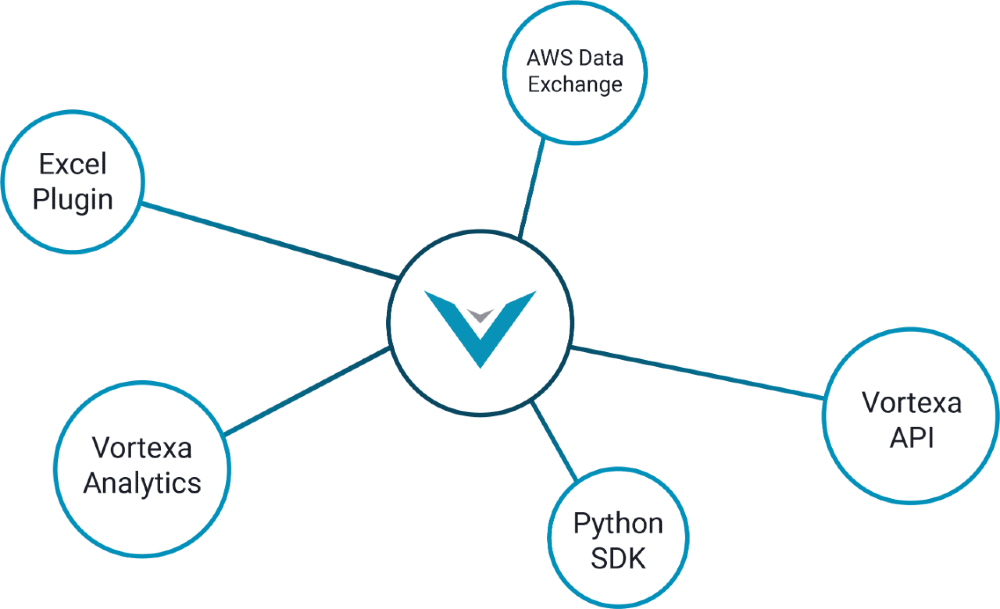 Vortexa Analytics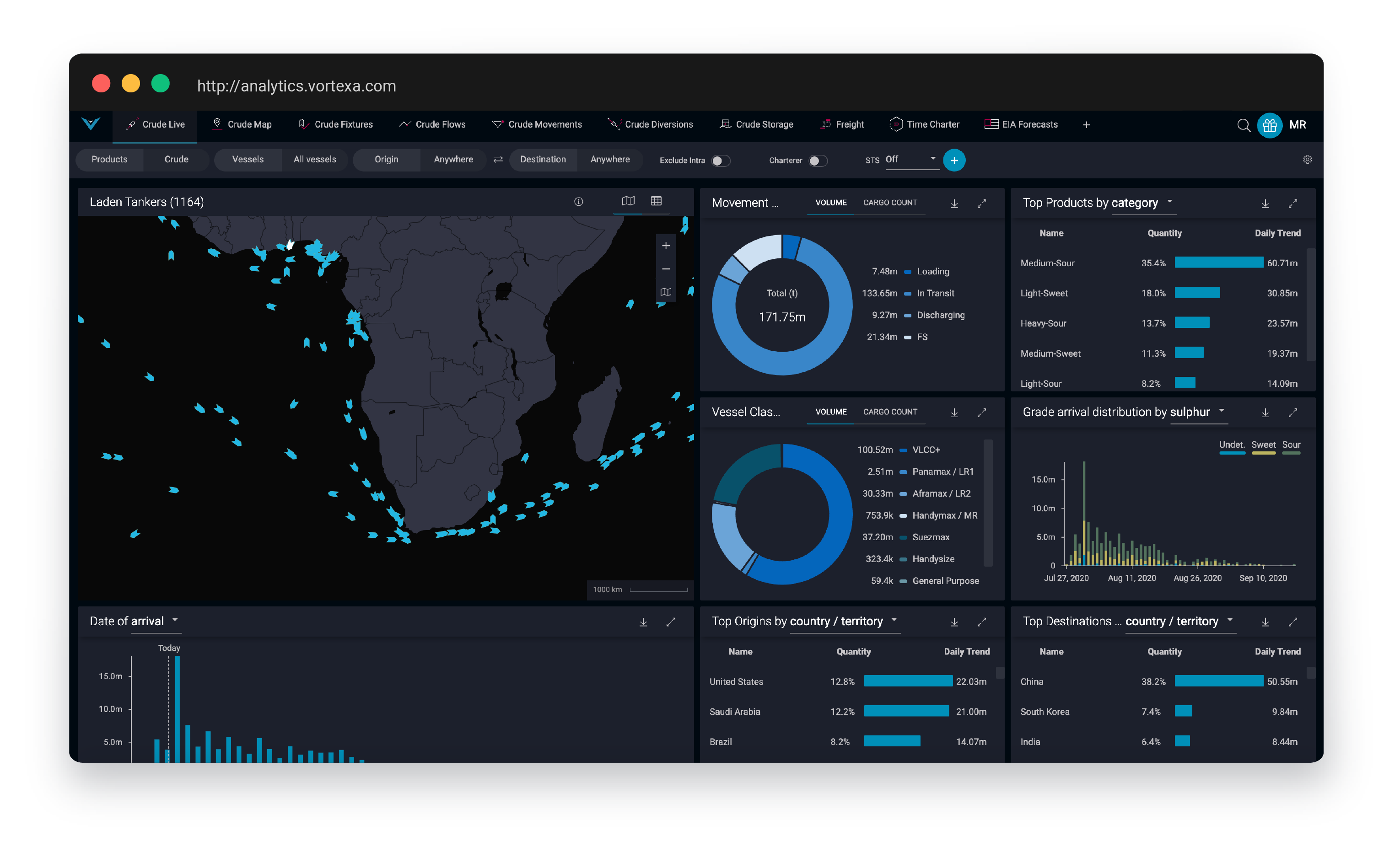 Advantages:
Easy to use interface
Powerful data visualisations
Rich

set of filters
Best suited for: Analysts, decision-makers and reporters who require immediate, intuitive and fast access to rich market insights – without having to manipulate data.
Vortexa Analytics is a web application; created and operated by energy market experts, data scientists and engineers to provide the most comprehensive view of waterborne crude oil and refined oil products. This powerful, yet user-friendly tool that helps clients to extract valuable insights from a huge amount of raw data, updated in real-time.
Vortexa Analytics features an extensive set of filters that can be combined in order to create a near limitless set of queries. This product can further serve to answer a multitude of questions clients may have about the oil and gas market. It supports a wide range of filters and rich visualisations that makes it easy to understand and compare data. Vortexa Analytics also includes data export features, that allow clients to create CSV files out of our tables and charts.
When exporting, data has to be pre-processed to fit hierarchical data within a flat structure, which can hide some details buried within raw data. Clients who do not work heavily with manual data exports, such as CSVs, or with automated workflows, have found profound success with Vortexa Analytics.
---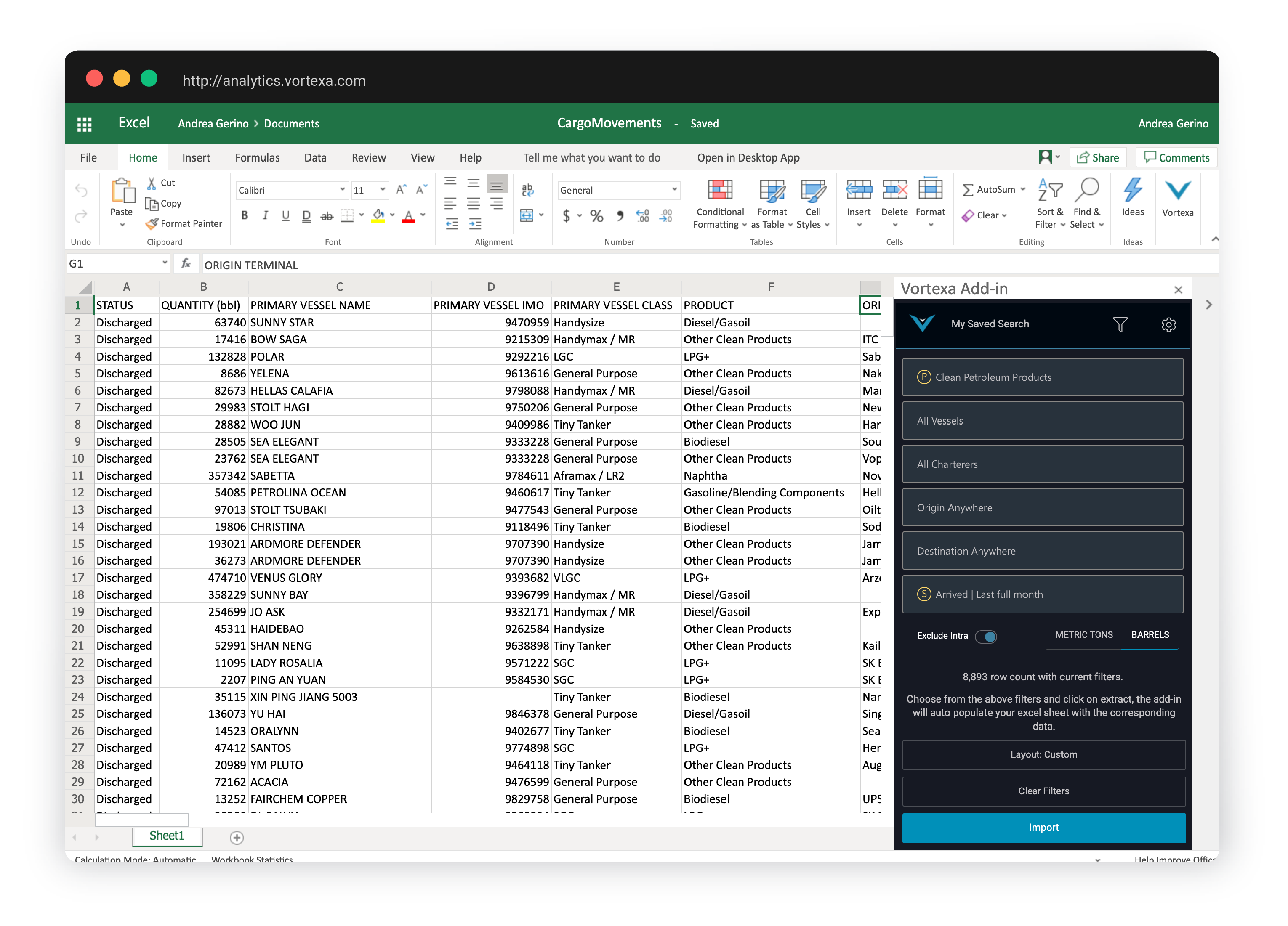 Advantages:
Easy to import data
Easy to filter data
Access to known toolset
Best suited for: Analysts and data scientists, who use an Excel-centric workflow.
The Excel Add-in is a convenient solution for clients looking to easily import data from a tool that already forms part of their daily workflow. Clients who do not want to manually export data from Vortexa Analytics and manage CSV files, particularly stand to benefit from this solution.
By using our Excel Add-in, clients can import data into a spreadsheet and manipulate information within a familiar environment; using built-in functions to compare and correlate our data with other sources.
The Excel Add-in is exceptionally versatile, as it fits in with many workflows. Akin to Vortexa Analytics, data is pre-processed to fit hierarchical data in a flat structure. Clients who are not reliant on custom queries, will benefit from the Excel Add-in, as this definition is not officially supported. However, all filters are supported, alike to those used within Vortexa Analytics.
---


Advantages:

Easy to access data
Quick way to export large amounts of data
Multiple data sources available through the same marketplace
Best suited for: Analysts, data scientists and researchers who need access to pre-defined datasets on a regular basis.
AWS Data Exchange is a novel service from Amazon that offers a rich catalogue to discover and access curated datasets. Although custom queries are not supported, insightful data sets are updated on a weekly basis, providing exceptionally valuable information to clients.
A detailed explanation by our CTO, Maksym Schipka, can be found in this article.
---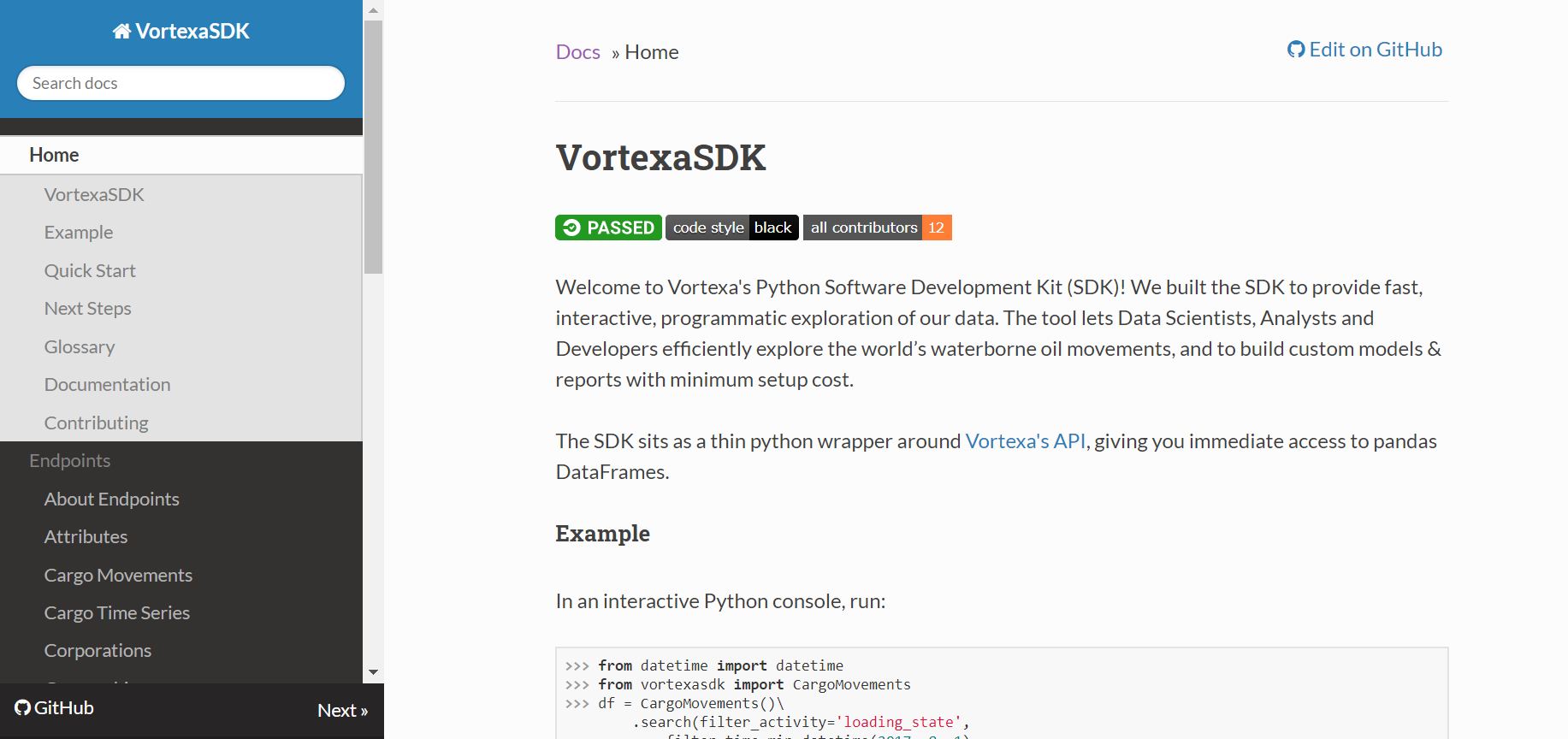 Advantages:

Easy to import data

Built-in support for Pandas

Access to many great data analysis libraries
Best suited for: Analysts and data scientists who want to quickly explore our most accurate oil and gas market data with powerful data analysis tools and libraries.
The Python SDK is an easy and convenient way to access our API without having to dive into the complexity of performing network requests and managing raw data. As our SDK is written in Python, it allows data scientists to explore our data with powerful tools and libraries, such as Jupiter Notebooks, Pandas and SciPy.
Our Python SDK is best suited to clients who have an existing knowledge of Python programming. This solution is tied to a specific ecosystem, however clients looking to holistically streamline their technological infrastructures stand to greatly benefit.
More information on the Python SDK can be found in a dedicated article, authored by our Senior Data Engineer, Kit Burgess.
---
Advantages:
Not tied to a specific programming language or infrastructure
Access to detailed hierarchical data
Can be queried from existing services
Best suited for: Analysts, data scientists and data engineers who want to have the highest level of query flexibility, access our most detailed data, and the ability to integrate or create highly automated data analysis services.
The Vortexa API is a premium service offered to Vortex'a most advanced users. This is the most powerful way to access our data and the foundation of all our services. Clients can access the most complete and up-to-date information we offer. The API uses premium industry standards, including HTTP, REST and JSON to provide a flexible and customisable way to query Vortexa data and integrate it within client workflows.
The Vortexa API is not tied to a specific programming language or data management infrastructure, which means clients are able to query it from existing services, or create new versions from scratch with their favourite technologies.
Clients who possess an existing knowledge of data management skills are those who stand to benefit most from the enormous benefits of this solution. This is because the API requires a greater degree of engineering efforts when compared to other solutions and requires managed network requests. However, these additional necessitated efforts denote the superiority of the platform and the power of its potential.
---
Elevating the power of data
Vortexa is continually generating new ideas, growing and improving product outputs. Our suite of products are designed to elevate the capabilities of clients and enrich their own data points, to better inform their lucrative operational and strategic decisions.
This platform will be continually populated with deeper information on how to use our solutions to the best of their abilities, with detailed examples shared on how to use our powerful API.
To see our products in full, request a demo from our team.