US DPP imports climb amid rising gasoline demand
US Gulf Coast imports of fuel oil and VGO are climbing as the region's refiners respond to rising US gasoline demand.
26 May, 2021
US Gulf Coast imports of dirty petroleum products (DPP) such as fuel oil and VGO are climbing to pre-Covid-19 highs as the region's refiners respond to rising US gasoline demand.
Total DPP imports into the US Gulf Coast (PADD 3) region are on track to reach 590,000 b/d by the end of May, up from 460,000 b/d in April and crucially above May 2020 and May 2019 levels.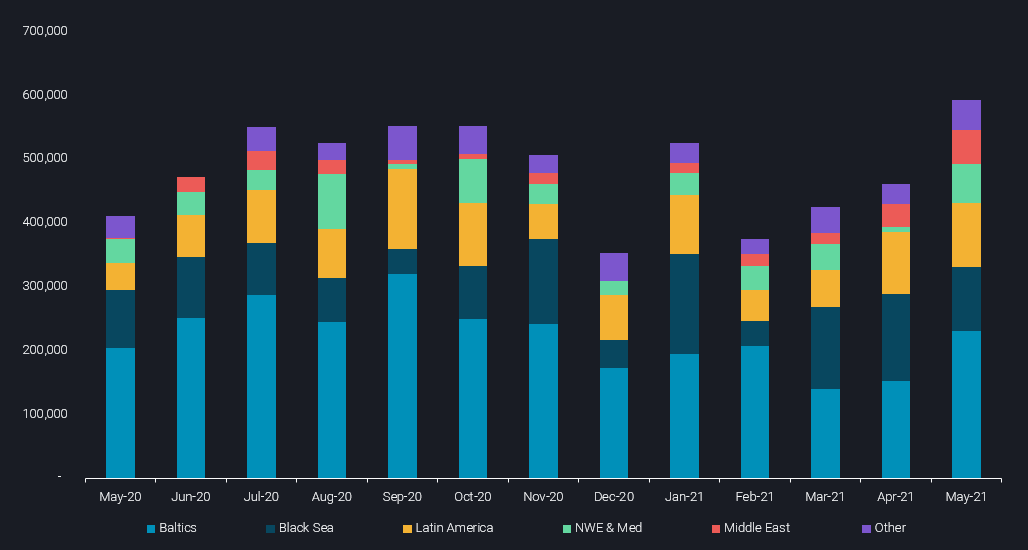 PADD 3 Fuel Oil and Dirty Feedstocks arrivals by origin region (b/d)
Fuel oil products such as high sulphur straight run (HSSR) and vacuum gasoil (VGO) – which are used as secondary feedstocks to boost gasoline output – are being imported at pre-pandemic levels into the US Gulf Coast refining hub in May.

The influx of DPP cargoes into PADD 3 during May suggests refiners in the region are seeing a strong commerical benefit running secondary units such as cokers and fluid catalytic crackers harder in the coming weeks, i.e. robust US gasoline demand.

EIA data for the week ending 14 May show gasoline product supplied – a proxy measure for US demand – hit 9.2mn b/d, closely resembling volumes seen during the same period in 2019.

The main supplier of DPP to PADD 3 refiners in May is Russia (Baltic & Black Sea). The country accounts for around 314,000 b/d of PADD 3's May imports, up by around 50,000 b/d on the month and the highest since November 2020.

But other less traditional sources are also arriving into the US Gulf Coast in May. These include fuel oil/VGO cargoes from Saudi Arabia, Iraq and less frequent northwest European suppliers such as Norway and the UK.

Middle East origin DPP cargoes account for around 50,000 b/d of PADD 3 imports in May, the highest since December 2019. This total matches the volume of cargoes originating from Denmark, Norway and the UK, also representing a fresh high for that trade route that was last surpassed October 2020.

PADD 3 refiners appear to be increasing imports and also diversifying their sources for secondary feedstocks as they ramp up gasoline production. In doing so, they will hope to capture the seasonal uptick in US gasoline consumption this summer.

Looking further ahead, PADD 3 refiners may continue with strong DPP imports to position themselves for a more structural recovery in domestic gasoline demand as vaccination rollouts and easing mobility restrictions continue across the US.

Rising PADD 3 secondary feedtocks intake also makes sense from the perspective of Atlantic Basin heavy crude supply. Departures of heavy sweet and sour grades in the region have fallen to 3.3mn b/d over April-May, down from over 5mn b/d in late 2019 and 4.3mn b/d in November 2020. With OPEC+ barrels only coming back slowly, and not much of the additional supply expexted to hit US shores, it is increasingly important for PADD 3 refiners to top up their feedstock diet with VGO and fuel oils.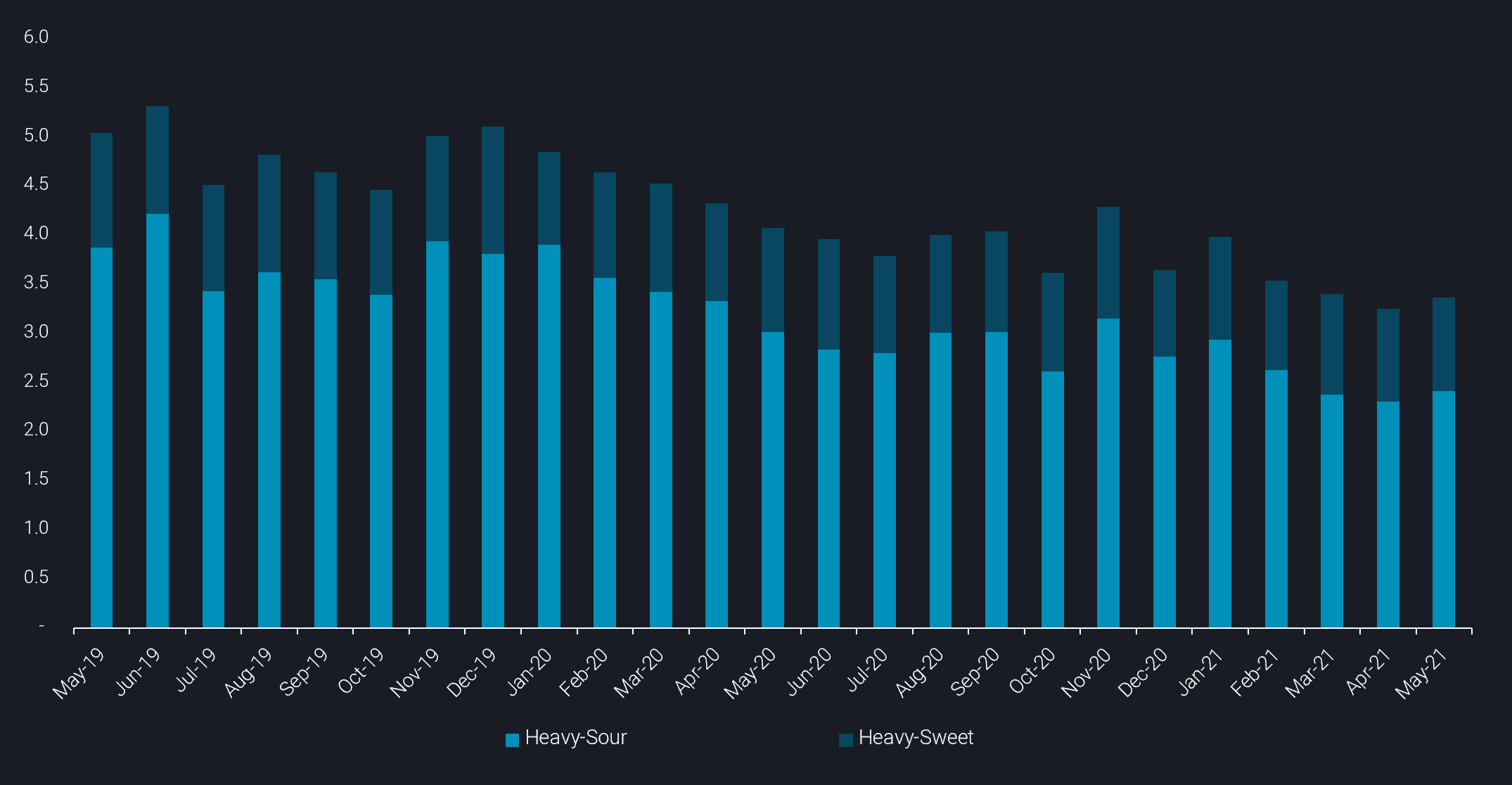 Atlantic Basin heavy sour and heavy sweet crude departures (mn b/d)
Want to get the latest updates from Vortexa's analysts and industry experts directly to your inbox?
{{cta('cf096ab3-557b-4d5a-b898-d5fc843fd89b','justifycenter')}}
---
More from Vortexa Analysis