Clean VLCC loading activity peaks in July
Clean VLCC loading activity peaks in July
29 July, 2020
Diesel and jet fuel loadings onto newbuild Very Large Crude Carriers (VLCCs) have hit a year-to-date peak in July. Rising cargo volumes aboard VLCCs reinforce the view that east of Suez traders have in recent weeks become increasingly keen on loading cargoes for longer haul journeys, potentially for floating storage.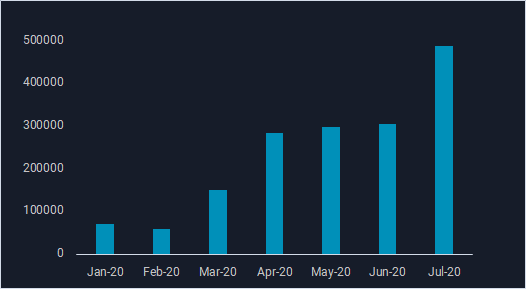 Middle distillate cargo loads on newbuild VLCCs (mt)
Loading activity uptick east of Suez
Around 500,000 mt of diesel and/or jet fuel that loaded in July was carried on newbuild VLCCs, the highest monthly total since July 2019 (see chart as of 28 July)
Newbuild VLCCs Hunter Disen, Hunter Idun and Babylon all loaded cargoes in July which can be traced back to east of Suez exporting ports; Ruwais, Ras Laffan, Sikka, Pengerang and Yosu.
Hunter Idun set sail from Malaysia earlier this week fully laden with diesel, and is now heading to Rotterdam for early September discharge.
Hunter Disen and Babylon remain floating offshore Fujairah laden with diesel and/or jet fuel. Babylon is likely to load more product from the region given that it is not fully laden yet.
Mixed picture for Atlantic Basin VLCCs
While cargoes continue to load from east of Suez markets, the picture in the west of Suez markets is more mixed.
As of 28 July, three VLCCs were laden for floating storage – Elandra Denali and Qi Lian Sian in northwest Europe, and Landbridge Wisdom off west Africa.
Another VLCC, CSSC Liao Ning, arrived offshore the Bahamas on 17 Jul

y and h

as discharged much of its cargo in recent days via a string of STS events.
Middle distillate cargoes discharged from CSSC Liao Ning have headed towards ports in the US Atlantic coast (PADD 1) and Puerto Rico. And LR1 tanker BW Danube, which received around 60,000 mt of diesel, was signalling Amsterdam as its next destination for 12 August arrival.
Middle distillate floating storage in decline
Despite the recent clean VLCC loads from east of Suez, global floating storage volumes for diesel and jet (combined) continue to trend lower.
As of 28 July around 37mn bbls of diesel/jet were held in floating storage globally, down from a peak of 55mn bbls in mid May.
Interested in a more detailed view of our data?
{{cta('bed45aa2-0068-4057-933e-3fac48417da3′,'justifycenter')}}