PADD 3 commodity flows hit by post-Hurricane impact
PADD 3 commodity flows hit by post-Hurricane impact
10 September, 2020
The effects of Hurricane Laura, which made landfall on the US Gulf coast on 27 August, continue to be felt in the flows of energy commodities out of facilities in or near the path of the storm. There has been a marked reduction in flows from some of these ports, particularly in LNG. We take a cross-commodity look at some of the impacts.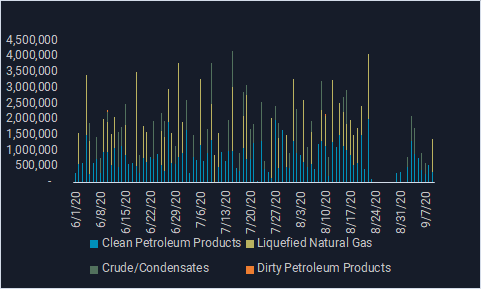 Exports from ports impacted by Hurricane Laura (bbl) See latest data in the Vortexa platform
Since flows resumed out of some of the ports in the storm's path on 30 August, there have been about 865,000 b/d of energy commodities (crude, CPP, DPP and LNG) leaving the affected region (including to other ports in the US), a reduction of 51% from the period between 1 June and 23 August.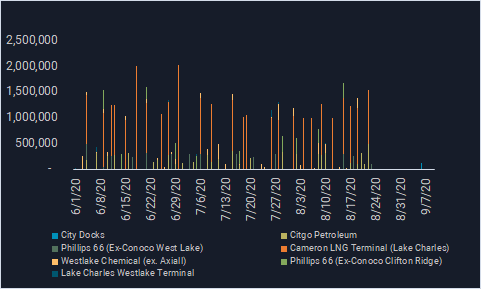 Lake Charles flows by Terminal (bbl)
The majority of the losses in flows have come from LNG, where two vital facilities, Cheniere's Sabine Pass Terminal and Cameron LNG, were initially taken down in preparation for the storm. Sabine Pass is back up and running, but Cameron's restart remains unclear. LNG exports from the impacted ports are down 85% from pre-storm levels.
Lake Charles was by far the most impacted port from Hurricane Laura from an energy flows perspective, seeing a 98% reduction in movements from before the storm to after. According to Vortexa data, there has only been a single cargo movement out of Lake Charles since the storm passed as of 10 September, one CPP shipment destined for Freeport, TX.
It appears it will be quite some time before everything gets back to 'business as usual' in East Texas and Western Louisiana, though there are signs of life in the form of recovering flows from most ports in the region.
Interested in following these cargo flows in real-time?
{{cta('bed45aa2-0068-4057-933e-3fac48417da3′,'justifycenter')}}