LatAm road fuel imports set for decline after hitting record
Latin America has been a key importer of road transportation fuels in 2021. However fundamentals, seasonality and shipping indicators are signaling that the demand pull may be behind us.
16 September, 2021
Latin America emerged as a key driver for road fuel strength, boosting imports to a Vortexa dataset high of 1.90 mn b/d in July and August. Post-Covid demand strength, a drought-related boost to diesel demand in Brazil, and low refinery utilisation rates created the perfect mix for strong seasonal demand, which pulled volumes from as far as East of Suez to fulfill the growing import requirements. However, fundamentals, seasonality, and shipping indicators already show that the best times are behind us.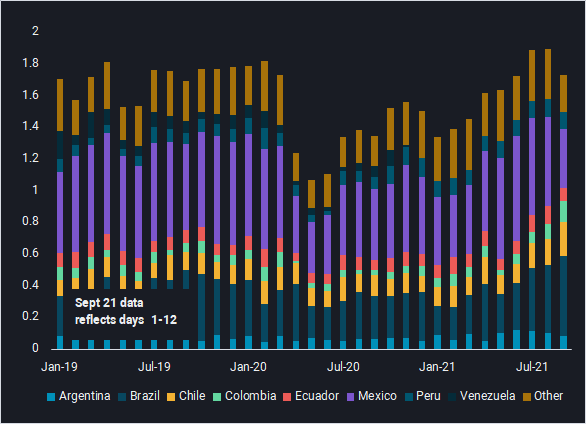 LatAm imports of gasoline and diesel by country (mn b/d)
Slowing demand signals
Looking at Vortexa data for September 1-12, Brazil's diesel imports have surged by 41% compared to August. However, as harvest season comes to a close in October and agricultural activities subside, we will likely see a reduction in diesel consumption. The severe and prolonged drought in Brazil has contributed to higher diesel needs for irrigation and some small-scale power generation. At the same time, a huge shortage in utility-scale power generation has pulled large volumes of LNG to the country. As we are already moving into the rainy season, we expect to see a decline in diesel, LPG and LNG imports. Similarly to Brazil, Argentina's diesel imports have surged so far in 2021, but can be expected to cool following the end of peak agricultural season.
While we would expect LatAm diesel demand momentum to taper by the end of October (with imports likely affected earlier on), gasoline imports continue to find strength in Brazil, Ecuador, Guatemala and Colombia. This is good news since top importer Mexico has implemented restrictions making it harder for non-Pemex companies to import refined products (ArgusMedia). We can see in the Vortexa data that after Mexican gasoline imports reached a multi year high in June 2021 of 498,000 b/d, they have been on a declining trend for 3 consecutive months reducing export opportunities for both PADD 3 and ARA refining hubs.
Amid these overall clearly softening road fuel demand patterns, Chile stands out as an import hotspot. It has increased crude and refined product imports thanks to a successful vaccination program and ahead of a major turnaround at its 104,000 b/d state-owned refinery in Concon, Valparaiso region, in October.
Long haul suppliers
Although PADD 3 accounts for over 60% of gasoline and diesel exports to the LatAm market, Asia and the Middle East have been growing their market share taking advantage of lackluster demand at home and various PADD 3 storm outages throughout this year. Asia's top exporters of gasoline and diesel to LatAm this summer have primarily been South Korea and India as China has reduced product export quotas and is generally more engaged in regional trade.
These East of Suez volumes were supported by increased STS operations off the coast of West Africa where VLCCs transfer primarily diesel to smaller vessels heading towards LatAm. The majority of these are discharged in Brazil.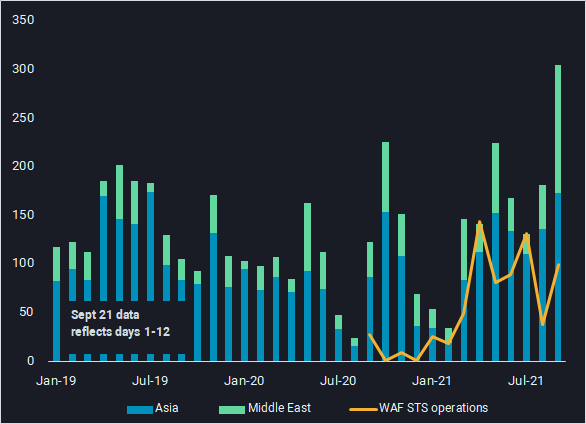 LatAm imports of gasoline and diesel from distant suppliers (kbd)
Slowdown already visible in shipping indicators
Our demand-side analysis gives a clear picture of an upcoming slowdown specifically for diesel imports into Brazil and Argentina. At the same time, the double hit from Tropical Storms Ida and Nicholas is affecting availability of refined products out of the US Gulf. This is visible in the utilisation of MR vessels, which plummeted strongly over the last two weeks.

MR utilisation from PADD 3 to LatAm
At the same time, clean freight rates have come down significantly on a global basis, fitting with the above, but also potentially due to lower long-haul product shipments as refining maintenance starts to hit in various refining hubs, while diesel supplies out of Russia should start to increase soon, taking away needs to supply long-haul material to Europe.
More from Vortexa Analysis