US crude exports hold firm pre-OPEC+ meeting
Vortexa Snapshot: US crude exports hold firm pre-OPEC+ meeting
08 April, 2020
The US Gulf coast has continued to send out crude into world markets at strong rates in recent weeks, albeit below the record set at the end of February. The ongoing firm export levels come at a time when global supply is expected to undergo another surge this month from Saudi Arabia and Russia, who are battling for market share, just as demand crashes in the wake of the coronavirus outbreak. This outflow of US crude forms an important part of the supply backdrop ahead of the planned emergency meeting between OPEC+ and other producing nations on 9 April, where a production cut pact is top of the agenda.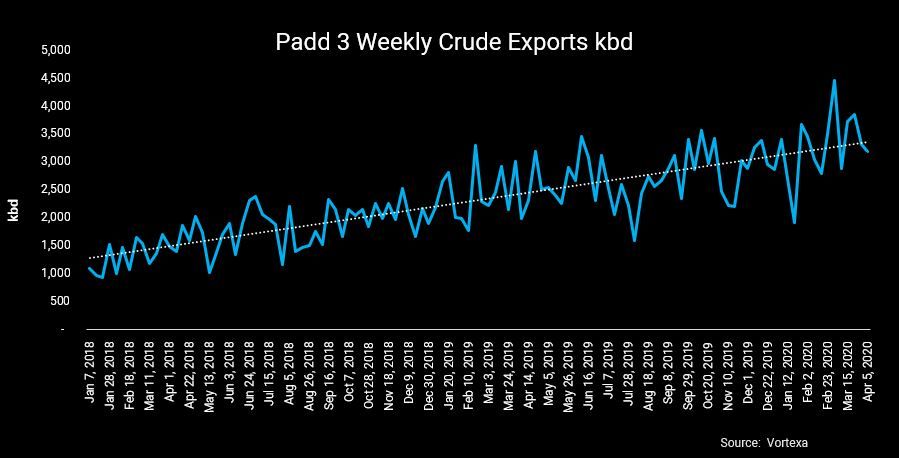 Weekly (Mon-Sun) PADD 3 seaborne crude exports (k b/d) – Vortexa data
Latest export trends:
In the week ending 5 April (week 14), Vortexa data show PADD 3 waterborne crude exports at 2.9m b/d, down slightly from January-March average of 3.3mn b/d. Exports in the first quarter last year were closer to 2.5mn b/d.
Data for week 14 showed almost half of these exports heading to Asia compared with 33pc to Europe, on a preliminary basis. In March that share was almost half to Europe, and 30pc to Asia.
New pipeline capacity coming into service from end-last year has supported the greater outflow of Permian Basin-origin crude out of top Gulf exporting ports and into global markets.
But US crude export levels beyond April are threatened by the building glut across the world, with the steepness of the forward curve also stimulating demand for floating storage. We could expect to see more US crude entering short and long-term floating storage in coming weeks.
Interested in a more detailed view of these flows?
{{cta('bed45aa2-0068-4057-933e-3fac48417da3′,'justifycenter')}}