VLCC utilisation falls to yearly-lows
VLCC utilisation falls to yearly-lows
20 August, 2020
Utilisation rates for Very Large Crude Carriers (VLCC) fell to 44% in August, their lowest level this year according to Vortexa data. The sharp drop since the year-to-date high of 52% in May follows stymied global demand recovery for crude and a significant loss of cargoes compared to 2019 levels. Only April and May registered higher year-on-year cargo volumes across all main crude exporting regions.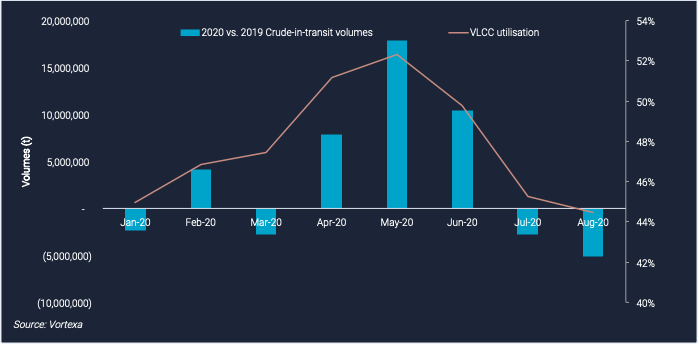 Global VLCC utilisation against average crude-in-transit 2020 vs. 2019 volumes
Utilisation falls as volumes decline
Utilisation for VLCC tankers dropped to 44% as of August 18, as a combination of dwindling cargo availability and thinning liquidity in the tanker market applied downwards pressure on demand for tonnage.

This compares to a utilisation high of 52% in May, driven by a large portion of the VLCC fleet loading cargoes and entering into floating storage, along with higher demand for long-haul journeys as the price of crude tumbled.

Crude-in-transit volumes this month are down by an average of 5.1mn mt per day from August 2019 levels. This marks a sharp contrast from May, when in-transit volumes were higher on the year by 17.9mn tons per day.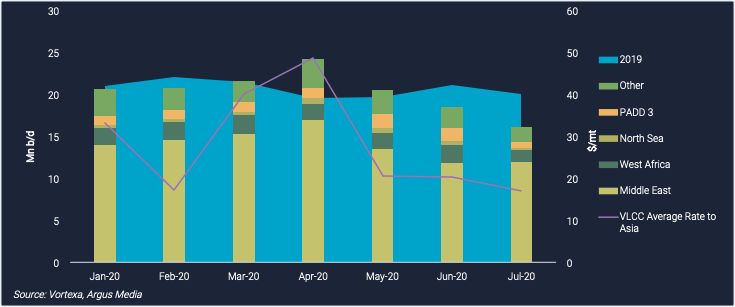 Global crude exports year-to-date (mn b/d) and global VLCC average rate to Asia ($/mt)
Declining exports across major regions weigh on freight rates
Crude exports on VLCC tankers in July stood at 16.4m b/d, down 33% from a 2020 high of 24.4m b/d in April. Oil demand has struggled in the wake of the pandemic, translating into subdued charterer activity and therefore fewer available cargoes for shipowners

. The unwinding of crude floating storage and easing of port congestion in China will further add to the supply of VLCC tonnage in the market in the months ahead.

Argus Media data show that the average VLCC freight rate for loadings from all major exporting regions with a final discharge in Asia tumbled from around $49/mt in April – at the height of the well-documented demand rush for floating storage tankers – to some $17/mt in July.

Looking ahead, downward pressure on VLCC rates is set to continue in the short term with

Chinese crude stocks still filled to the brim and a lagging global recovery.