China sets tone for refiners with tight oil quotas in the new year
China issued the first batch of crude import and product export quotas for 2022 at volumes below 2021's allotments, and shifted quota allocations from stand-alone refining to integrated sites. Vortexa is attempting to interpret the quotas and analyse the impact on China oil market.
11 January, 2022
China's recent allocation of the first batch of crude import and product export quotas to refiners this year have come at around 10% and 55% lower than last year's respectively, signaling its commitment towards further consolidating the refining sector.
While the latest batch of quotas are roughly similar in volumes to the second half of 2021, which saw its first steep reduction in history, the shifts in quota allocations from stand-alone refining to integrated refining-petrochemical sites are nicely illustrating the government's direction for the industry.
Integrated refiners gain, conventional refiners lose
Among the 42 independent refiners that received crude import quotas, large integrated refiners received higher quotas year-on-year, while the smaller conventional refiners saw a drop. The three mega refiners – Zhejiang Petrochemical Corp (ZPC), Hengli Petrochemical, and Shenghong Petrochemical – received nearly 42mt of import quotas, up 50% from 2021, on the back of additional quotas granted to ZPC and Shenghong's new refining capacities.
In contrast, the conventional refiners, mostly located in eastern Shandong province, received a total of 61.3mt of quotas, falling 28% from last year. Several refiners have lost quotas due to illegal quota trading, tax evasions and unapproved expansions. Another set of refiners have shuttered to make way for the new 400kbd Yulong petrochemical complex slated to start in 2023, accounting for 4.2mt of quota reduction.
This trend is in line with the government's plans to eliminate excessive, inefficient processing capacity in favour of integrated and more technologically advanced complexes. The steep reduction in crude import quotas in H2 2021 has seen crude arrivals into Shandong province falling by 15% year-on-year to total 78mt (or 3.1mbd) in H2 2021. Imports are expected to remain rangebound this year capped by the tight allowances.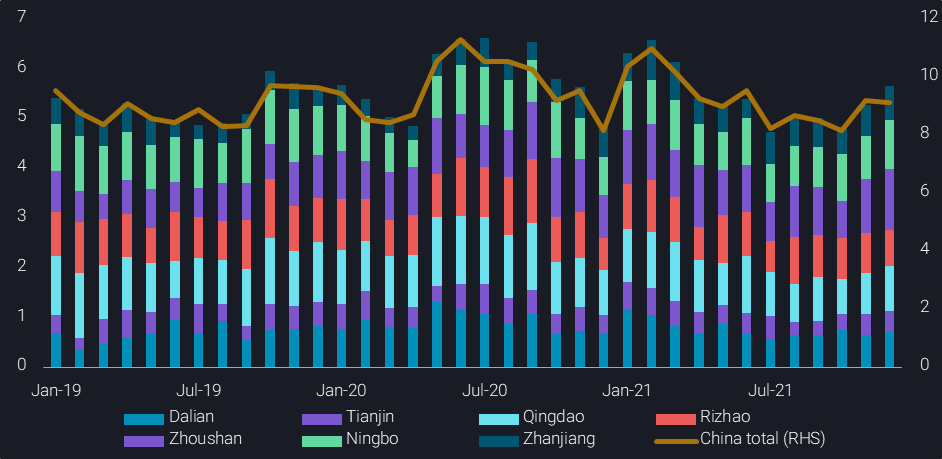 China's crude imports by destination port (mbd)
Crude imports face Covid and economic challenges
China's zero-Covid strategy and its projected slowdown in economic growth from about 8% to 5% this year will further limit upsides to the country's crude imports this year.
China's seaborne crude imports marginally rebounded in the last two months of 2021 at 9.2mbd, up 8% between June and October, as refiners accelerated crude purchases to utilise their crude import quotas for the year. But the latest Covid outbreaks in several provinces have led to renewed travel restrictions, largely eliminating the seasonal travel peak during the upcoming Spring Festival holidays and dampening gasoline and jet demand. And more provinces could face the same fate in the coming months. Overall, the country's slowing economic growth and manufacturing this year will dent domestic oil demand further.
Ahead of its upcoming Winter Olympics, Beijing will be broadening its emission control, and is likely to limit refining operations in Shandong and Hebei. Early indications show that China's seaborne crude imports in January are on a downtrend, with volumes at 8.6mbd in the first ten days of the month. Imports could see a further downward trend in the coming weeks in lieu of the above.
Product exports remain capped by tight export quotas
With domestic demand declining amid renewed lockdowns, a growing surplus of clean products is likely to push up exports this month. Higher product exports are made possible by the fresh export quotas issued recently. But the upside is expected to be capped given the tight quotas which must be prudently utilised by refiners over the next couple of months.
The first batch of product export quotas issued this year was set at 13mt, down 56% from the same batch last year. Whilst all refiners saw a year-on-year decline in their export quotas, independent refiner ZPC saw a lower reduction to accompany its expanded refining capacity.
Compared to the second and third batch of product export quotas issued last year, this year's quotas are at roughly the same level on a monthly basis. China has recorded a total of 12mt of clean product exports in H2 2021, with a peak seen in September, following lockdowns in multiple cities. Refiners may look to utilise more export quotas in Q1 this year, in light of refinery maintenance starting in Q2.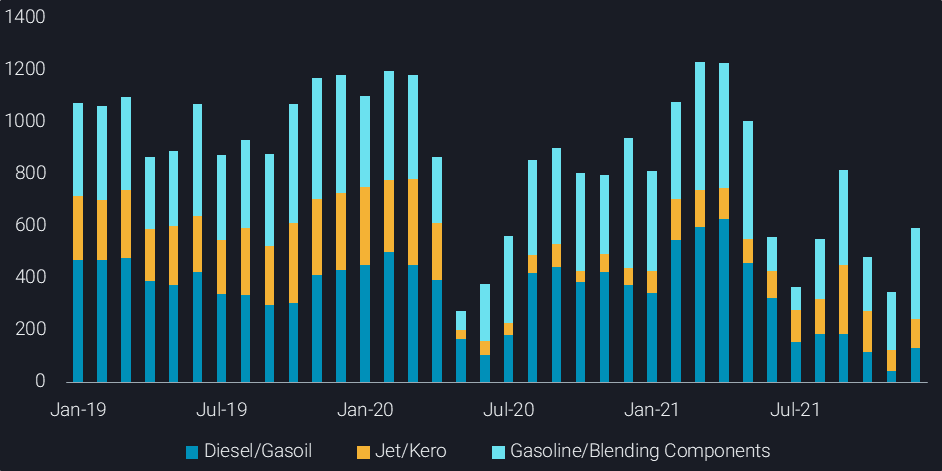 China's clean product exports (kbd)
Window of opportunity for other regional refiners
As China's export presence in the region shrinks, Northeast Asia and India refiners will continue to fill the supply gap in the region. Upcoming seasonal maintenance among Northeast Asian refiners may further strengthen product cracks across the barrel, barring strong Omicron repercussions, providing a compelling case for higher refinery runs in Asia over the next couple of months.
More from Vortexa Analysis