China's crude imports slow. Due for an imminent rebound?
China's crude imports have slowed in April. A rebound in Q3 is faced with headwinds as refiners look to draw down their stockpiles amid elevated crude prices.
06 May, 2021
China's voracious crude import appetite in the first quarter of this year has started easing in April, with seaborne imports falling to a four-month low of 9.4mn b/d last month, albeit up 8% from a year ago. The trend of slowing crude imports is likely to continue into May.
Amid the current high crude price environment, refiners are likely to withhold their crude purchases and draw on the large crude stockpiles they have accumulated since last year to ramp up their crude runs post maintenance.

Refinery maintenance and sanctioned crude barrels curb refiners' appetite
The onset of peak refinery maintenance season has been the main driver behind this fall, with an estimated 1.5-2.5 mn b/d of refinery capacity shut in Q2 2021. Robust imports of sanctioned crude barrels, typically sold as diluted bitumen or crude originating from other countries, have further curbed independent refiners' appetite for more conventional arbitrage barrels. Combined seaborne crude arrivals from Angola, Brazil and Russia into Shandong province – home to a large concentration of independent refiners – reached 1.3mn b/d for the first four months of this year, the lowest in four years.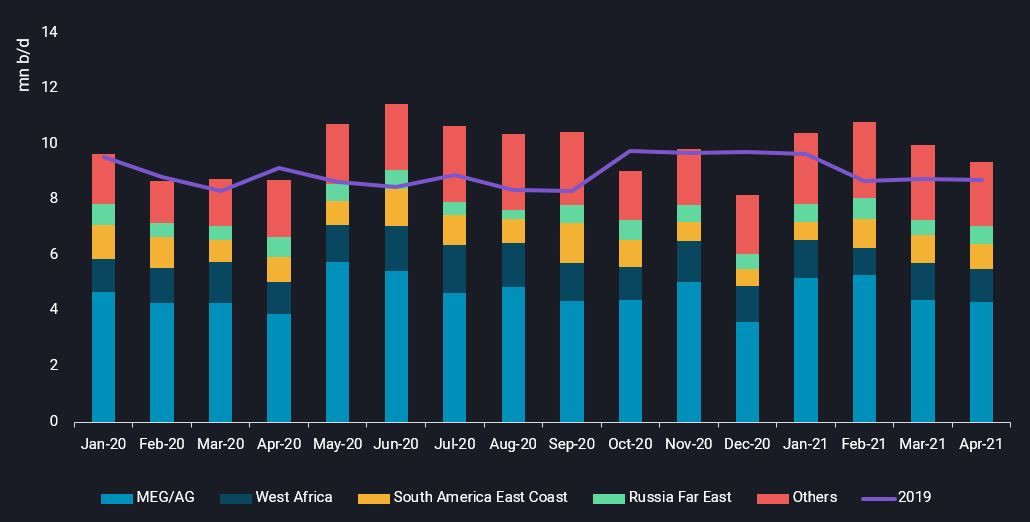 China crude imports by origin trading regions (mn b/d)
Will China's crude imports see a comeback soon?
Chinese refiners are set to ramp up crude runs in the coming months, with the peak maintenance season coming to an end in June. But unlike previous years, China's crude imports are unlikely to see a proportional rise to crude runs.
Refiners have accumulated high crude stockpiles since mid last year, taking advantage of the low crude price environment. Stockpiles have remained elevated this year due to heavy crude inflows in February and March, surpassing refinery runs. The current high crude price environment favours refiners holding back crude purchases and processing their stockpiles, with this impetus even stronger for independent refiners that are renting crude storage capacities.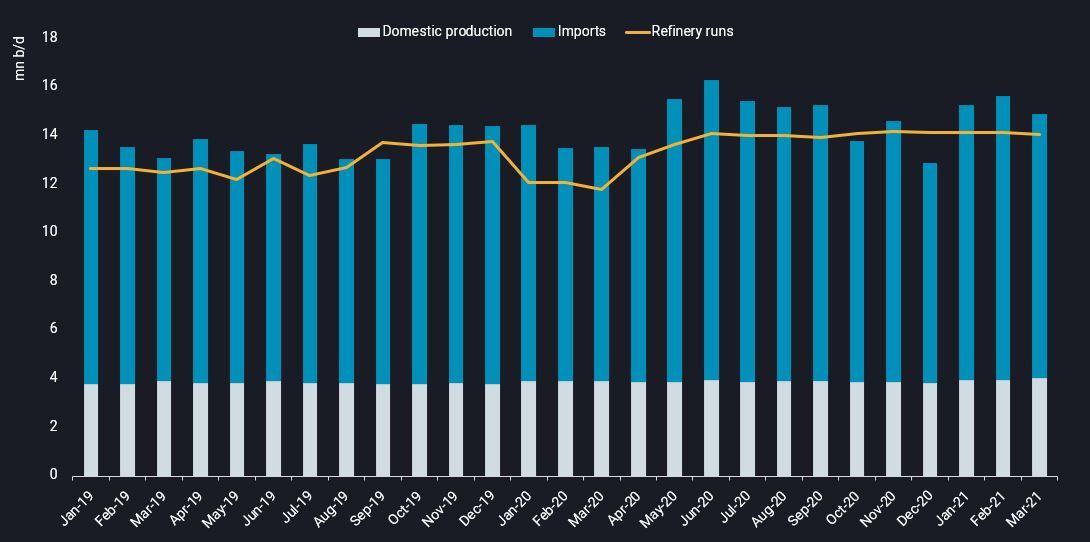 China's crude production, imports and refinery runs (mn b/d)
While a seasonal rise in China's domestic oil demand in Q3 will support stronger refining runs, the upside could be capped by refinery turnarounds rescheduled from March-April into Q3 as well as headwinds on diesel exports given the current surplus in the regional market.
China exported over 600,000 b/d of diesel in March and April, the highest volume in at least four years, with at least 25% of the volumes headed for storage/trading hubs in Singapore and Malaysia. Asia's 10ppm diesel cracks have been languishing at around $6/bbl in the first four months of the year, compared to $12/bbl in the same period in 2019, according to Argus' price assessments. With more refining capacity returning post turnaround, diesel cracks will be further challenged amid the lacklustre diesel demand in the region, posing a headwind to China's diesel exports.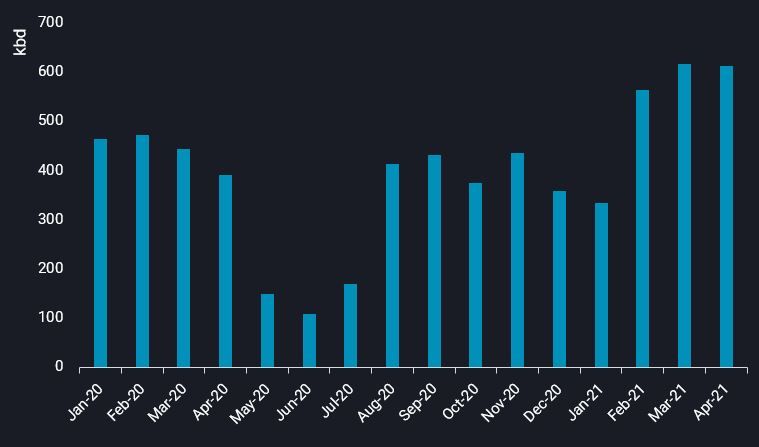 China diesel exports (kbd)
Want to get the latest updates from Vortexa's analysts and industry experts directly to your inbox?
{{cta('cf096ab3-557b-4d5a-b898-d5fc843fd89b','justifycenter')}}
---
More from Vortexa Analysis