Crude markets diverging in Atlantic Basin
Vortexa shows diverging trends for crude arrivals heading to key Atlantic Basin buyers.
18 June, 2021
Vortexa shows diverging trends for crude arrivals heading to key Atlantic Basin buyers.
US Atlantic Coast, US West Coast (PADD 1, PADD 5) and Mediterrnean arrivals have climbed to pre-covid levels, but flows to PADD 3 and Northwest Europe are lagging well behind.
We see an overall rise in Atlantic Basin supplies as a potential risk for refinery runs rising too quickly in the short term and creating excess product supply.
Strength in the Med, PADD1 & PADD 5
Vortexa data shows combined seaborne crude/condensate imports (from all origins) for PADD 1, PADD 5 and the Mediterranean region climbed to around 7mn b/d in May, being around 1.4mn b/d higher compared with a year earlier.
This improvement is set to continue in June, highlighting the structural recovery to pre-Covid norms which ramped up earlier this year (see chart).
Among the three hubs, PADD 5 import activity growth, on a proportional basis, looks especially strong and is likely driven by large vaccination deployment and lifting of mobility restrictions in the key state of California.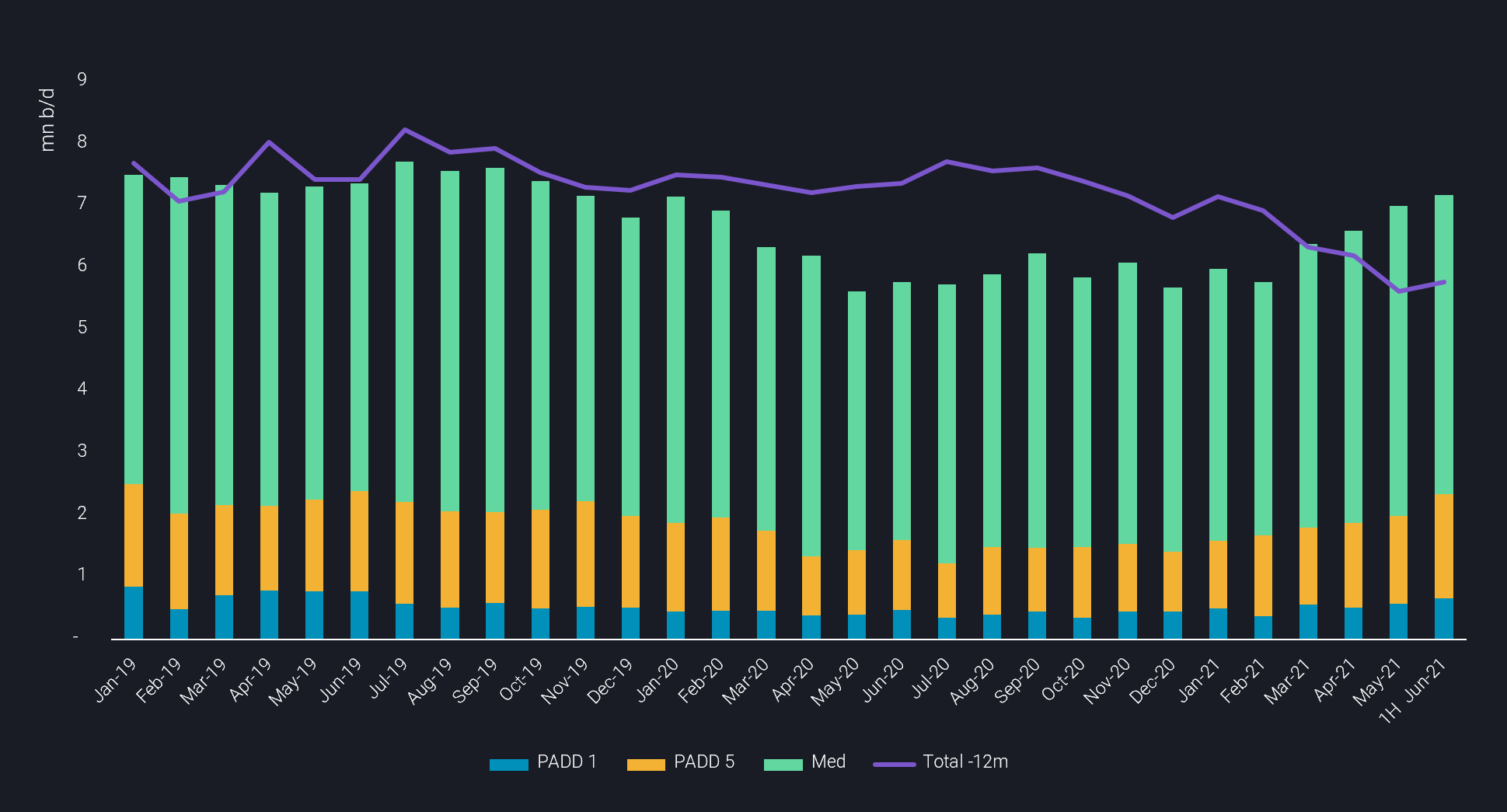 PADD1, PADD 5 and Med crude imports (mn b/d)
PADD 3 & NWE weakeness
In contrast, crude arrivals into the larger US refining hub of PADD 3, and Northwest Europe (NWE) look much flatter and are yet to reach pre-Covid norms (see chart below).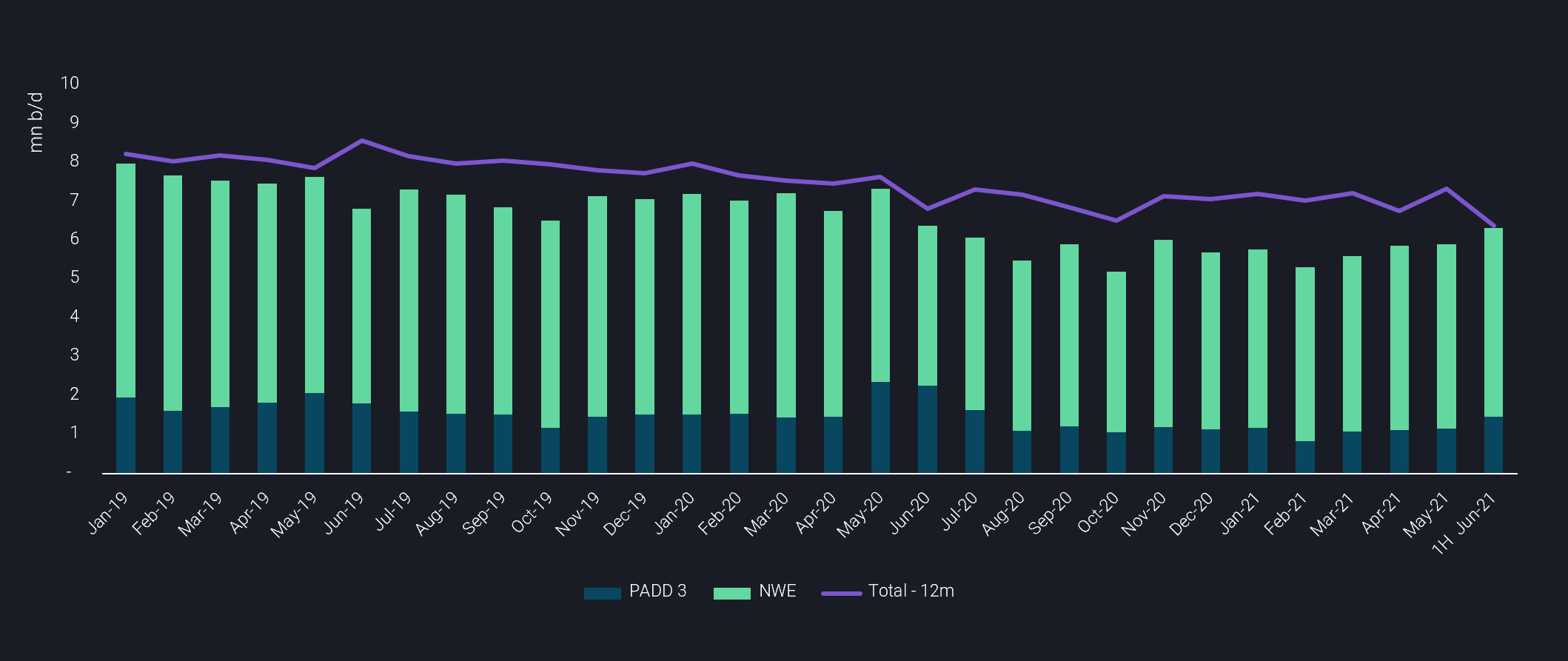 PADD 3 and NWE crude imports (mn b/d)
PADD 3 and NWE combined crude arrivals stood at 5.9mn b/d in March, short by 1.4mn b/d from year-ago volumes. Even considering the fact that May-June 2020 was a period of unusually high PADD 3 crude imports, the May 2021 arrival number of 1.2mn b/d still looks very weak compared to the May 2019 total of around 2.1mn b/d.
One factor partially tempering seaborne import demand for the refining hubs of PADD 3 and NWE is access to pipeline crude supplies – namely Russian crude via the Druzbha pipeline to Europe and pipeline flows from Cushing to US Gulf coast to refiners.
Another element is firm secondary feedstock intake. Relatively high flat prices for crude oil generally favour increased use by refiners for dirty products such as VGO, LSSR and HSSR for secondary units. Vortexa shows dirty products imports into NWE and PADD 3 (combined) have averaged around 1.22mn b/d during March-May, up from 1.06mn b/d a year earlier.
Refined products impact
Looking ahead, refinery margins, and therefore runs, may start to come under pressure if refined product supplies in the Atlantic Baisn region pickup too quickly relative to rising summer driving demand for gasoline in the US and diesel in Europe.
Early indications suggest there is some risk of this given that combined seaborne departures of clean products from North America and Europe are at multi-week highs. Rising seaborne flows could be the result of short-term difficulties in finding buyers in more local markets.
Vortexa data shows clean product departures (diesel, gasoline, jet and naphtha) stood at just below 5.5mn b/d in May, surpassing the previous high of 5.4mn b/d in December 2020 and the highest monthly total since March 2020. Zooming into flows at a weekly resolution, total departures set a fresh 16-month high of 6.6mn b/d on the week ending 6 June (see chart).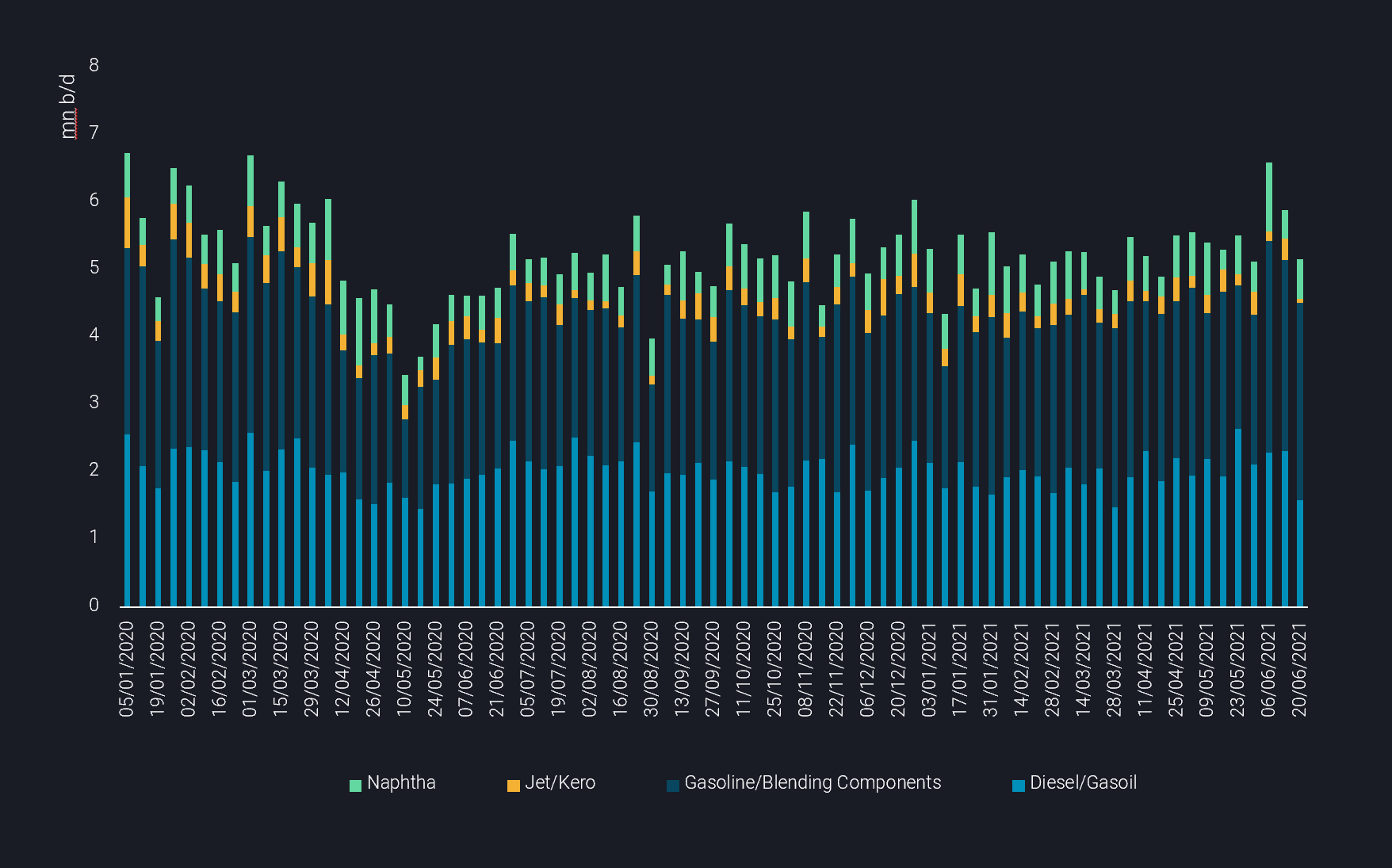 Weekly CPP departures from the Atlantic Basin (mn b/d)
More from Vortexa Analysis