Global crude exports end 2021 on a high
Global crude exports ended 2021 on a high, driven by higher volumes from key OPEC Middle East producers, the US and Russia.
06 January, 2022
Global crude/condensates exports in December rose to 40mbd, marking the highest monthly total observed by Vortexa since April 2020. The largest contribution to the global 500kbd m-o-m rise in December exports stems from a few key OPEC Middle East producers, Russia and the US. Looking ahead, concerns remain over whether increases can be sustained, especially given recent developments in Libya, along with lingering issues with West Africa output.
Saudi Arabia leads OPEC
Saudi Arabia continued lifting export volumes in December, mirroring the rising trend from previous months. OPEC's largest producer exported around 7.1mbd during December, up by 270kbd m-o-m. Combined exports from UAE and Iraq also picked up m-o-m in December by around 420kbd. But Kuwait's exports moved lower (250kbd) in December, partly offsetting an unexpectedly large m-o-m increase in November (450kbd).
Another OPEC member under close scrutiny is Libya. The country's crude production has been reported at less than 780kbd as of early January (Argus Media). This puts the 1mbd export level seen in December at clear risk. To compensate for any drop off in sweet crude supply from Libya, Europe – the main receiver of Libyan crude – is likely to increasingly turn to the US market.
This is even more likely given that West Africa – another major sweet crude supplier to Europe – continues to face logistical and production issues. Early indications from Nigerian and Angolan loading programmes (Argus Media) show February volumes to be by around 200kbd and 50kbd lower m-o-m, respectively.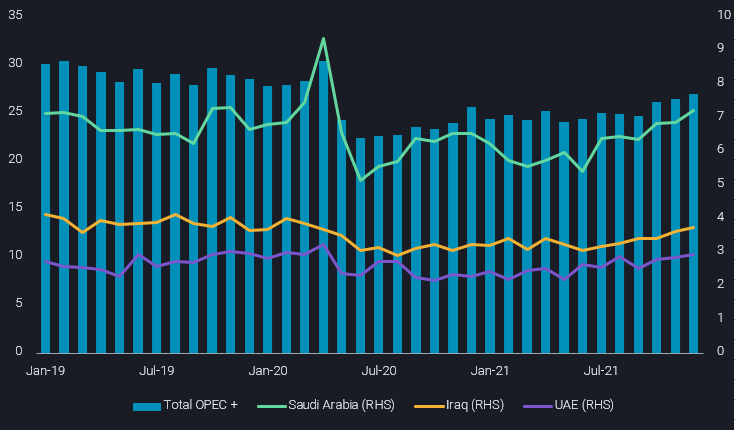 Total OPEC+ exports vs Saudi Arabia, UAE and Iraq (mbd)
US exports grow, short-haul favoured?
Rising demand from European and other buyers for US sweet crudes has helped lift the country's exports to 3.4mbd in December, up by 150kbd m-o-m, matching levels seen 2 years earlier.
Despite lingering concerns over weakening Chinese crude import activity, US exports continue to trend higher. For December, Vortexa data showed non-VLCC (i.e Aframax and Suezmax) shipments rising more sharply than those for the largest tanker class. This reinforces the view that more US crude is likely discharging into transatlantic locations rather than Asia over the coming weeks.
Elsewhere in the Americas, Ecuador's exports more than halved m-o-m in December to 160kbd as riverbed erosion forced closures to export pipelines. Vortexa data shows no Ecuadorian cargoes having departed the country so far in January.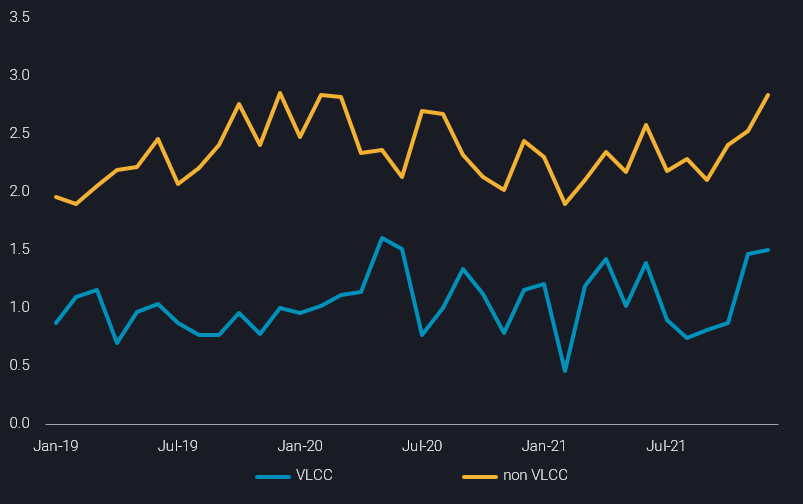 Total US crude/condensate exports transported via VLCC, vs non-VLCC tankers (mbd)
Russian exports climb, but for how long?
Russia raised its crude/condensate exports slightly in December, by about 100kbd m-o-m, to 4.7mbd. But that seems to be nearing a short-term ceiling. Since April 2020, Russian crude exports have neared, but failed to break past 4.8mbd on three occasions. Pre-Covid export levels (2019) averaged around 5mbd.
Concerns over Russia's ability to continue raising production and exports also stem from the latest Russian Energy Ministry data which show total liquids production (crude and condensate) little changed between November and December.
OPEC+ manages market very well
The relatively laid-back approach by OPEC+ to Omicron, continuing its (official) monthly increases in both January and February, provides confidence to the market, keeping oil prices stable or even increasing. While the market could well under-appreciate the challenges posed by the latest virus variant, the focus may already be beyond Q1 and a hopefully brighter outlook afterwards. Also supply concerns, following the examples of natural gas and many other commodities in 2021, are increasingly reflected in pricing.
With the challenges to production, especially in Africa, and potentially limited buying interest from refiners, we would not be surprised if the upward trajectory in crude exports would actually pause in Q1 in spite of the OPEC+ production plans.
More from Vortexa Analysis