Heavy-sour crude tightness: Is it here to stay?
Heavy-sour crude tightness: Is it here to stay?
30 July, 2020
Tightness in global heavy-sour crude markets has led to narrowing differentials for these grades against Brent in recent months, despite weaker demand sentiment in the overall crude complex in the wake of the pandemic. The oil price collapse and OPEC+ production cuts in Q2 accelerated export declines from sour crude producers in particular, coinciding with deeper discounts for medium/heavy crudes against Brent. This helped spur a buying spree, particularly by China. The question is how long will the sour crude rally last?
Heavy-sour crude exports fall
Combined heavy-sour crude exports from major producers Mexico, Colombia and Venezuela have fallen over 25% by volume in June-July versus the first five months of the year.

The drop in oil prices has exacerbated declines of heavy South American crude production; current prices do not incentivise the restart of shut-in wells.
Pressure from tighter US sanctions weighed on Venezuelan exports, sending them to multi-decade lows of around 210,000 b/d in June-July, compared to 640,000 b/d from January to May.

Iraq's heavy-sour crude exports have held relatively stable in July, versus June, but exports are expected to fall in August-September as the country commits to compensatory cuts to make up for its previous months' overproduction.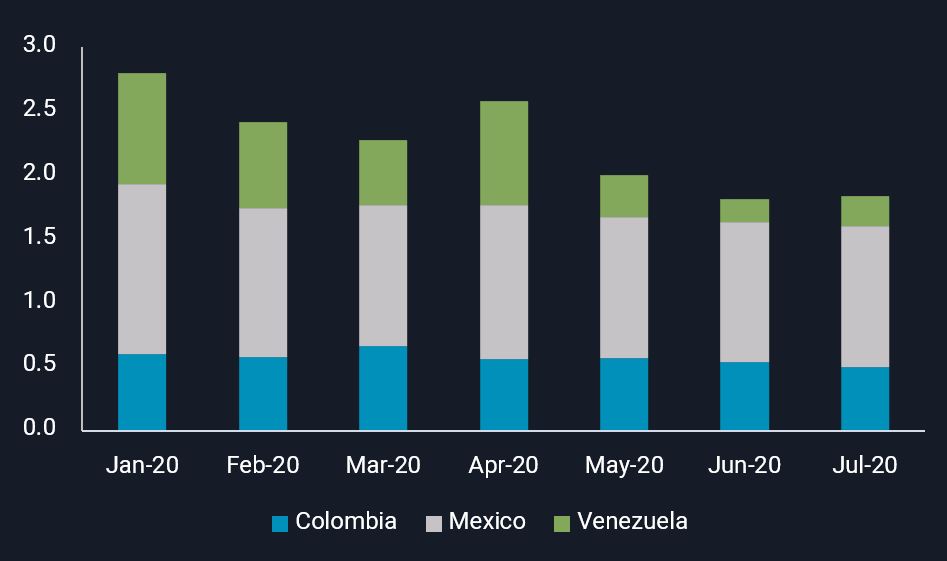 Heavy-sour crude exports from Mexico, Colombia and Venezuela (mn b/d)
China slurps up heavy-sour crude in July
China's heavy-sour crude imports are estimated to reach a 1.3mn b/d in July, rising by 40% versus year-to-date volumes, the highest in at least four years.

Arrivals of heavy-sour crude loaded from Colombia and Ecuador were at multi-year highs in July, at 255,000 b/d and 155,000 b/d respectively.
Arrivals of Panama crude, dominated by Colombia-origin Castilla and Vasconia grades rose by 25% month-on-month to 190,000 b/d.
Chinese refiners' strong import appetite has been driven by:

Latin America heavy-sour crudes' steep discounts to Brent during April – May

The decline in dirty freight rates compared to Q2
Lower medium/heavy-sour crude supply due to OPEC+ production cuts
Provisional estimates show that the country's heavy-sour crude imports in August are likely to slow to 700,000 – 800,000 b/d. A well-supplied inventory, narrowing heavy-sour crude discounts to Brent and lower refining margins are all pointing towards slowing import demand from China next month.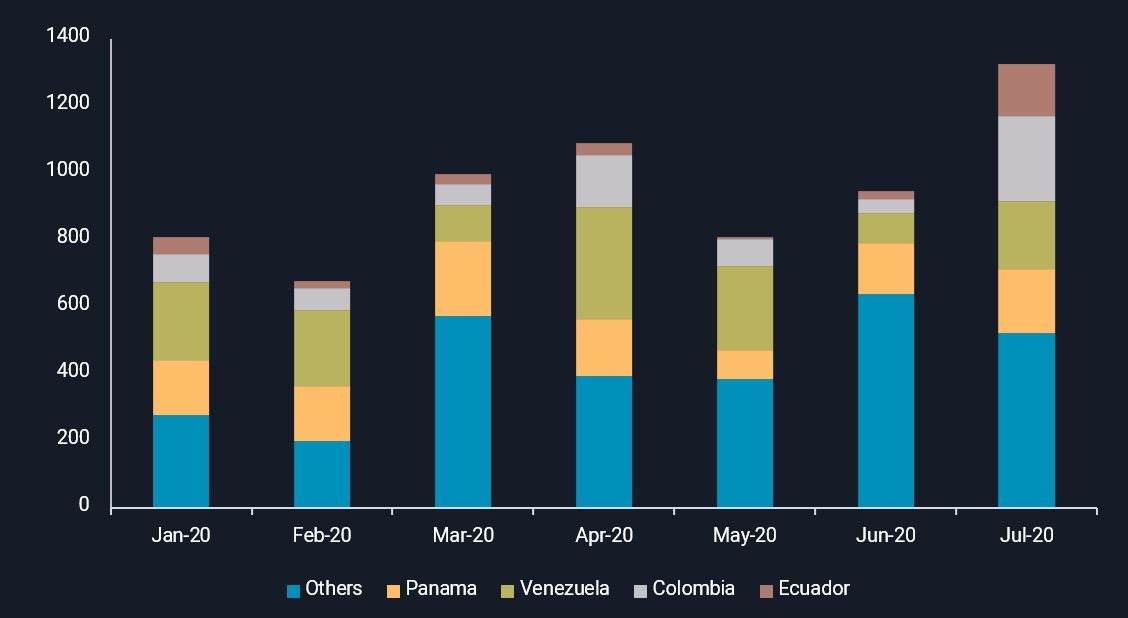 China's heavy-sour crude imports (kb/d)
India's heavy-sour crude demand remains soft
India's heavy-sour crude imports in July at 635,000 b/d remained well below the 870,000 b/d imported across the first five months. Refinery runs are recovering from a low in March-April, and still drawing on inventories built in Q2, but runs have not returned to pre-Covid levels at most refineries.
Ongoing maintenance at BPCL's Kochi refinery and an upcoming turnaround at Reliance's Jamnagar refinery in August have reduced the country's overall crude demand.
India halted imports of heavy-sour crude from Venezuela in the last two months, replacing supplies from Colombia, Egypt and Iraq.
Interested in a more detailed view of our data?
{{cta('bed45aa2-0068-4057-933e-3fac48417da3′,'justifycenter')}}