Lower Black Sea crude loadings add to tanker market woes
Lower Black Sea crude loadings add to tanker market woes
10 September, 2020
Persistently lower Black Sea crude loadings over July-September, compared to more buoyant export levels in the first half of the year, continue to weigh on the tanker market rates, as reflected in regional Suezmax and Aframax freight rates falling to yearly-lows. Lower scheduled loadings of Caspian CPC Blend in September is dimming the outlook, despite an expected monthly uptick in other Black Sea flows.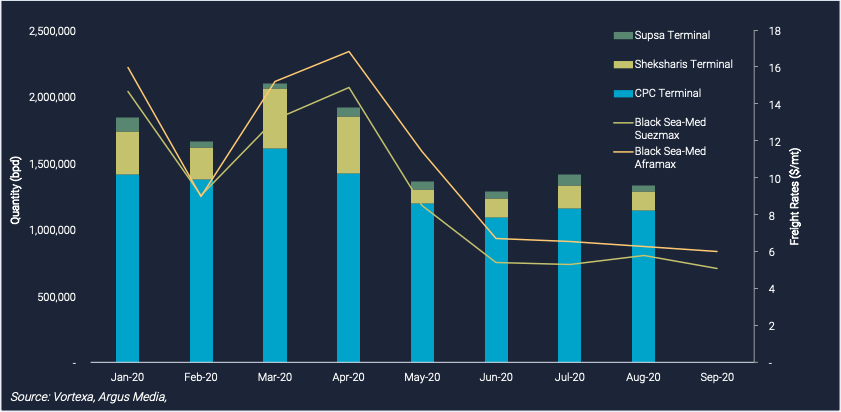 Black Sea crude exports year-to-date and corresponding tanker freight rates
See latest data in the Vortexa platform
Demand for Black Sea crude on the decline
Global refinery capacity is operating at yearly lows, while European refinery maintenance season, which is expected to be more severe than usual, is also dampening demand for Black Sea crude.
Combined loadings from the Sheskaris and CPC terminals in Novorossisyk, and Supsa, averaged 1.54mn b/d between June-August, compared with 2.01mn b/d for January-May, a drop of 31%, according to Vortexa data. Russian refinery maintenance in Q2 supported higher outflows, while the start of OPEC+ production cut agreements from May helped subsequently curtail them, as demand also waned with the growing impact of the pandemic.
CPC Blend crude exports in August were only down 4% month-on-month, but compare with a 42% decline since the yearly high of March. Combined exports of Urals and Siberian Light from Novorossiysk were broadly steady in August from the prior month at around 330,000 b/d, but almost half the level of March exports.
Low trading activity weighs heavy on freight rates
The lower Black Sea crude outflows have undoubtedly pressured freight rates downwards.

Suezmax and Aframax tanker segments have declined by 66% and 65% from April 2020 levels, according to pricing data from Argus Media.

Looking ahead, the spot market looks unlikely to improve in the short-term, with slow trading activity and a long tonnage list of available vessels.

Owners and brokers alike are already looking to October loading programs, hoping they will bring more solace to a very depressed market.
Want to know more about these flows and our freight data?
{{cta('bed45aa2-0068-4057-933e-3fac48417da3′,'justifycenter')}}