Recent headlines would suggest that the global threat from the new Omicron variant is the main driver behind falling oil prices. However, our latest flows data shows that this new threat coincides with a surge in total hydrocarbon departures in November. We outline these key oil and gas flows observations in more detail, having just shared our take on the key market moving events.
Total global crude oil, refined products, LPG and LNG departures rose to around 110mbd in November, growing by 6mbd from both the previous month and 12 months earlier.
The largest portion of this increase in hydrocarbon loadings is a 2.7mbd increase in November's crude loadings, followed by 2.1mbd increase in clean products (including LPG and ethane). LNG departures also rose by 510kbd mom, while dirty product exports rose by 410kbd mom (see chart)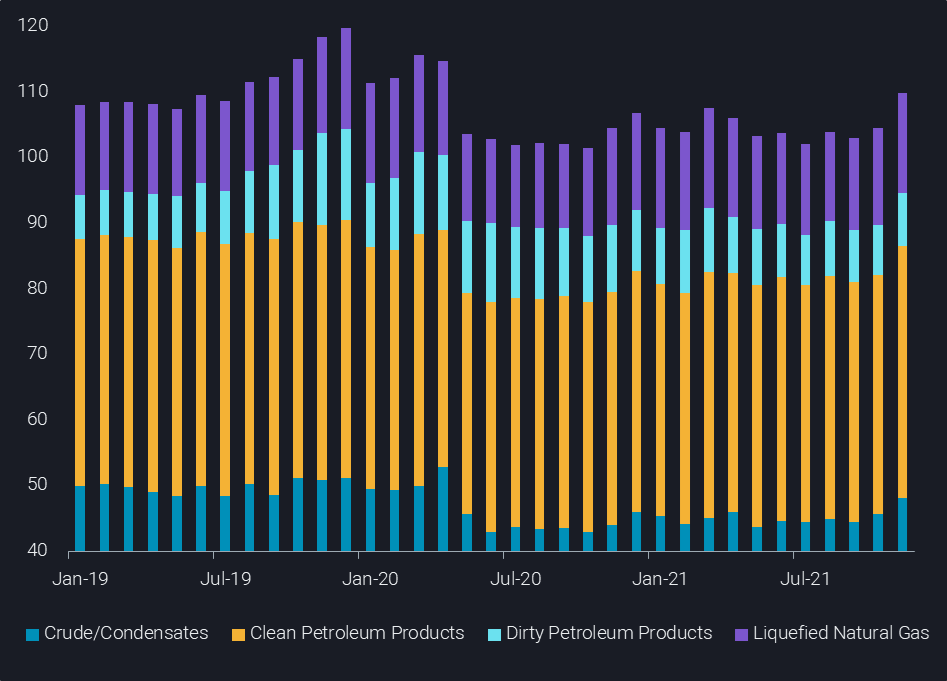 World oil and gas loadings incl. intra-country flows (mbd)
Crude Oil
The growth in November's crude oil loadings adds further momentum to the global 1.3mbd mom increase seen in October. The US led the global increase, while key OPEC members continued to add to supplies. Some non OPEC suppliers also raised loadings, reversing a recent downward trend.
US exports crossed the 3.5mbd mark in November and posted a 770kbd mom gain, the largest mom increase seen across all crude exporters.
Saudi Arabia and UAE continued to drive the growth from OPEC, posting 90kbd and 280kbd mom increases, respectively.
Brazilian and Norwegian loadings in November rose mom by 340kbd and 15kbd, respectively, having decreased through September and October. Mexico's loadings also recovered in November, gaining 90kbd mom, having fallen for the previous three months.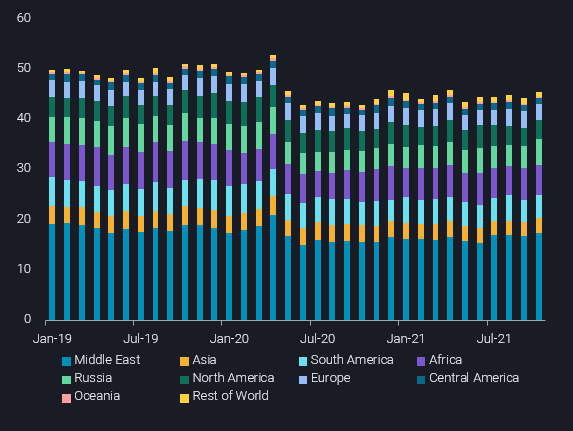 World crude oil loadings incl. intra-country flows, by origin region (mbd)
Clean products and LPG
The rise in US crude loadings in November is a theme carried into LPG and road transportation fuels. Our data suggests the US is proving to be a key driver in rising refined product loadings across the barrel, likely supported by relatively lower total refining costs in a high energy price environment. In particular, the US has been key in driving global diesel loadings higher in November.
Global diesel loadings rose 1.1mbd mom in November with the US adding a 340kbd mom rise to that global total. The expected wind down of the Russian refinery maintenance season also boosted the country's diesel loadings in November by 160kbd mom.
US LPG exports hit a multi year high of 1.7mbd in November, up by 250kbd from September-October. Once again, the US was the largest contributor to the global 410kbd mom increase in LPG loadings.
Gasoline/blending component loadings rose 400kbd mom in November at a global level. The lower growth, relative to diesel, is expected given the diverging seasonality effects in the demand for light vs middle distillates.
In contrast to the way diesel loadings have picked up, no single producer has had an outsize impact on global growth in gasoline loadings. This suggests a broader reluctancy in boosting gasoline output across the global refining system. India's 60kbd mom increase in gasoline loadings proved to be the largest increase from a single country in November.
At a regional level, Asian gasoline loadings moved slightly lower (40kbd) mom while European and North American loadings grew 290kbd and 120kbd, respectively.
Looking ahead, even a continuation of the high November levels into December and beyond is likely to tilt the market into surplus – even more so if there are more widespread lockdowns or more stringent movement restrictions in key oil consuming nations. In order to mitigate this surplus risk, the call is now on the supply side, with price signals already in place. Refining margins for many European and Asian players are already signalling run cuts. Crude prices are also under strong pressure including market structure. The ball is now very much in the OPEC+ members' court. Let us see this week if the most recent developments are enough to prompt OPEC+ to make a detour from the current trajectory.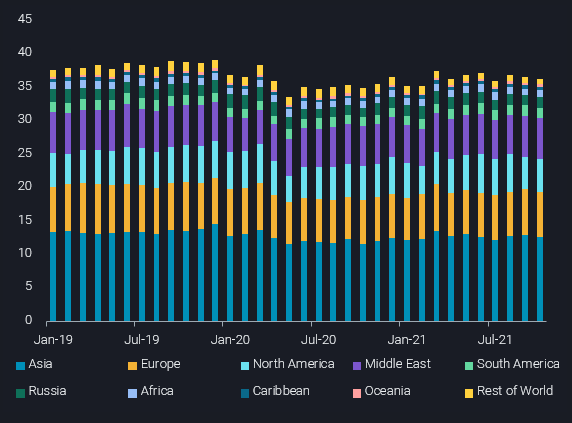 World clean products,LPG and Ethane loadings incl. intra-country flows, by origin region (mbd)
More from Vortexa Analysis