All eyes remain on floating storage for tanker markets
All eyes on floating storage for tanker markets
26 August, 2020
The number of tankers used for crude and products floating storage activity around the world is down by 36% from two and a half months ago. The unwinding of refined products stocks has boosted available tonnage in spot freight markets, particularly in the long range (LR) segment, offsetting elevated crude stocks on VLCCs particularly in the Far East.
A snapshot of floating storage today
Vortexa data show

336 tankers (Handysize and above)

tied up in crude and refined products floating storage – stationary for at least seven days – as of 25

August

. This is down

by 36% f

rom 2.5 months ago, as the drawdown on floating stocks leads to the unwinding of tankers serving as offshore storage.
More VLCCs in floating storage: The largest share of floating storage tonnage by tanker class is attributed to VLCCs with

83 tankers, equivalent to 11% of

the global VLCC fleet. This numbe

r is only down by 12.5% from 2 months ago

, with a sizeable number of VLCCs queuing to discharge their cargoes in the Far East – particularly China. This activity has boosted short-term floating storage, closely tied to congestion.
LR2 utilisation falls: The drop in usage for floating storage is striking for refined products stored on long-range (LR2) tankers. These fell fro

m 110 tankers at the start of June 2020 to 69 as of 25 August, or a 37% de

crease in overall numbers. Freight rates for time-charter booking have remained flat at approximately $20,000 p/d for a 12 months charter.
Fleet utilisation trends
Suezmax fleet utilisation in floating storage currently stands at 9%, down from a high of 15% in June 2020, implying that 6% of the global Suezmax fleet has been released back in the spot market.

Smaller tanker classes, such as the Handymax/MR and Handysize, each fell to 6% and 4% utilisation as of 25 August, down from highs of 8% and 9% respectively two months earlier.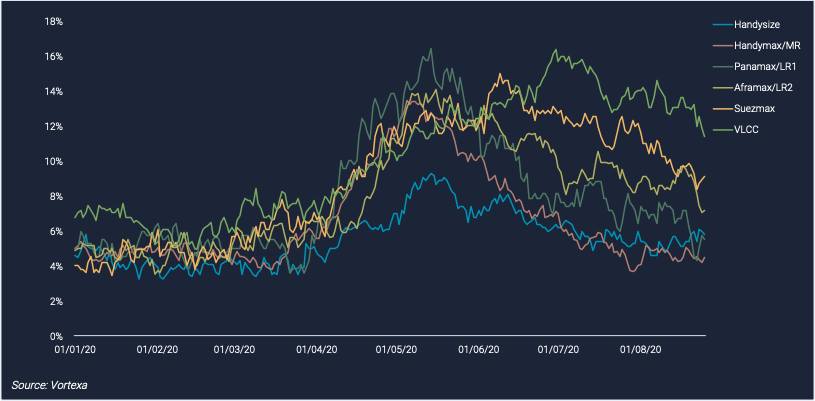 Floating storage fleet utilisation by tanker class
Looking ahead
Overall, tankers tied up in floating storage have continued to unwind, joining a growing list of available tonnage in the spot market.
Suezmax tanker rates are a good reflection of this activity, and are currently trading at multi-year lows.
A portion of VLCC tonna

ge currently storing th

eir cargoes offshore due to port congestion in the Far East will also re-enter the sport market once their cargoes are discharged, applying further pressure to freight rates.
With demand uncertainty across crude and refined products, and stocks both onshore and offshore at all-time highs, tanker utilisation attributable to floating storage will continue to be closely watched metric by market participants. A move in either direction could stir hope or continued gloom for tanker earnings during 2H 2020.
Interested in a more detailed view of our freight data and associated flows?
{{cta('bed45aa2-0068-4057-933e-3fac48417da3′,'justifycenter')}}