Altona's refinery closure: implications on trade flows and freight
Australia's Altona refinery closure is expected to raise the country's refined product imports, with supplies from Exxonmobil's Singapore refineries. MR tanker freight rates to receive support from additional demand for the route.
23 February, 2021
Australia's 90,000 b/d Altona refinery has become the country's second after BP's Kwinana refinery to announce its permanent closure, caving under the pressure of sustained weak refining margins. Additional imports to replace the refinery's production supplies will likely be sourced from Singapore's Exxonmobil refineries, providing a boost to MR tanker demand and freight rates along the route.
Higher transport fuel imports from Singapore boosts MR tanker demand
The ExxonMobil-owned Altona refinery has been supplying between 50,000 – 80,000 b/d of transport fuels to the local community, and its closure is expected to raise the country's refined products imports, further exacerbating the impact of the 138,000 b/d BP Kwinana refinery's closure this year.
The announcements come as depressed oil demand continues to batter the country's refining industry, with its two remaining refineries – 120,000 b/d Geelong and 109,000/d Lytton – stating their considerations to shut operations last year, drawing concerns over the country's energy security.
Imports to replace Altona refinery's production are likely to be supplied from the parent company's two large refineries in Singapore – ExxonMobil Jurong and PAC – with a combined capacity of 592,000 b/d. Refined product exports from the Singapore refineries to Altona is already a common occurence, with at least one MR cargo seen on average every month in the last two years, Vortexa data show.
Demand for MR tankers is expected to receive a boost from higher imports of oil products into Altona, with at least 4 additional MR cargoes expected per month. This is music to the ears of tanker operators, who have seen the segment underperforming so far in 2021. Freight rates in the region have fallen by 21% in recent weeks vs early January based on Argus Media, corresponding with a dip in utilisation for the Southeast Asia-Australia route by 37% month-on-month in February.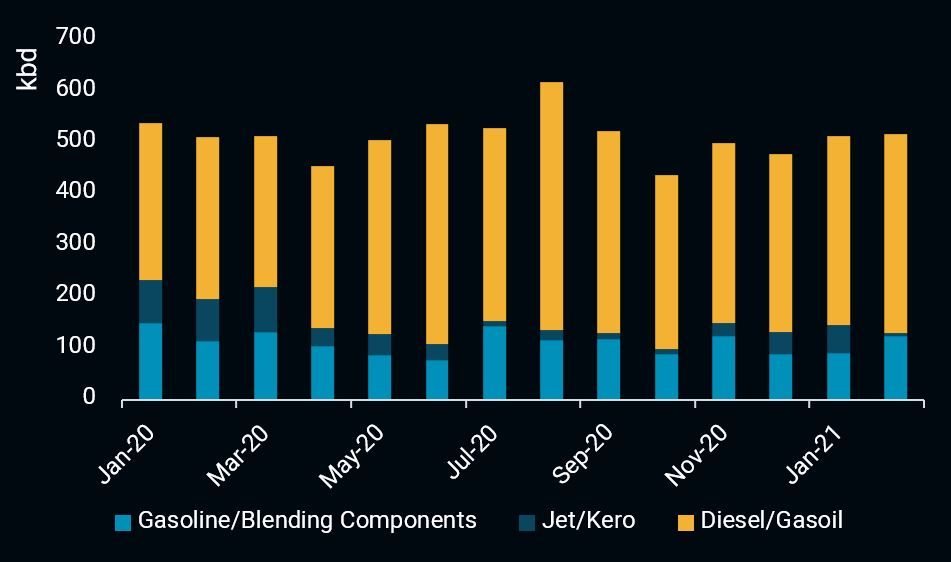 Australia transport fuels import (in kbd)
See this on the Vortexa platform
Crude flows to Altona dries up, Suezmax tanker demand falters
With its diverse supply of crude sources, the impact of the refinery closure is distributed mainly across African light-sweet producers, which supplied close to 70% of the refinery's crude throughput last year. As supply volumes to Altona refinery comprise only a fraction of each producers' total exports, the impact will be marginal to them.
Expectedly, ton-mile demand for the Suezmax segment and to a lesser extent, the Aframax tanker segment, will take a hit from the halt of crude flows to Altona refinery, with an average of 1-2 tankers from each class taken out per month.
This will exert further pressure on already subdued freight rates, which have already been weighed down by lower Australian crude import demand due to the pandemic. Aframax rates for the Southeast Asia-Australia route have plummeted to $10/t during the week ending 21 February, compared to $23/t between 4Q 2019 and 2Q 2020, according to Argus Media price assessments, with further downside looming after the refinery's closure.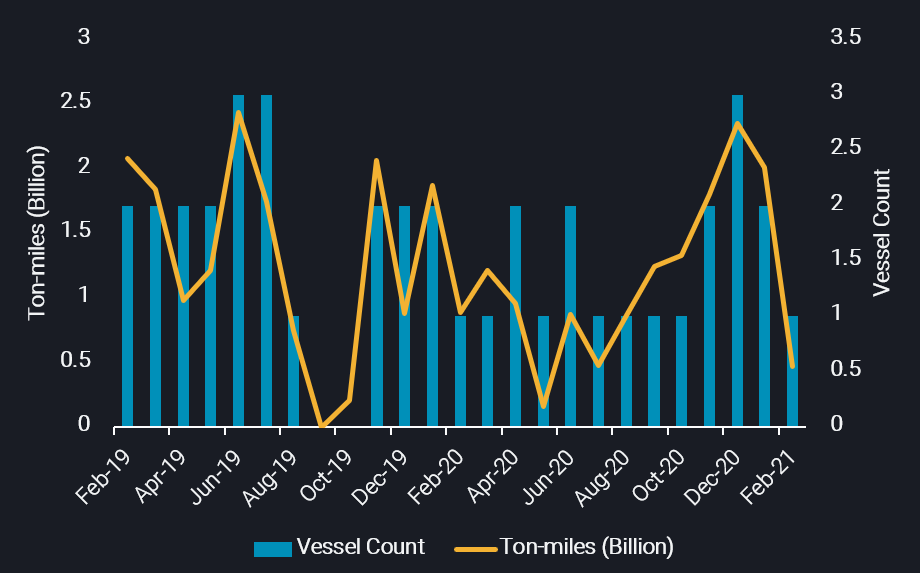 Aframax- Suezmax ton-mile demand and vessel count per month towards Altona Refinery
Want to know more about Vortexa data & analytics?
{{cta('bed45aa2-0068-4057-933e-3fac48417da3')}}