Johan Sverdrup: Contradicting Fates for Crude Tanker Classes
The VLCC market share of Johan Sverdrup volumes continues to increase at the expense of Aframax and Suezmax tanker segments, highlighting the demand for longer-haul routes.
04 March, 2021
The VLCC market share of Norway's Johan Sverdrup crude grade exports continues to increase at the expense of Aframax and Suezmax tanker segments, highlighting longer-haul interest for the grade amid comparatively weaker European sentiment. For shipowners, while VLCC rates remain pressured by fragile demand and unwinding floating storage, rising Johan Sverdrup output could provide a bright spot going forward.
In the 18 months since Johan Sverdrup commenced operations, the grade has been feeding refineries located from Europe to the Far East. We look at the vessel class breakdown of the crude grade's exports to highlight the the differing impacts of its rising output on the freight sector.
Winners and Losers
Volumes of Johan Sverdrup loading on Aframax and Suezmax tankers have been shrinking after hitting a peak in August 2020,

amid rising volumes heading long-haul. February 2021 recorded the lowest level moving on these two vessel classes

since exports began in October 2019, according to our data.
Conversely, Johan Sverdrup volumes carried on VLCCs remained elevated for the fourth consecutive month, reaching an all-time high of

375,000 b/d

in February, while denoting a 21% y-o-y increase, amid rising overall export volumes.
The

tanker class

dynamics can be attributed to the difference in crude demand between destination regions,

as subdued sentiment in Europe contrasts against faster recovery in the Far East. Arbitrage of this medium-sour grade is also supported by curtailed OPEC+ production and lower dirty freight rates.

Vortexa data show that VLCC utilisation for Johan Sverdrup hit a record-high of 15 vessels in February. Similarly, tonne-mile demand hit a record 26bn tonne-miles, with vessels signaling the Far East as their destination. More specifically, 90% of the cargoes were destined to China with the remainder headed to South Korea.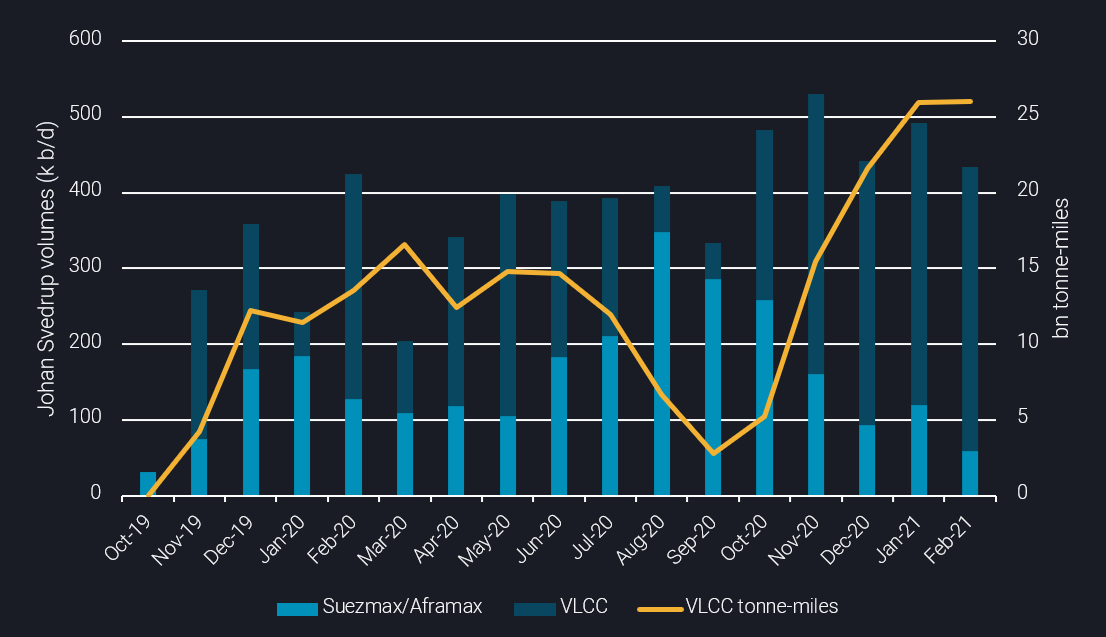 Johan Sverdrup Volumes carried on Aframax/Suezmax and VLCCs (kb/d) vs. VLCC utilisation (bn tonne-miles)
Impact on Rates and Outlook
Despite

higher VLCC loadings for this North Sea grade in recent months,

the ailing global crude demand picture, coupled with the

unwinding of VLCC floating storage (

down 52% since the peak in last June

)

has boosted vessel availability in the segment, keeping freight rates low. This is evident in data focused around the Mongstad terminal. VLCC rates for the North Sea – Far East route averaged $14.93/mt in February, plummeting from April 2020 highs,

according to Argus Media.

In the short-term, VLCC tonne-mile demand could take a hit with the onset of Chinese state refinery maintenance work looming. Johan Sverdrup might then find demand closer to home, supporting short-haul routes, providing solace for Aframax and Suezmax vessel classes.

But in a welcome sign for tanker demand going forward, Johan Sverdrup loadings are set to rise further from April onwards, according to loading schedules. And field o

perator Equinor

recently announced an increase in daily production capacity by to 535,000 b/d from mid-2021 onwards, which would coincide with Asia'

refiners ramping up crude runs post-maintenance.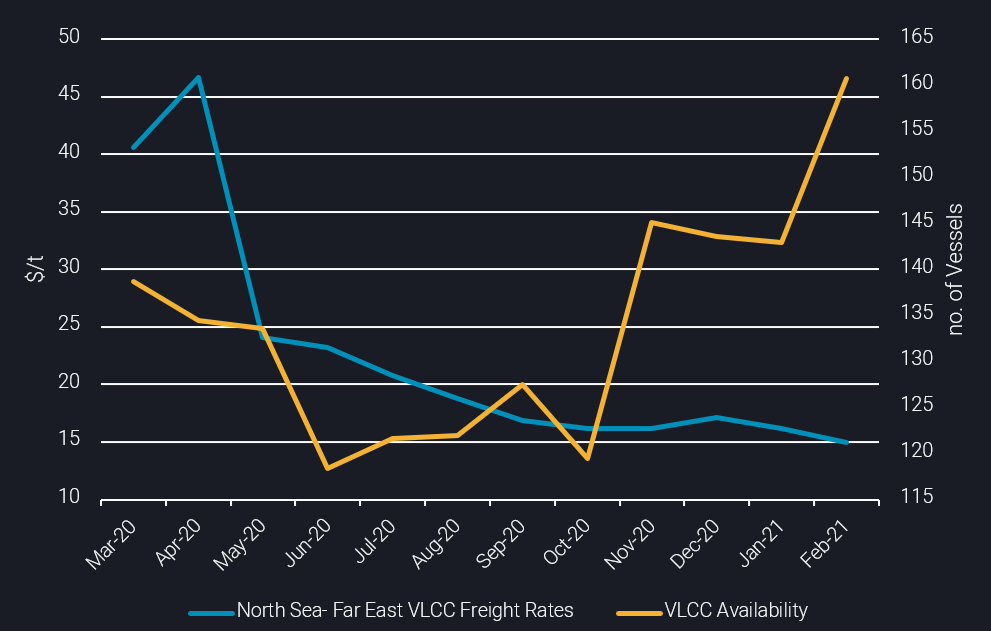 Argus North Sea – Far East Freight Rates ($/mt) vs. VLCC Availability in Mongstad Terminal, Norway (no. of vessels)
Want to get the latest updates from Vortexa's analysts and industry experts directly to your inbox?
{{cta('cf096ab3-557b-4d5a-b898-d5fc843fd89b','justifycenter')}}
---
More from Vortexa Crude Analysis
Vortexa In the News – Crude