Maiden Crude Tanker CPP Voyages: What happened and what to expect
Vortexa will make a recap of the key takeaways of crude tanker CPP voyages, while giving a view of whether this trend is sustainable in 2022.
20 January, 2022
One of the 2021 highlights in the freight world was the rise in maiden voyage activity of crude tankers carrying clean petroleum products. In this blog, Vortexa will make a recap of the key takeaways, while giving a view of whether this trend is sustainable in 2022.
CPP carried on maiden crude supertankers in 2021 surpassed that of 2020, triggered mainly by two factors that occurred during the past year:
The relatively stricter coronavirus-related measures in the East (when compared to the West) resulted in imbalances in consumption and demand between the two hemispheres. This drove an open East – West diesel arbitrage.
OPEC+ production cuts and

elevated onshore crude inventories

limited crude trade demand at a time when some VLCCs and Suezmaxes were also relieved from floating storage duties, as the oil structure was flipping to backwardation. This inevitably pushed crude tanker freight rates in the doldrums.
This low freight rate environment was subsequently exploited by cargo charterers who chose to employ VLCC and Suezmaxes that just entered the market for their East – West CPP (mainly diesel) voyages instead of the traditional LR2 tanker segment. To put it in numbers, around 10 mn tonnes of CPP were carried in crude tankers in 2021, which translates to around 85 -110 fully laden LR2s.
There were also instances where crude tankers were employed for two consecutive voyages, underpinning the difference between the clean and crude rates.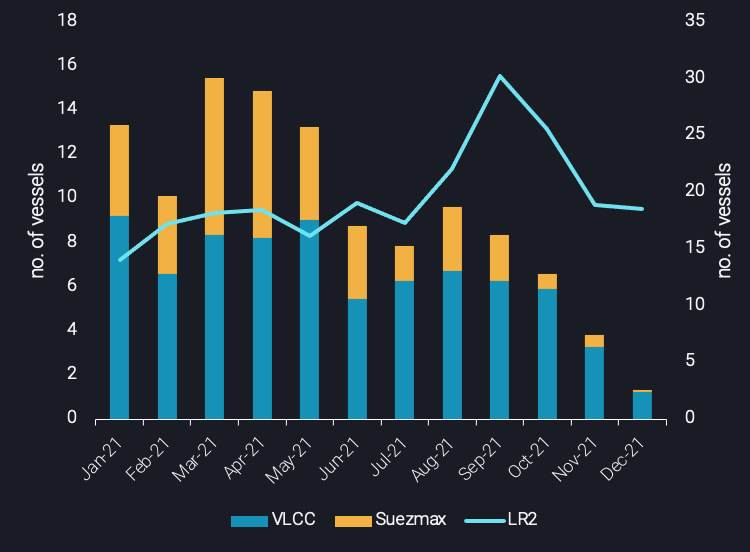 VLCC & Suezmax vs. LR2 (RHS) utilisation for East-West diesel flows
Using Vortexa's freight analytics, it is evident that CPP maiden activity was stronger in the first half of the year. However, the drop-off observed during the second half is to a minor extent attributed to much better employment in standard crude flows towards Q4 2021, but primarily due to the fact that newbuild VLCC and Suezmax deliveries subsided since summer. This is true especially for the latter segment, with only 1 Suezmax being delivered throughout the last 5 months of the year.
A testament to the continuation of the East – West diesel flow is that LR2s managed to pick up the slack left from their crude counterparts. This unsurprisingly led to the rise in LR2 tanker employment for the East to the West of Suez diesel legs, as illustrated in the chart above. From August to October, the monthly average LR2 utilisation stood at around 25 vessels, considerably higher than the 17 that denotes the average for the year.
The continued attractiveness of clean maiden voyages is also indicated by the number of crude vessels that took part in a CPP trade relative to the total deliveries. During H1 2021, 55% of the VLCCs delivered were involved in a CPP voyage, while the number fell only slightly to 46% during H2 2021. A similar comparison for Suezmaxes showed that 2 out of the 3 vessels delivered in the H2 2021 carried CPP for their first voyage.
VLCC and Suezmax carrying CPP vs. Total Deliveries for 2021
Outlook
Looking forward – we recommend a read of our 2022 Freight Forecast – the fundamental market perspective would suggest clean maiden voyages on VLCCs and Suezmaxes are less likely to happen:
With big oil producers

(US, Russia, Middle East) shining as refiners

, the

Chinese refining sector being guided by the government

to meet only domestic requirements, and improving regional Asian demand, the fate for the East-West diesel arbitrage is not looking good.
Meanwhile, standard utilisation in the crude segment is set to grow further, as

OPEC+ must expand exports further

to avoid sizzling oil prices, while US exports are also set to rise, including long-haul flows to Asia. Demand is widely expected to rise in 2022, and

the stock-drawing exercise of 2021

cannot be prolonged much further.
However, the pattern of the Suezmax and VLCC tankers that hit the waters in December and January, are hinting towards a continuation of the trend.
December: 2 VLCCs were delivered, both were involved in the CPP trade. No Suezmax was delivered for that month.
January: 3

Suezmax tankers

have finished their sea trials, all 3 are signaling locations popular for loading diesel (Sikka and Singapore). 1

VLCC

has also completed its trials and is signalling Singapore as well.
We would conclude that the fundamental market picture is less relevant, and that is simply the highly attractive savings on freight costs when converting an otherwise ballasting trip to a clean shipment at much lower than usual rates. Based on ship-supply-side fundamentals it is furthermore unlikely that dirty rates will appreciate a lot in 2022. VLCC and Suezmax scheduled deliveries for 2022 are projected to be 42 and 33 units respectively, noting a 20% and a staggering 65% y-o-y increase. This means that even if we see a smaller uptake of CPP cargoes on crude tankers relative to the total vessel deliveries, the volumes could match or more likely outperform 2021 levels. Vortexa analytics help to spot these relevant shipments early on.
More from Vortexa Analysis