Middle East LR2 tankers: Naphtha provides a lifeline
As naphtha continues to find outlets towards the East, LR2 utilisation is on the rise in March, helping resurrect rates from multi-year lows.
19 March, 2021
As naphtha continues to find outlets towards the East, LR2 utilisation is on the rise in March, helping resurrect rates from multi-year lows. But widening LPG discounts to naphtha are expected to put a lid on Asia's naphtha imports in the coming months.
In mid-February, freight rates for the LR2 segment were in the doldrums, recording a four-year low on the back of weaker naphtha flows. In particular, Middle East Gulf (MEG) naphtha departures towards Asia realised a month-on-month dip in February of 20%, despite healthy cracker margins.
Rising naphtha demand in the Far East region in March is lifting the spirits of LR2 tanker owners, but upsides could be capped by a growing shift in cracker feedstock from naphtha to LPG, driven by widening spreads. Rates have rebounded from multi-year lows in the space of just one month.
Naphtha demand resilience
Since the start of March, a surge in Asian steam cracker margins has boosted steam cracker runs, which in turn further supported naphtha imports. The Asian ethylene-naphtha spread increased by 40% this month (1-10 March), hitting a 2-year high, according to Argus Media. The main reasons behind this rise was tighter Asian ethylene supply in the region and reduced US ethylene exports due to the recent cold snap.
Naphtha competes with LPG as a feedstock in steam cracker units for petrochemical production. T

he naphtha to LPG switch typically occurs when LPG is at a discount to naphtha by more than $50/t. With the

current spread at around $30/t, according to Argus Media price assessments, naphtha is still more desirable as a feedstock, but a seasonal widening of the spreads is expected in the coming months.


This landscape has triggered an increase in LR2 tankers carrying naphtha for the AG-Far East route. According to Vortexa data, utilisation rose on a w-o-w basis for the week ending 14 March for the fourth consecutive time. As a result, LR2 tanker freight rates out of MEG surged by 22% w-o-w on March 12, reaching a 2021 high.
LR2 naphtha AG/ Asia utilisation (no. of vessels) vs LR2 AG/Japan freight rates ($/t)(Argus Media)
LR2 vs LR1 dynamics
Similar to LPG and naphtha, both Long Range (LR) tanker classes – LR1 and LR2 – compete for the Middle East to Far East naphtha trade. The lower MEG – Asia naphtha flows in February, instigated the need for trading smaller parcel sizes, which in turn benefitted the LR1 tanker class.

However the freight rate spread between LR1 and LR2 tankers has widened to the point of bringing LR2 tankers into favour again. At the start of February the spread between the two tanker classes was $0.60/t, by March 1 the spread widened to $4.25/t, according to Argus Media. This deemed the larger class a more affordable solution with economies of scale. The graph below indicates an increasing trend in LR2 tonne-mile demand at the expense of the LR1 tankers.

For now, LR1 rates remain irrepressible despite low utilisation, owing to limited available supply during the week ending March 14. This is poised to change however as LR1 availability picks up, mainly due to the arrival of vessels ballasting from the Far East.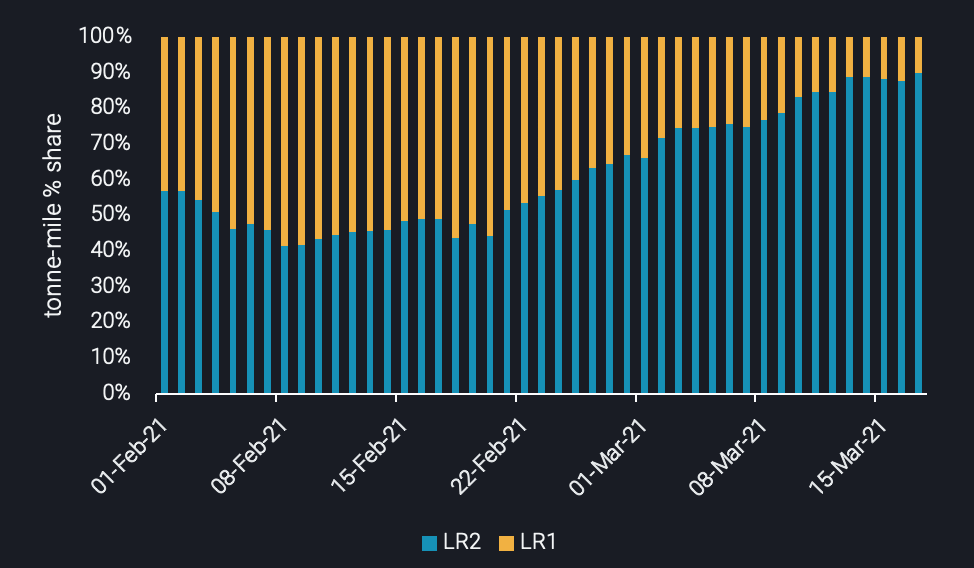 LR2 vs LR1 naphtha AG/East tonne-miles (% share) for February & March
Outlook
In the short-term, naphtha is expected to continue its steady flow towards Asia, on the back of strong

demand from cracker operators

, subsequently supporting LR2 tanker rates. But looking further ahead into the summer, naphtha import volumes in Asia are expected to be capped, from the seasonal switch to LPG feedstock.
On the supply side, a wide LR2-LR1 spread will likely continue supporting LR2 utilisation. Indicatively, LR2 naphtha volumes for March are expected to climb by 8% m-o-m. This trend will persist until the freight spread between the two tanker classes narrows once again, making the case for LR1 tanker utilisation economically sensible.
Want to get the latest updates from Vortexa's analysts and industry experts directly to your inbox?
{{cta('cf096ab3-557b-4d5a-b898-d5fc843fd89b','justifycenter')}}
---
More from Vortexa CPP Analysis
Vortexa In the News – CPP