Oil markets on track to recovery? Only time (and freight) will tell
Claims from top trading houses and research analysts that oil demand is set for a roaring comeback as soon as this summer has divided market experts. Vortexa weighs in.
29 April, 2021
Claims from top trading houses and research analysts that oil demand is set for a roaring comeback as soon as this summer has divided market experts. A deepening COVID crisis in large economies such as India has reminded us that this current pandemic is far from over. We decided to track the recovery using our oil-on-water data and the EIA demand forecast against 2019 average volumes and looked at freight for early indicators of how, and if, a full recovery scenario will play out.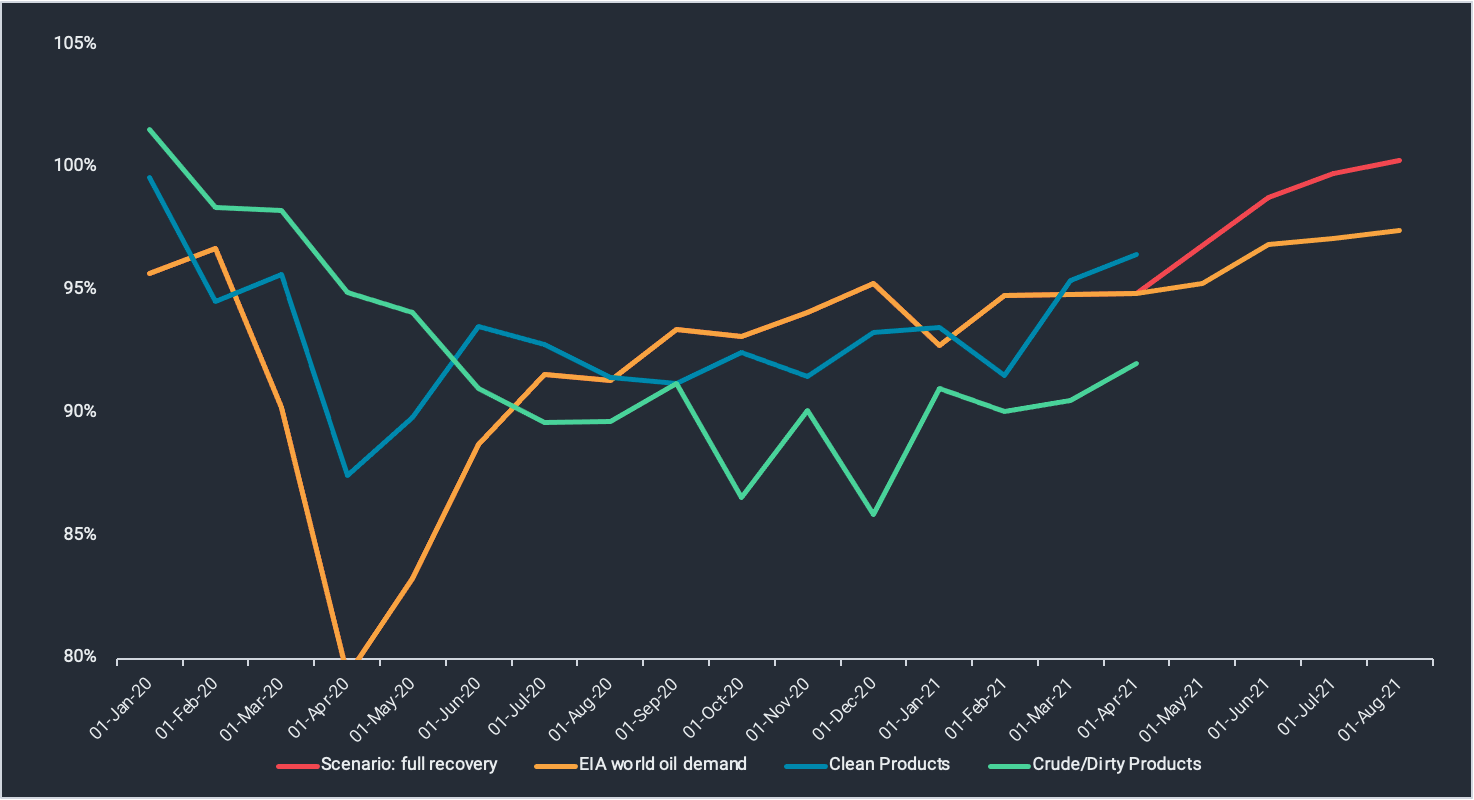 Oil markets recovery vs. 2019 average (Sources: Vortexa, EIA)
Clean products on the rise, crude/dirty products still have room for improvement
According to our data, clean products lead the way for a return to 2019 averages in terms of seaborne arrivals at 97%, lending weight to the scenario that a full recovery by the end of the summer remains possible.
Crude and dirty product volumes on the other hand remain at 92% as stock drawdowns continue to limit the amount of cargoes chartered in the market in the face of OPEC+ restrictions and lower demand compared to 2019 amid rising crude prices.
As lockdowns around the world ease and vaccinations increase, demand is expected to be reflected first in gasoline, diesel and in the near-future jet markets before being seen in crude. This is especially true with elevated stocks of the latter. However, we may be facing a fast uptick in crude levels during the summer months as the recovery joins forces with seasonal trends.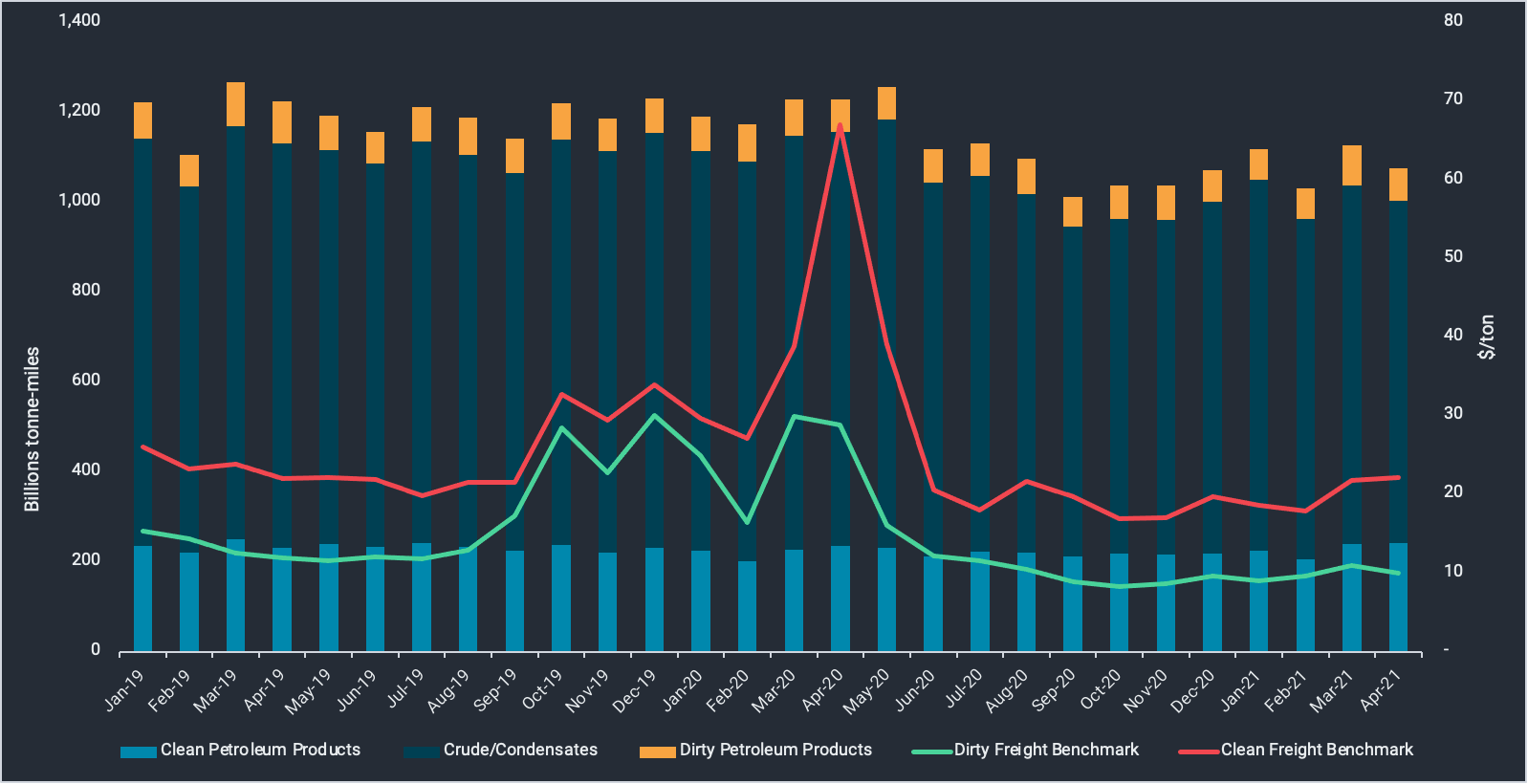 Tonne-miles vs. dirty and clean freight benchmark indices for 2019 – YTD (Source for freight rates: Argus Media)
Tonne-miles on a downwards trajectory whilst clean freight performs better than dirty
As a measure of tanker demand overall, tonne-miles are down 4% in April 2021 compared to the start of the year, which is also by how much monthly averages for 2021 remain down from 2020. Whilst we have seen demand for clean products recover more quickly, that remains insufficient to move the needle for global tonne-miles. Crude and DPP still contribute on average 80% of tonne-miles on a monthly basis in 2021.
Freight rates have continued to languish at yearly lows, with only a minor improvement in the clean freight market. Average clean freight rates are at their highest since June 2020 whilst dirty freight rates have dropped close to 10% month-on-month in April 2021. This does not seem to indicate that demand for forward loadings is sufficient to underpin the scenario of a full recovery.
Optimism might not be enough for a full recovery
We previously identified that rising US exports, in conjunction with rising Chinese imports and OPEC+ exports had the potential to help kickstart a rebound in dirty freight rates (see full insight).
Though US sanctions on Iran seem unlikely to be fully removed in the short-term, the market is still keeping a close eye on not only increased volumes of crude on the water but also the potential increase in available Iranian vessels that could cushion any upside on freight. However, we deem it more likely that this fleet would be a prime candidate for scrapping, rather than starting to compete with today's more modern tonnage.
In conclusion, we are seeing first indications of a demand recovery in clean product flows and US market activity. But for bullish global demand scenarios to become reality, an uptick in dirty freight rates should be noticeable within May, while seaborne crude flows need to rise sharply latest by the start of summer in the northern hemisphere.
Want to get the latest updates from Vortexa's analysts and industry experts directly to your inbox?
{{cta('cf096ab3-557b-4d5a-b898-d5fc843fd89b','justifycenter')}}
---
More from Vortexa Analysis
Vortexa In the News