Spot tonnage rises as floating storage unwinds
Spot tonnage rises as floating storage unwinds
10 June, 2020
Spot freight markets are seeing an influx of tonnage as floating storage tankers discharge cargoes and look to their next voyage. As a result, available tonnage across all freight market segments is likely to rise over the month. This increase in tanker supply, despite the gradual recovery of oil demand, risks dampening freight rates and shipowner earnings.

Latest floating storage snapshot
Vortexa data show 558 tankers currently tied up in floating storage (stationary for at least seven days) as of 10 June. These 558 tankers span across tanker classes representing a combined deadweight of around 52mn mt, compared with 23mn mt a year earlier.
The VLCC segment currently accounts for the largest share of floating storage tonnage totalling 72 tankers – equivalent to 10% of the global VLCC fleet. The number of VLCCs currently in floating storage is also double the average seen from July 2019 to March 2020.
Refined products tend to be stored on long-range (LR2) tankers, with numbers having doubled from 5% to 10% of the total fleet utilised for this purpose since July 2019 – or 93 tankers on a unit basis.
Fleet utilisation trends in floating storage
Vortexa data shows tonnage tied up in floating storage has fallen since the end of May (see chart below). The volume of tonnage in floating storage has dropped by 2% for VLCCs and by 3% for Suezmax tankers.
On smaller tanker classes such as Panamax and Handymax, tonnage tied to floating storage has dropped by 5% over the same period – pointing to the start of a trend of tankers sailing to discharge their cargoes and potentially being released into the spot market.
Aframax tankers have seen a 2% drop in the number of vessels deployed in floating storage across regions. According to market participants, the majority of cargoes discharged from Aframax tankers in floating storage offshore the US Gulf coast and Europe are to be loaded unto larger sizes such as VLCC and Suezmax tankers in prevision of a voyage East.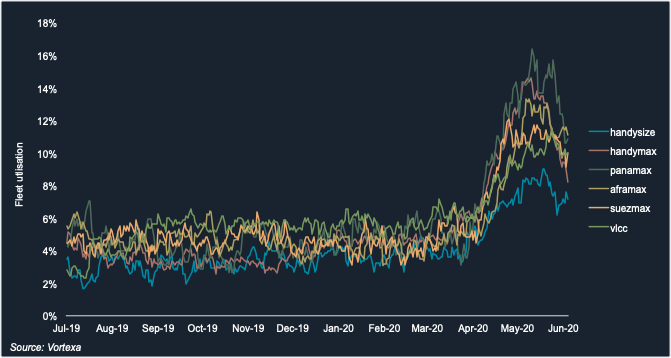 Floating storage fleet utilisation by tanker class
Discharge between crude & products
Going forward it remains to be seen whether the fall in total fleet utilisation for floating storage will only concern tankers carrying crude and dirty petroleum products, as a global supply glut in clean refined products may support fresh interest in floating storage.
Meanwhile the fall in time-charter rates could drive traders to unwind expensive floating storage positions and potentially re-charter for the same purpose at a discount.
Interested in a more detailed view of our freight data and associated flows?
{{cta('bed45aa2-0068-4057-933e-3fac48417da3′,'justifycenter')}}