A last hurrah for global gasoline cracks? Probably not
Global gasoline cracks are soaring amidst growing market tightness. A cap on gasoline production and high blending costs could see cracks reaching regular 5-year highs this winter
20 October, 2021
Global gasoline cracks are soaring amidst growing market tightness. A cap on gasoline production and high blending costs could see cracks reaching regular 5-year highs this winter
Global gasoline cracks are defying seasonal trends this winter, muscling towards levels seen in the recent summer driving season in the US and Europe whilst setting multi-year highs in Asia. As the western hemisphere enters into the winter season, a slowdown in driving activities could see some demand cooling. Sky-high gasoline retail prices may further deter consumption. Could this be the last hurrah for gasoline cracks?
US Gulf Coast gasoline exports decline, Atlantic Coast imports up
A perfect storm of tighter US gasoline supplies, higher cost of renewable fuel credits and rising butane costs for winter spec gasoline blending has pushed up US gasoline prices in recent weeks, narrowing the US Gulf Coast (USGC) export arbitrage, whilst creating a strong pull of gasoline and blend components into the US Atlantic Coast (USAC).
USGC gasoline exports fell for the third consecutive month to 580kbd in September, with the largest month-on-month (mom) declines to Brazil and Mexico. Imports into USAC, in contrast, saw a near 10% mom uptick drawing over 150kbd of additional gasoline cargoes from the UK Continent. Whilst the Northwest Europe to USAC arbitrage remains open this month, tight gasoline supplies in Europe have seen total arrivals into USAC tumbling over 30% to 465kbd in H1 October, a trend that is expected to continue through the month. With driving activities slowing as winter approaches, a further easing of gasoline demand and imports could be imminent.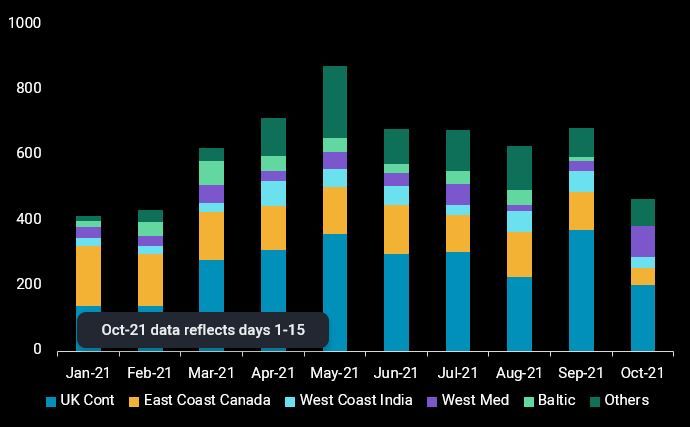 US Atlantic Coast gasoline imports (kbd)
Europe's gasoline tightness gets little relief from refinery supplies
In Europe, rising gasoline blending costs coupled with robust domestic and export demand have also sent cracks soaring in recent weeks. Although refining margins have risen strongly, refiners have held back on ramping up crude runs with the surge in natural gas prices and a series of outages, dampening hopes of more gasoline supplies, at least in the shorter term. Strong competition for gasoline blend components such as naphtha and butane for petrochemical feedstocks, heating and power generation also implies that the gasoline pool is unlikely to see much supply growth from gasoline blending.
Growing gasoline tightness has seen exports from Europe declining to an 8-month low of 1.2mbd in the last two months, as more barrels stayed within the region. Exports to West Africa staged a strong rebound in H1 October to 540 kbd, compensating for lower volumes last month amidst the strong pull of European gasoline barrels into USAC. Some relief on the market tightness could come with domestic demand slowing in the coming weeks as high gasoline prices and the winter season curtail driving activities.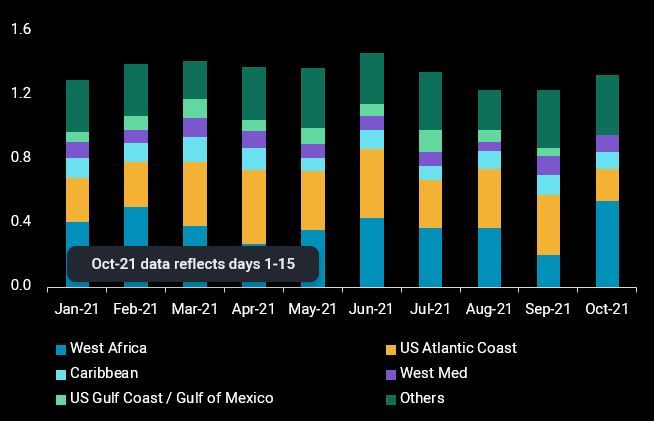 Asia's gasoline exports surge may moderate as arbitrage narrows
Although Asia's gasoline demand saw mixed recoveries across the region, favourable arbitrage has pushed exports to a 4-month high of 670kbd in September. Exports to Saudi Arabia's Red Sea ports – Jeddah and Jizan more than doubled last month to 60kbd, amidst a pick-up in the country's driving activities. More Asian gasoline cargoes were also seen heading to East Africa, reaching a 4-year high of 45kbd in September. Meanwhile, Southeast Asia's gasoline demand has started showing signs of recovery with imports into Indonesia leaping by 50% mom to 330kbd in H1 October, the highest in the region. Strong supplies to markets drew on regional inventories, propelling Asian gasoline cracks against Dubai to a 4-year high.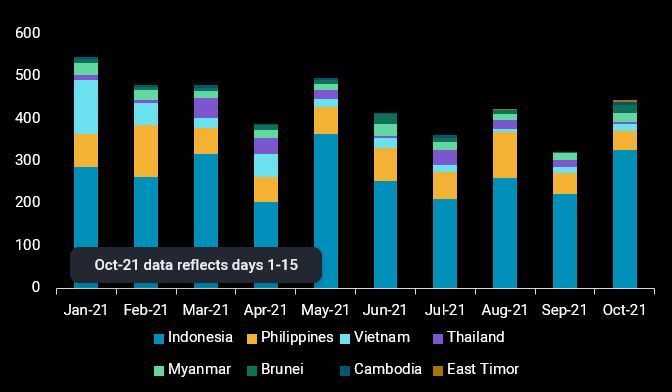 Southeast Asia gasoline imports (kbd)
Cooling gasoline cracks round the corner?
Driving activities in the western hemisphere are set to slow as winter approaches, while sky-high pump prices are likely to further dampen road travels. But gasoline supplies are expected to remain tight through the winter as refiners switch to jet and diesel production. Petrochemicals feedstock requirements also need steady cover, competing with molecules being used for power and heat generation within and outside of refineries.
We see the global refining system likely running into capacity limitations over the coming winter period, as the call on processing could increase by as much as 3.5mbd, assuming an end to stock draws and a massive step higher in demand (heating, power, transportation amid reduced Covid restrictions). Together with soaring energy costs, refining margins are likely dragged even higher, probably led by middle distillates. Nevertheless, coupled with the high cost of gasoline blending, gasoline cracks could well mark regular 5-year highs over the winter period.
More from Vortexa Analysis