ARA region's fuel oil exports dilemma
ARA region's fuel oil exports have surged amid an influx of Baltic supplies, but limited arbitrage opportunities are proving to be a headwind for the market.
28 January, 2021
The ARA region is bloating from an influx of Baltic fuel oil supply, lifting fuel oil exports heading out of the northwest European hub to a multi-year high of 2.2mn mt in January. Any further uptick in the HSFO surplus in ARA will weigh on cracks, which could prompt FSU and European refiners to further cut back runs.
A building ARA surplus
Despite exports from the ARA region to the US, Canada and UAE observing a monthly uptick, a significant proportion of the region's fuel oil exports still remain within Europe, as the arbitrage to the East remains shut.

The growing difficulty in accommodating surplus fuel in northwest European hub is also reflected in the loading of fuel oil aboard two VLCCs – Habrut and Olympic Legend – from Rotterdam this month, which likely capitalizes on softer dirty freight rates to make the arbitrage workable. Notably the last VLCC fuel oil that loaded from Rotterdam was in May 2020, at the early height of the covid-19 pandemic.

HSFO surplus risks

Within the fuel oil pool, the biggest concern lies with high sulphur fuel oil (HSFO), since exports to key markets such as Saudi Arabia and the US have seen a recent slowdown. The latter country has shown reduced feedstock demand from its US Gulf Coast refiners (PADD 3) (see FSU dirty products exports to US falter in January).

Meanwhile ample supplies from the Middle East into Asia are keeping a lid on arbitrage flows from northwest Europe. A rising surplus of HSFO will weigh on cracks, prompting FSU and/or European refineries to cut back on runs even further if possible.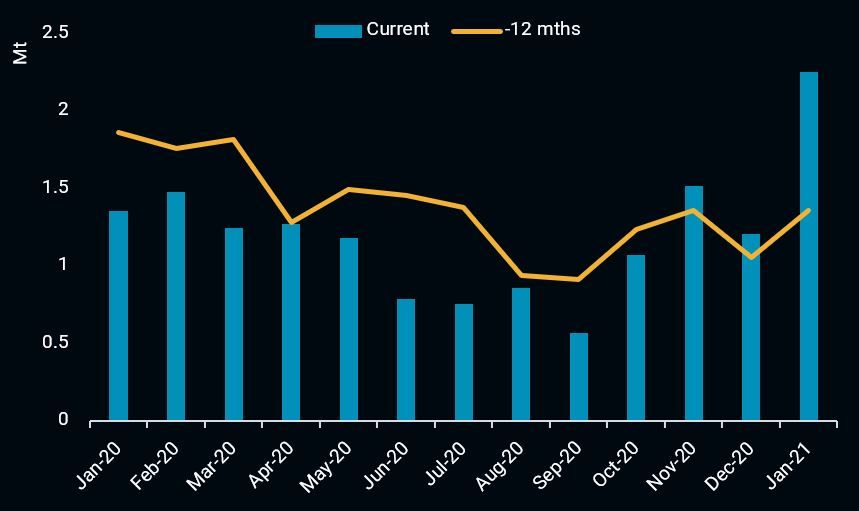 ARA fuel oil exports (mn mt)
Want to know more about Vortexa's fuel oil flows?
{{cta('bed45aa2-0068-4057-933e-3fac48417da3')}}