Asian refiners are keeping their refining runs high this month, as workable margins overshadow the growing Omicron threat – at least for now. The current market dynamics offer several silver linings for refiners against an ominous outlook.
Crude arrivals into the region averaged 21.3mbd in the first two weeks of December, relatively flat versus last month, whilst onshore crude inventories have drawn 400kbd month-on-month, albeit lower than the 1.1mbd draw seen in November. Demand fundamentals within the region have remained robust in recent weeks. Refinery supplies are well-balanced against regional demand and arbitrage exports, keeping clean product inventories tight and regional cracks supported. Looking to the west, the demand recovery in Europe is halted for now by the fast-spreading Omicron variant, and there are growing concerns that Asia may soon be following in Europe's footsteps.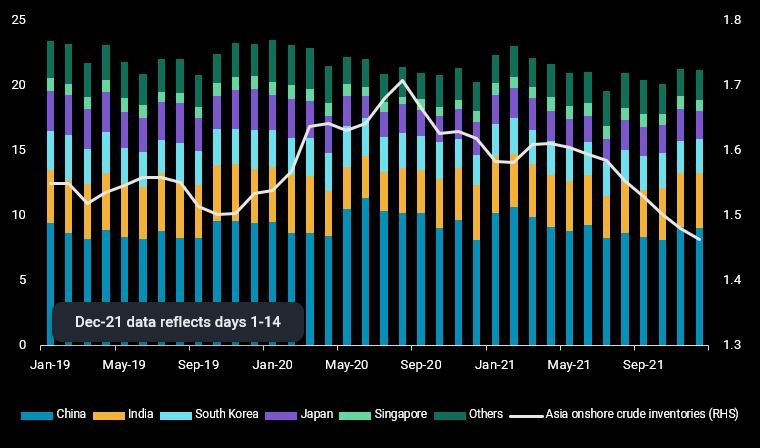 Asia crude imports by origin (mbd) and onshore crude inventories (kbd)
But the current market dynamics offer several silver linings for Asian refiners. First, lower crude prices are definitely a boon to refiners' margins. The steep narrowing of Brent-Dubai differentials, which could continue in the weeks ahead, has also increased the attractiveness of West African and potentially other Atlantic Basin light-sweet crudes relative to Middle Eastern sour grades, offering lower desulphurisation costs and higher light distillate yields, with the latter enjoying the best refining economics.
Second, naphtha cracks could see more upside as it continues to outshine LPG as the more economical cracker feedstock, whilst supplies from the Middle East tighten due to planned maintenance in the first quarter of next year. This could give Asian refiners, especially integrated refining-petrochemical sites, more incentives to maintain refining runs high.
Third, India and Northeast Asian refiners can look towards expanding their export market share in the region with China's product exports likely to remain subdued. China is expected to tightly regulate refining runs and in turn product exports next year to maintain clear skies during the Beijing Olympics and as part of its overall efforts towards achieving its long-term environmental targets. Notably, India, Japan and South Korea have raised their clean product exports to regional countries by over 20% in the second-half of this year versus the first-half. These countries may be well-positioned to outperform other regional suppliers and therefore their export market share could be sustained or even expanded in 2022.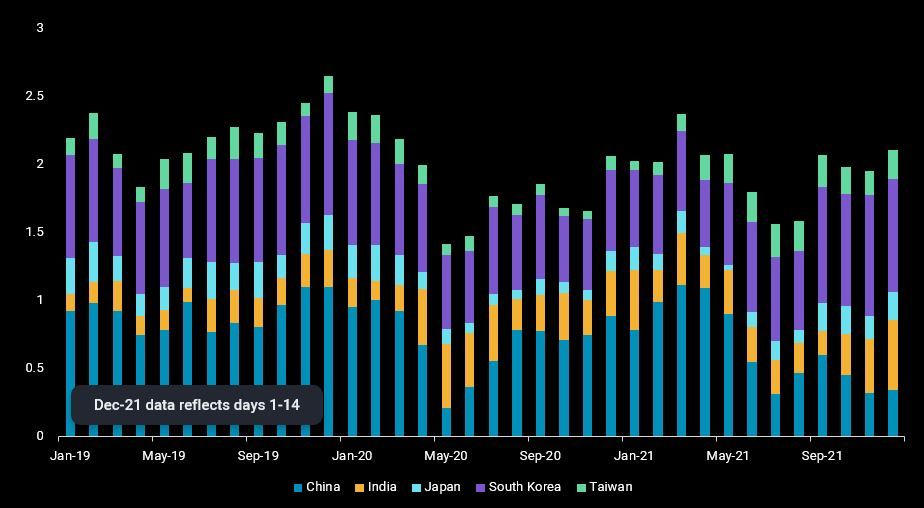 Selected Asian refiners' gasoline, jet/kero and diesel exports to Asia and Oceania (kbd)
More from Vortexa Analysis