Asia's gasoline cracks make an unexpected U-turn
Asia's gasoline cracks have staged a sharp correction in recent weeks. A shift in regional supply-demand dynamics has been the key driving force behind this.
23 November, 2021
Asia's gasoline cracks are tumbling in a stark contrast to the unabated surge just a month ago. While some post-spike cooling is likely taking place, an actual shift in regional supply-demand dynamics is a bigger driving force behind this price correction.
Regional gasoline supply outpaces demand growth
Combined gasoline exports from India, Japan and South Korea are up over 20% (or 170kbd) month-on-month in the first two weeks of November, and on solid track to rise for the third consecutive month. Soaring gasoline cracks have driven regional refiners to ramp up crude runs and optimise gasoline production at a rate that surpassed demand growth. With gasoline imports rising and exports falling, Singapore's gasoline trade flipped to a net import last week, leading to a sharp rise in inventories and adding to the regional length.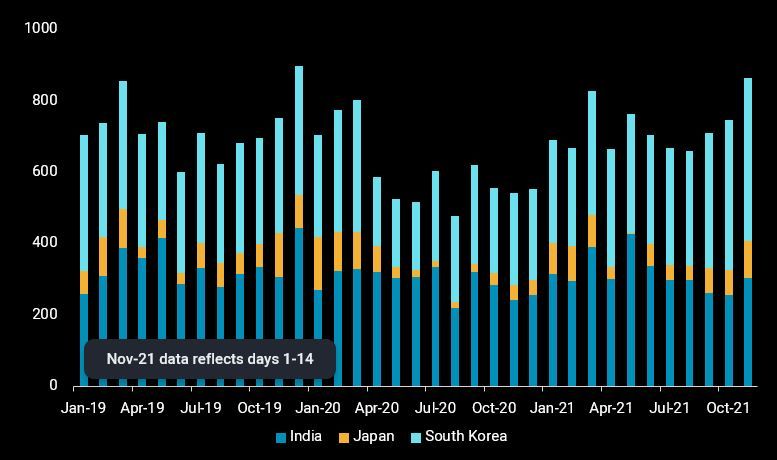 Gasoline exports from India, Japan and South Korea (kbd)
More naphtha diverted for gasoline blending
More refinery naphtha supplies are being diverted to the gasoline pool as petrochemical margins disappoint. Regional aromatics plants and ethylene crackers have turned down operating rates as hefty naphtha costs and lacklustre aromatics downstream demand erode margins. Against this backdrop, naphtha loadings to Asia have continued to slip month-on-month in October, reaching a 6-month low of 5.9mt (million tonnes). November loadings are expected to remain bearish as preliminary indications suggest.
Southeast Asia's demand recovery outweighed by global demand slowdown
On a positive note, gasoline imports into Southeast Asia (excluding Singapore and Malaysia) are set to reach 500kbd in November, surpassing previous year levels for the first time in six months. Although a bright spot for the market, this has not been sufficient to cushion Asia's gasoline cracks from the prospect of slowing gasoline demand in India as its festive season draws to an end, and the wider repercussions of a demand downturn in Europe amidst renewed lockdowns mixing up poorly with the Northern Hemisphere's winter season. After sliding for five consecutive months, gasoline exports from Europe are rebounding this month, with incremental supplies seen heading to the US and Africa.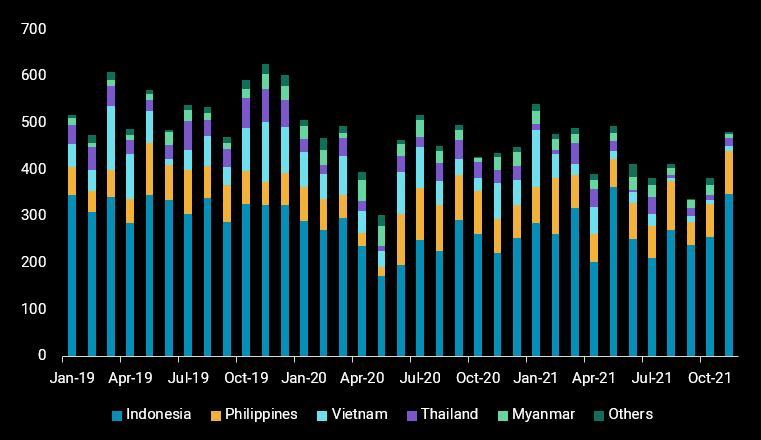 Gasoline imports into Southeast Asia (ex. Singapore, Malaysia) (kbd)
Will gasoline cracks find stability soon?
Within the region, a softening of product cracks across the barrel has seen refining margins falling in recent weeks, which would likely drive refinery runs, especially at simpler set-ups, lower and tighten gasoline supplies. A further recovery of Asia's gasoline demand as economies re-open will also be supportive of cracks. But this could be dampened by the spillover effect of slowing gasoline demand in the Atlantic Basin combined with rising refining operations in the United States and Russia.
Each week, Vortexa Market Analysts produce exclusive reports highlighting product flows in Asia, Europe, and Americas. Receive these directly to your inbox, and see how effective data using Vortexa Analytics can be. Sign up here!
More from Vortexa Analysis