Australia's dilemma: To refine or to import?
Australia is at the crossroad of deciding whether to keep its refining industry alive or increase its fuel imports to meet its domestic refined products demand
12 November, 2020
Australia's refining sector has been dealt another blow by BP's recent announcement to shut its 146,000 b/d Kwinana refinery in Western Australia, and convert it into an import terminal by early next year. This comes after Ampol and Viva Energy stated that they are evaluating the viability of their refinery operations amid depressed margins. The country's fourth refinery, Exxonmobil's Altona is also challenged by weak margins, casting uncertainty on its future. Australia is now at a critical crossroads – can the refining industry be kept alive, or will it increase its fuel imports to meet its domestic refined products demand?
Refinery closures to push up fuel imports by 40%
Australia could see a near 40% surge in its transport fuel imports to 760,000 b/d based on current year's demand estimates, if its three largest refineries are shut. Kwinana refinery, the country's largest, is estimated to have produced around 105,000 b/d of gasoline, jet fuel and diesel year-to-date, almost double that of Ampol's Lytton and Viva Energy's Geelong refineries at 52,000 b/d and 58,000 b/d respectively. These three refineries combined have supplied over 25% of the country's total transport fuels demand up through August this year.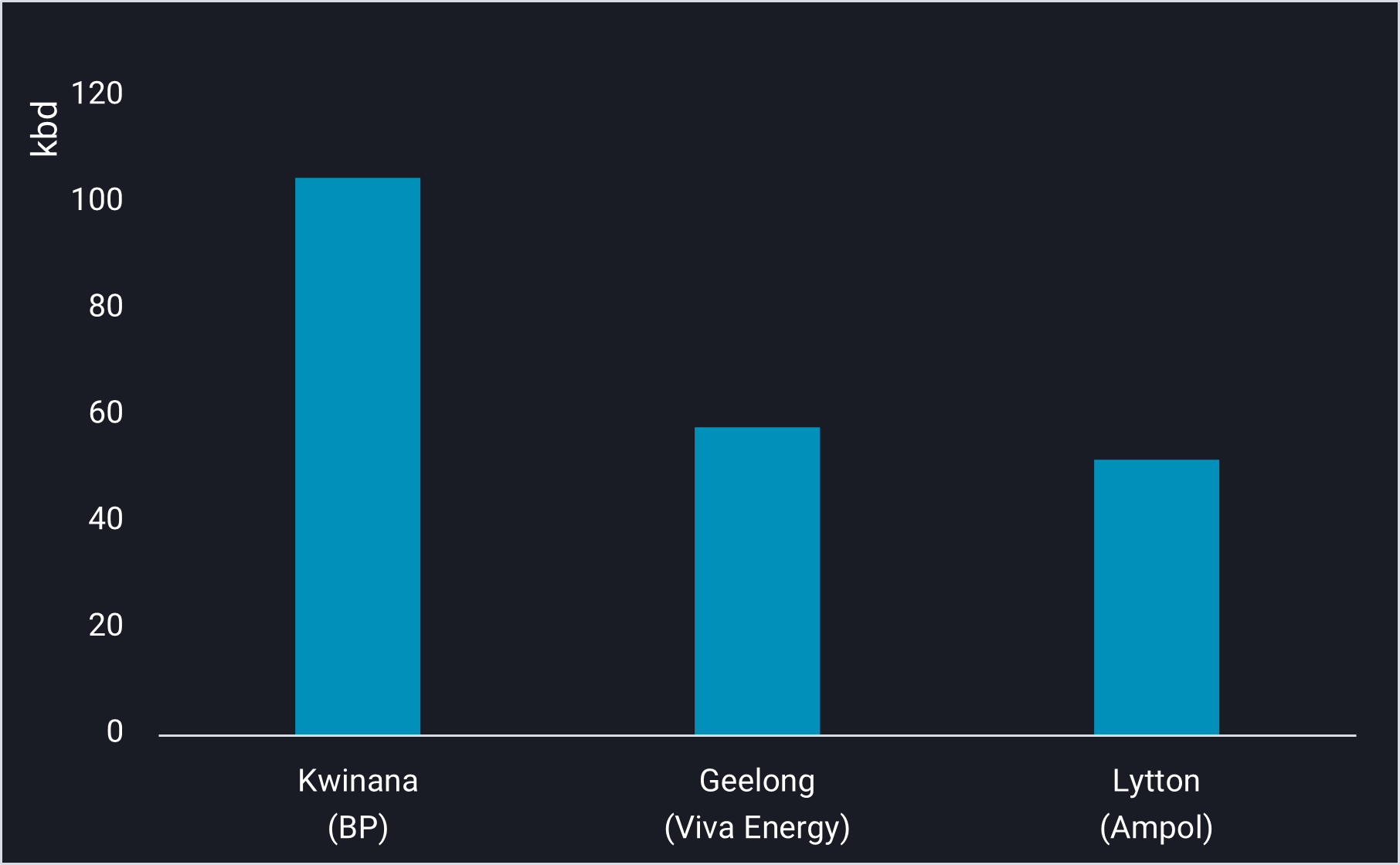 Australia refineries' transport fuels production by site, kbd
Mitigating fuel security and costs risks
Concerns of fuel security and higher fuel costs have emerged in Australia as the refining industry considers winding down. Aside from accelerating natural gas and renewable energy use, adopting the right trading and investment strategies could mitigate these risks – we highlight some of these with reference to Vortexa data:
I. Diversify fuel supply sources
Australia currently imports from a diverse range of fuel suppliers in the region. Singapore, China, South Korea and India are among the top suppliers, according to our data, each with a 10 – 20% market share in gasoline, jet and diesel combined year-to-date.
The country added diesel imports from a new source to its portfolio after the 175,000 b/d Hengyi refinery in Brunei came online end-2019. It has been receiving 3-6 MR-sized cargoes from Brunei each month, with Vitol, Ampol and BP as the most active charterers.
And long-haul US West Coast spot diesel cargoes have also made their way to Australia this year, with a total of six MR tankers seen so far. Maintaining this diversity in suppliers will be key in protecting Australia's fuel security.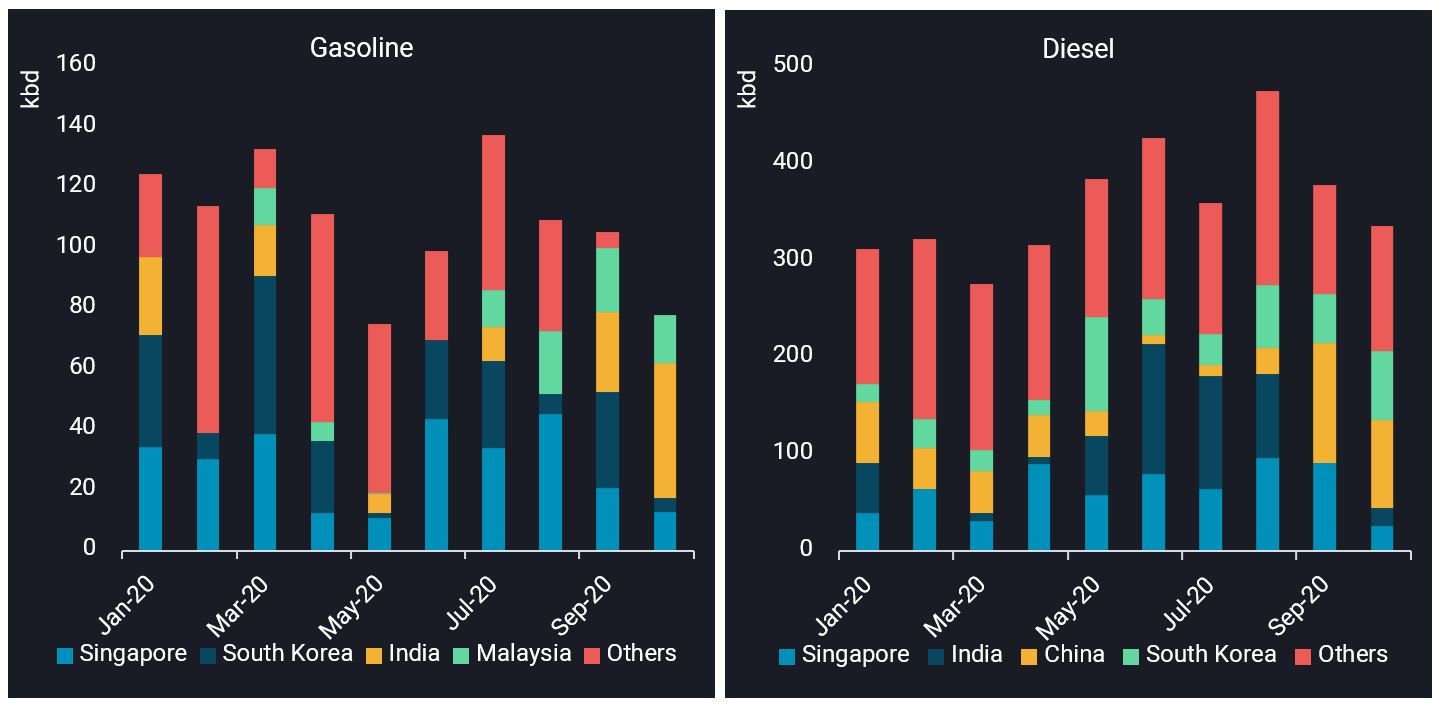 Australia's gasoline and diesel imports by origin countries Jan – Oct 2020, kbd
See this in the Vortexa platform: Gasoline imports & diesel imports
II. Increase cargo size to capture economies of scale
Increasing fuel imports also carry exposure to higher fuel prices associated with freight costs. More than 75% of Australia's transport fuels were imported on MR tankers this year, according to our data. With the country drawing in larger volumes in future, freight costs can be optimised by bringing in cargoes on larger LR tankers to take advantage of the economies of scale, barring any terminal infrastructure constraints. As a comparison, Singapore – Australia MR tanker rates are currently said to be around $1/ton higher than LR tanker rates of around $14/ton.
III. Expanding storage infrastructures
Australia currently has a stockholdings target for gasoline, jet and diesel at 24 days of consumption each, with plans to increase diesel stocks to cover 28 days' worth of consumption in the longer term. With increased reliance on imports, the government is partnering with industry players to expand the country's onshore storage capacities, which will be critical in protecting the country's fuel security.
---
Want to know more about these flows?
{{cta('bed45aa2-0068-4057-933e-3fac48417da3')}}