Brazil product flows adapt post-pandemic
Vortexa Snapshot: Brazil product flows adapt post-pandemic
17 June, 2020
Brazil's latest seaborne refined products flows reflect the dampening of domestic road fuels demand in the wake of the Covid-19 pandemic. We take stock of the impact to domestic refining output, and see in our data that lower gasoline demand pushed exports in May higher but the impact on diesel imports was more moderate. Fuel oil exports went from strength to strength, reaching a multi-year high in May, amid firm demand for low sulphur marine fuels.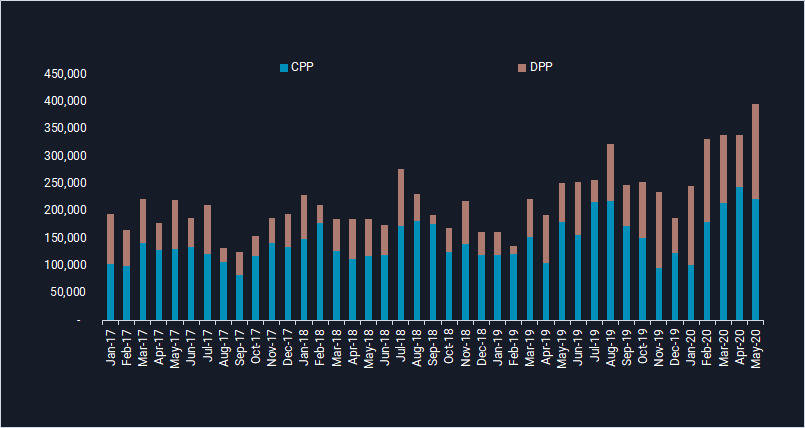 Brazil clean and dirty products exports (b/d)
Gasoline: Flip to net exporter
Brazilian gasoline demand slumped following the full imposition of movement restrictions implemented in the wake of Covid-19, tipping the country to a more unusual net exporting position in May.
Brazil's gasoline/blending components imports fell to 60,000 b/d in May – around a 45% drop month-on-month, reflecting the demand destruction. In the same month, it increased exports to 85,000 b/d, flipping the country into a net exporter position, unlike the norm seen in prior months (see chart below).
Export destinations change: Although New York normally receives the larger portion of Brazil's gasoline/blending components exports, the share going to PADD 3 increased in May – this means a higher level of Brazil's gasoline/blending components exports will arrive into the US Gulf in June.
Domestic demand uptick in June? Brazil's intra-regional gasoline/blending component flows are seen at 29,000 b/d in June on a preliminary basis, equating to four MR tankers. This compares to negligible volumes a year earlier and an average of closer to 20,000 b/d in the first five months of the year. The combination of rising intra-Brazil flows and a month-on-month decline in Brazil's gasoline exports (in 1H June) point to rising refinery utilisation rates, and may also imply higher domestic demand.

Brazil net imports of gasoline/blending components (b/d)
Diesel imports resilience
While domestic gasoline imports were gutted by lockdown restrictions, diesel imports were only partially dampened.
Brazil's diesel imports were 159,000 b/d in May, only 25,000 b/d lower year-on-year. Arrivals for 1-16 June look to be a healthier 188,000 b/d, similar to import levels seen during the same period last year.
Fuel oil exports grow from strength to strength
Rising production of Brazil's low sulphur fuel oil (LSFO) coincides with rising demand for low sulphur fuels in a post-IMO 2020 world. Brazil is one of the world's top exporters of LSFO, with Singapore being its top export market, year-to-date, followed by Caribbean storage sites.
Brazil exported 170,000 b/d of LSFO in May, the highest in data going back to 2016.
Interested in a more detailed view of these flows?
{{cta('bed45aa2-0068-4057-933e-3fac48417da3′,'justifycenter')}}