Can Asian gasoline cracks sustain their strength into Q4 2021?
With the US driving season having come to an end, a pillar of support also breaks away for Asian gasoline cracks. But regional fundamentals and strong petchem operations are set to keep gasoline cracks supported.
15 September, 2021
Amidst a backdrop of languishing gasoline demand in Southeast Asia and more recently Australia, Asia's gasoline cracks have defied expectations and remained as the front-runner ahead of other product cracks in the last two months. While the Delta variant virus continues to cripple mobility and limit gasoline purchases in Asia's import markets, regional producers have either dialed back on exports

or raised arbitrage exports to o

ther regions, offsetting the weaker demand to keep gasoline cracks firm. But will these trends continue in Q4 to keep Asia's gasoline cracks robust?
China's gasoline exports constrained on limited export quotas
China's strong pullback in gasoline exports since June, stemming from a new consumption tax on mixed aromatics imports and steep reduction in product export quotas, has been a key factor in tightening regional supplies in the last two months. Exports in August totalled 220,000 b/d, although up month-on-month, are still 40% lower compared to the first five months of the year. While loadings in the first two weeks of September have climbed to 275,000 b/d, further upsides are likely to be capped for the following reasons. Crucially, limited availability of product export quotas will restrain exports. Refiners are also likely to switch yields from gasoline to middle distillates as cracks for the latter strengthen, thus reducing domestic supplies. This, coupled with a rise in domestic demand as road travel picks up during the upcoming mid-Autumn festival and National Day holiday, is expected to curb a further rise in gasoline exports in the coming months.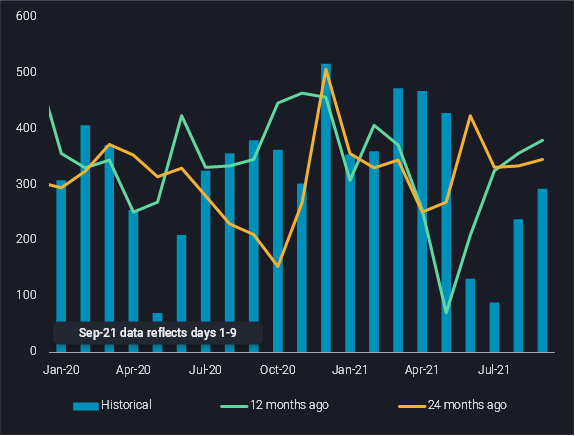 South Korea ramps up refinery runs on seasonal rise in cracker margins
On the contrary, South Korea's gasoline exports, which surpassed 2019 pre-covid levels in August, are likely to rise further in Q4, offsetting lower supplies from China. The seasonal rise in Asia's cracker margins typically drives refiners to ramp up runs for their cracker feedstock requirements, whilst producing a surplus of gasoline despite thin reforming margins. Although South Korea's gasoline exports in August were up over 25% from the same period in 2019, incremental volumes headed to the US, South America and the Middle East, keeping exports to Asia stable at 220,000 b/d versus 1H 2021. But this arbitrage window may narrow in the next quarter as US refineries ramp up runs post hurricane, implying that more gasoline barrels could be staying in Asia.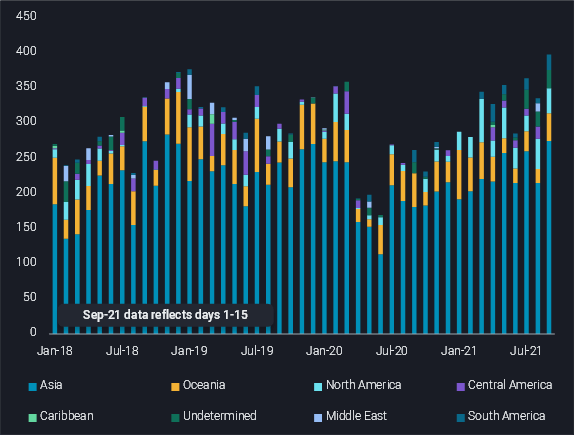 South Korean gasoline exports by destination region (kbd)
Uncertainty looms over Southeast Asia's gasoline demand recovery
Unlike the pre-covid years, Southeast Asia's gasoline demand may not see a strong seasonal pick-up in Q4 for the second year in a row, with driving activities within the region remaining subdued. A rise in gasoline exports from South Korea, is likely to add some cooling pressures on the region's gasoline cracks. But cracks are expected to remain resilient on restrained exports from China and support from strong naphtha and LPG prices.
More from Vortexa Analysis