China scrambles for diesel to avert another power crunch
China is now facing yet another dilemma of a diesel supply shortage, as the global natural gas tightness and sky-high coal prices are driving factories to turn to diesel power generators amidst rising seasonal diesel demand from other sectors
02 November, 2021
China's ambitious pursuit of its carbon emissions goals this winter has been a bumpy one so far. A global shortage of natural gas and sky-high coal prices have plunged the country into a power crunch, driving factories to turn to diesel power generators amidst rising seasonal diesel demand from other sectors. With diesel demand far outpacing supply, the country is now facing yet another dilemma of a diesel supply shortage.
Refiners draw onshore inventories to raise crude runs
Chinese refiners have ramped up crude runs and optimised diesel yields in recent weeks to meet the supply shortfall, drawing incremental crude supplies from onshore inventories which have fallen by 50mb (or 835kbd) over the last two months and reached an almost two-year low of 790mb last week. High oil prices and the lack of crude import quotas have deterred refiners from ramping up crude purchases. Crude arrivals into China have slid for the third consecutive month to 8.3mbd in October, down nearly 10% versus the same period last year. But crude imports and diesel supplies are likely to see an upturn this month, as a flotilla of VLCCs floating offshore China's Zhoushan and Zhejiang provinces are now discharging their cargoes after the recent fourth and fifth batches of import quotas were allocated to the independent refiners.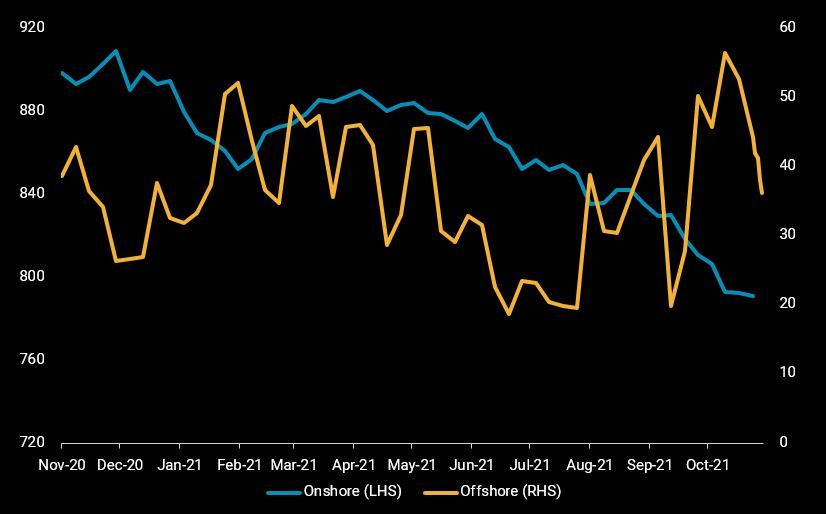 China onshore (excl. SPRs) and offshore crude inventories (mb)
Cutting diesel exports, raising imports to alleviate tightness
In parallel, Chinese state-owned refiners have cut back their diesel exports to a 16-month low of 140kbd in October, with the declines mainly to Australia, Malaysia and Bangladesh. Sinopec and PetroChina are reportedly planning to boost diesel production and halt export this month, while other refiners have announced plans to import more diesel cargoes. Light cycle oil (LCO), which was once a favoured blendstock, could also see an uptick in imports this month as robust diesel wholesale prices outweigh the consumption tax on imports to still yield a positive margin for diesel/gasoil blenders. An additional release of diesel reserves announced by the National Food and Strategic Reserves Administration is likely to further alleviate the country's diesel supply tightness.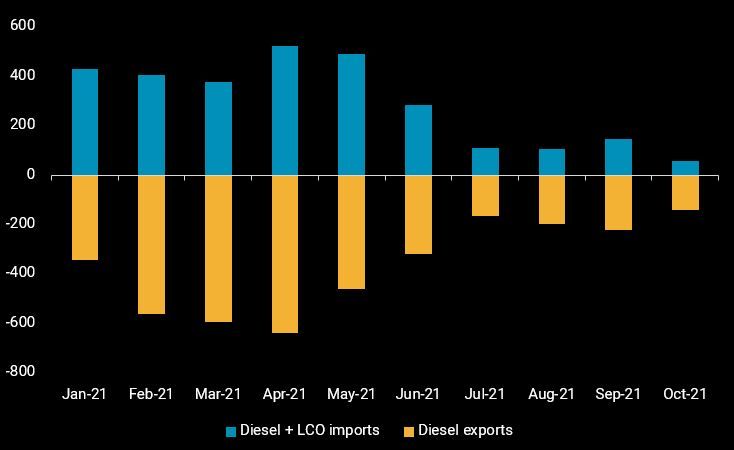 China diesel exports vs. diesel/LCO imports (kbd)

A bigger pie for regional refiners
China's sharp pullback in diesel exports presents opportunities for other Northeast Asian and Indian refiners to fill the supply gap in the region. The narrowing of the east-west arbitrage and Europe's diesel market backwardation gives regional refiners even more reasons to keep their diesel barrels in the region, as evidenced from India and Japan's diesel trade flows in October. Overall, the strength in product cracks across the barrel should provide a solid case for higher refinery runs in Asia through the rest of the year. Whether it is compelling enough to meet all demand over the winter season has yet to be seen.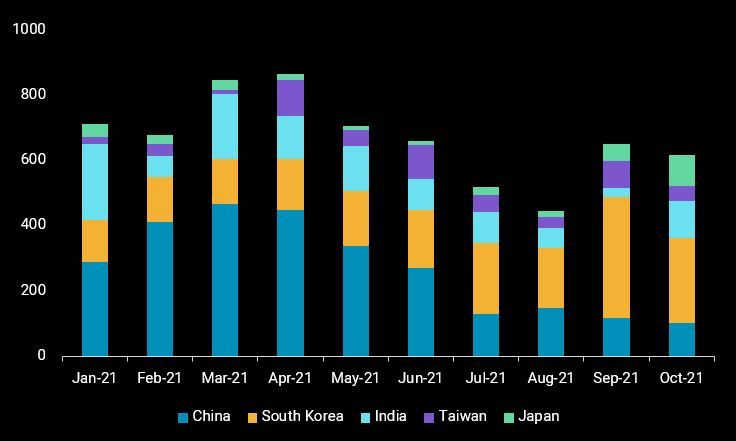 North Asia and India diesel exports to the region
More from Vortexa Analysis