Diesel arbitrage flows shift. Is this the new normal?
Diesel arbitrage flows shift. Is this the new normal?
07 July, 2020
Global diesel arbitrage flows are shifting as the pace of demand recovery and inventory draws vary across regions. We highlight the key global diesel trends across Europe, Asia and the Americas.
China's shifting domestic demand
China's relatively subdued diesel exports of 120,000 b/d (excluding Hong Kong and Macau) in June – compared to 35

0

,000 b/d a year earlier – reflects refiners' preference to sell their diesel within the domestic market, as Asia's diesel cracks remain under pressure.
China's diesel demand rebounded in May, but floods in recent weeks have halted construction in several parts of the country and hit demand.
Looking ahead, a continued recovery in Asia's diesel cracks, coupled with slowing domestic Chinese diesel demand, could see refiners raising exports this month.
India swings diesel exports to the East
An observed month-on-month rise in India's diesel exports in June to Singapore and Malaysia's storage hubs, as well as to Australia, was supported by stronger ULSD prices in Asia versus the Mediterranean in June. India's proximity to Asian buyers also translated to lower freight costs. The diesel price uplift coincided with lower exports from China and South Korea, and demand recovery in the region.
Combined Indian diesel exports to Australia and Southeast Asia reached 3

40

,000 b/d last month, the highest volume observed in at least four years, despite a month-on-month decline in the country's overall diesel exports.
Additionally, Saudi Arabia increased its diesel exports to Southeast Asia to 110,000 b/d in June vs 40,000 b/d in May, as buying interest from Northwest Europe, one of its key export destinations, was subdued.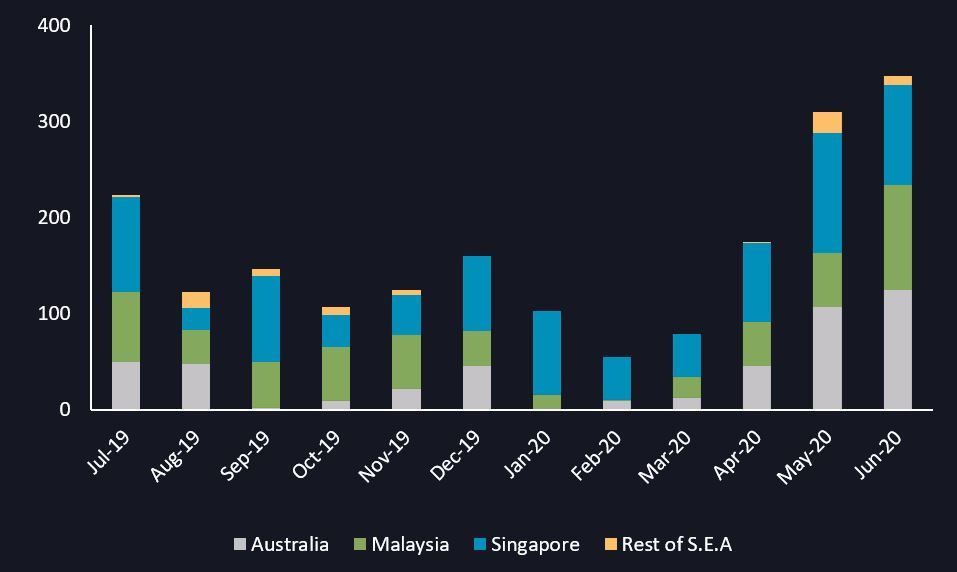 India's diesel exports to Southeast Asia and Australia (in kb/d)
US and Saudi Arabia exports to Mediterranean rise
Stronger US and Saudi Arabia diesel exports to the Mediterranean offset the absence of flow

s from India, which had averaged over 110,000 b/d in the first five months of this year. Demand recovery in the Medit

erranean lifted diesel imports by 30% month-on-month to over 700,000 b/d in June, nearing year-ago volumes.
Around 170,000 b/d of US diesel was exported to the Mediterranean (incl North Africa) in June, the highest observed since last August. The first week of June saw 440,000 b/d of diesel being loaded from the US towards the Mediterranean, the highest weekly export volume in at least four years, although arbitrage economics were most favourable in mid-June. The arbitrage for US-Mediterranean diesel has narrowed in the first week of July, as reflected by waning flows over the same period.
Saudi Arabia exported 140,000 b/d of diesel to the Mediterranean in June, rising from 120,000 b/d in May and also higher on a year-on-year basis.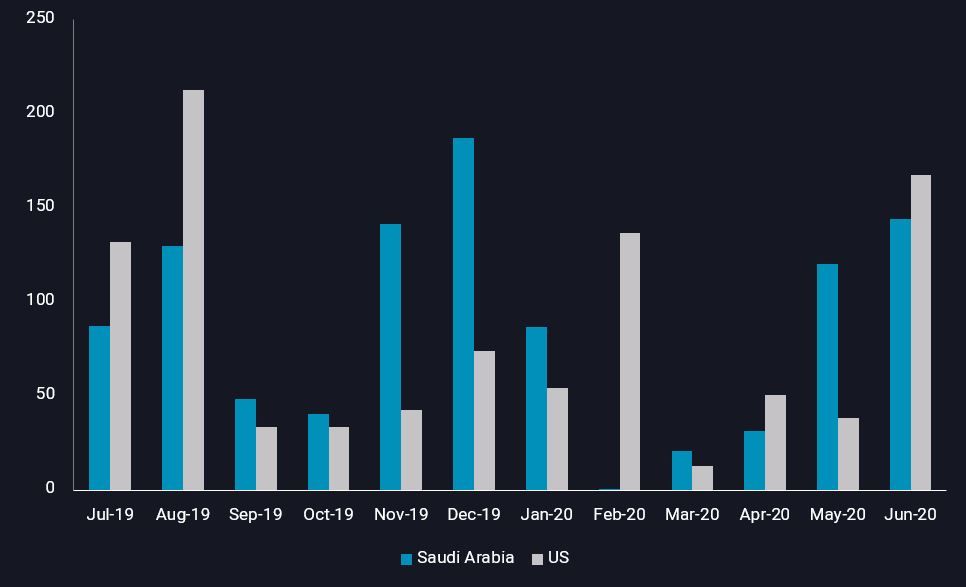 Saudi Arabia and US diesel exports to the Mediterranean (kb/d)
Global diesel floating storage unwinds
The global diesel demand recovery has seen the continued drawdown of floating storage inventories from a peak of 46mn bbl in mid-May to 25mn bbl this week.
The largest drawdowns over this period (on outright basis) was observed in Africa, Asia and South America. At present, nearly two-thirds of the world's floating diesel inventory is concentrated in Europe and Asia.
Interested in a more detailed view of our data?
{{cta('bed45aa2-0068-4057-933e-3fac48417da3′,'justifycenter')}}